Have you been longing for the kind of conversation that wakes you up and inspires you into action? Do you want to make connections with people whose ideas both challenge and comfort you? Are you interested in finding tools for hosting conversations in your own communities? Then this retreat, in a beautiful location in Tasmania, Australia, is for you.
At this retreat, we will sit in circle with each other and we will learn the tools that we can use both personally and collectively to host deep and meaningful conversation.
November 11-13, 2016, Eagles Rise, Sisters Beach, Tasmania
We will learn what it means to hold space for each other. When we hold space, we walk alongside each other in whatever journey we're on without judging, making people feel inadequate, trying to fix others or ourselves, or trying to manipulate the outcome. When we hold space for other people, we open our hearts, offer unconditional support, and release the need to control or judge. We become fully present for each other in a powerful, life-changing way.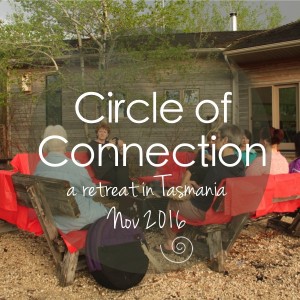 We will learn the tools of The Circle Way, a structure for deep conversations and wise outcomes. The Circle Way gathers people into a circular shape with participants at the rim and the purpose in the centre. Each person has a voice and everyone can see and hear one another. Social agreements and practices help facilitate respectful conversation. Circle supports a leader in every chair.
By the end of the retreat, participants will be equipped to host their own conversations using The Circle Way.

Who should come?
anyone in search of deeper connections with other people and themselves
anyone who is interested in hosting conversations of any kind (in the workplace, at home, with friends, in the political arena, in the community, etc.)
anyone who wants to help make the world better by helping people have better conversations
In this retreat we'll:
learn what it means to hold space for ourselves and others,
discover the practice of The Circle Way as a way of holding space for deep conversations, and
take a deep dive into our own personal growth and learn more about how to host it for others
Heather Plett, the retreat facilitator, will be traveling from her home in Canada to be with us. She is a facilitator, coach, and facilitator who is part of the international network of trainers in The Circle Way. She has spent much of this past year writing about and teaching people how to hold space for each other. She is currently writing a book on the topic.
The local contact and logistics person for the retreat is Cecily Arms Rosol, whose business Thrive Launceston offers individual and group counselling, art therapy and nature walks to help you connect to yourself, others and the world around you.

Join us at Eagles Rise retreat centre at beautiful Sisters Beach in North West Tasmania on November 11-13, 2016.
Accommodation and meals are included in the registration cost.
Registration opens on Friday, November 11 at 6:00 p.m., and our opening circle will begin at 7:00 p.m. We will wrap up our final circle on Sunday, November 13 at 2:30 p.m.
Cost:
Early-bird registration (until September 4th): $450 AUD
Regular registration (after September 4th): $500 AUD
To register, fill out the form below, hit submit, and you will be taken to a Paypal page (with payment going to the local host, Cecily Rosol) where you can pay with a Paypal account or credit card.
Questions? Contact Heather via her contact page.