Imagine you could escape for a day.
Imagine you could spend that day at the edge of a lake with a circle of women,
listening to the birds and watching the deer wander past.
Imagine you could immerse yourself in heart-opening conversation and no-skills-required creativity,
and someone would keep you well fed with delicious, earth-honouring food.
Imagine that, after a full day of ease, creativity, and connection,
you could wind down around the fire as the stars twinkle overhead.
Imagine you could do all this without a huge expense and without leaving the city limits.
Note: This retreat has already happened, but more like it will be planned in the future. If you're interested in hearing about future offerings, add your email address to Heather Plett's list.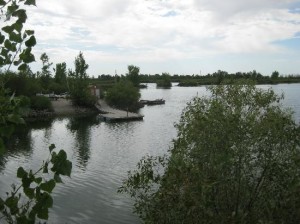 On May 24, 2014, you're invited to join us at Create & Connect, a day retreat (with an overnight option) for women. It will take place in the Siobhan Richardson Field Station at Fort Whyte Alive. The Field Station is Winnipeg's best kept secret – a private hideaway at the edge of a lake that feels like it's in the middle of the wilderness. (It's the place we've been longing for but didn't know existed until recently.)
What will we do at Create & Connect? We'll start the day gathering in circle and sharing little pieces of our lives that help us connect and build community. Then we'll do a couple of fun workshops that gently stretch our creativity and help us learn more about ourselves. (Don't worry – they'll be simple enough for anyone to do – no experience required!) There will also be time for wandering and relaxing outside, and with a grasslands expert as your guide, you'll have the opportunity to immerse yourself in your surroundings and rediscover ancient kinships with the earth.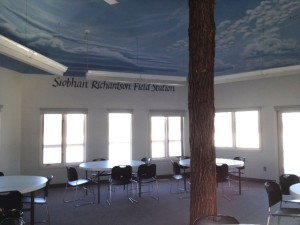 You'll be nurtured and inspired as you connect with yourself, connect with others, and connect with nature.
Throughout the day, you'll be fed delicious, locally-sourced and Prairie-themed food prepared specially for you by someone who's passionate about the kind of food that honours our earth and our bodies.
If you choose to stay for a sleepover, we'll spend the evening relaxing around a fire at the edge of the lake, or (if the weather suggests otherwise) we'll curl up inside around the wood burning stove. If you're musically inclined, bring your guitars, drums, etc. and we'll make music under the stars. Or we'll dance, if we're so inclined. (No pressure either way.) You can bring a bottle of wine or the beverage of your choice. We'll sleep in simple cabins (with bunk beds and composting toilets), and rise in the morning to a delicious breakfast and a closing circle before we head home.
Women of all shapes, sizes, colours, ages, faith traditions, education levels, political leanings, etc., are welcome.
Together we'll create a space that is comfortable for introverts who need to excuse themselves from the group once in awhile, non-threatening for those who believe they have "no creative talent", safe for those whose specialized food needs sometimes keep them away from restaurants, energizing for those who need to incorporate movement into their day, welcoming for those who have trouble fitting in, gentle for those who don't like to be pushed into anything, flexible for those who can only be away from home during the daytime, and as full of grace as possible for all of us who need it.
Your hosts for the gathering will be Heather Plett and Jo-Anne Joyce. We will do our best to make this retreat fun, engaging, inspiring, comfortable, and relaxing. You'll be in good hands.

There are two registration options for the retreat:
Day Registration: For $125, you'll spend the day with us, from 9 a.m. to 4 p.m. Registration will include a delicious lunch, snacks and beverages throughout the day, and all workshop supplies.
Overnight Registration: For $200, you'll enjoy the daytime workshops and meals plus an overnight stay in simple (and lovely) cabins (with bunk beds and composting toilets). Registration will include lunch, supper, and snacks on Saturday, overnight accommodations, s'mores around the campfire, and breakfast on Sunday morning (with departure at 11 am). You'll need to bring your own bedding and towels. Alcoholic beverages will not be provided, but you're welcome to bring your own.
Register with a friend and you'll both get 20% off.
If transportation is an issue, let us know and we'll do our best to arrange for a ride within city limits.
Questions? Contact Heather.