For my birthday in May 2014, I started a campaign to raise money for a school in Uganda that my friend Nestar started. Together, we raised nearly $2500.

Since then, I have also donated $5 from each registration for Mandala Discovery or The Spiral Path, for a total of another $2500. These donations have helped the school buy enough desks and chairs to ensure every child has a place to study, as well as bookshelves and office supplies.
But the work is not over yet…
The campaign was instigated by my desire to find some meaningful way to respond to what had happened in Nigeria in the Spring of 2014 to the nearly 300 schoolchildren who've been kidnapped by terrorists (according to reports, many of these girls have since been returned home, but sadly, many are now pregnant with the children of their captors). I would have given almost anything to be able to make a difference for those girls and their mothers, but I knew I was powerless in that situation.
Something else came to me though. I may not have the power to bring back those girls, but I have the power to educate more girls.
That may be the best response to the tragedy in Nigeria and other places like it. Keep educating girls. Keep telling the terrorists they can't win. Keep believing that love wins.
So I decided to help my friend Nestar build a school in Uganda – a place that's known the kind of terror that these young women have gone through.
Eight years ago, when I was working in international development, a young woman named Nestar Lakot came to work with my team for a year as an intern. Born and raised in Kitgum District, Northern Uganda during the two decades of civil war between the Lord's Resistance Army (LRA) and the government of Uganda, Nestar experienced firsthand life in the midst of civil war. Her family was displaced from their ancestral farm-home after losing two of her brothers to the brutality of the LRA. Their home and possessions were reduced to ashes.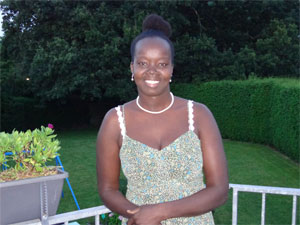 Nestar is one of the most wise and articulate young women I have ever met – so wise that when she worked with us, we sent her on a speaking tour across Canada. I used to tell her that I thought she might run the UN some day – she's that smart.
Shortly before she returned to Uganda, I arranged for Nestar to be interviewed on a local radio station. There are two things I remember about that interview:
1.  When the interviewer asked about her impressions of Canada, she said she was struck by how many people didn't know their next door neighbours. "If you don't know your neighbours, how can you know whether they're hungry?"
2. When a caller said he thought it was a waste of time to send money to Africa because all of the governments there are corrupt, she didn't react defensively. She simply said "There's an old African proverb that says 'When elephants fight, the grass is crushed.'" She'd seen far too much grass crushed in her young life.
Nestar moved to The Netherlands to get her Masters Degree and ended up meeting a man and having two beautiful children. She planned to go back to Uganda, but then her son got sick and needed open heart surgery. It seemed wise to stay in a place where they had access to modern medical care.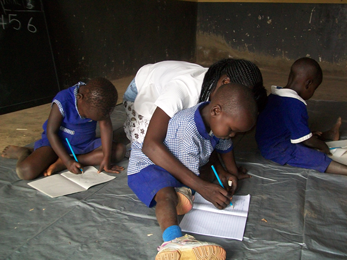 Because she couldn't go back right away, Nestar started sending money to Uganda to educate children in the region where she grew up (Kitgum). And then she dared to dream a big dream. What if she started a foundation to build a school for underprivileged children? So she started Uganda Kitgum Education Foundation.
She didn't just wait until she could afford to build a school – she started with what was available. In borrowed space, she started a small preschool with a few children. The next year, the school added grade one, and each year they plan to add a grade level (growing with the children). Within a year, the school has grown to educate more than 100 children! Their plan is to build a primary school for 300 students, along with a latrine, underground water tank, solar panel system, dormitories, multipurpose hall, and playground equipment. Read more about their future plans here.
Her dream keeps growing and I want to help it grow. Will you help too?
Here's a conversation I had with Nestar just before my birthday in May 2014 where she shared more about UKEF and the incredible work they've been able to do in just one year. So far, most of it is funded by Nestar's own efforts – making jam from organic berries, baking cookies, hosting barbecues, etc. As Nestar says, even if it's small, your donation can go a LONG way in supporting this work.
As they save money to build their own school, the immediate needs they're using donations for are:
salaries for the 6 teachers, 2 school cooks, and 1 janitor
food for the children
school uniforms for the children (each year, the children receive a school uniform – dresses for the  girls and shorts and shirts for the boys)
chairs and tables (Last year they bought 30 tables and chairs. The students they enrolled this year are still sitting on the floor.)
Thanks to generous donations of friends and family, my birthday campaign raised nearly $2500 for Uganda Kitgum Education Foundation. But I'm not finished yet. I will continue to donate a portion of the sales I make from some of my online courses, like Mandala Discovery and The Spiral Path, and my online community The Helpers' Circle.
I invite you to continue to support UKEF by donating  on their website, or you can donate below – the funds will go to my Paypal account, and I will transfer EVERY SINGLE PENNY to UKEF. (If you have any doubt about that, I'd be happy to share a before and after printout of my Paypal balance.)
I believe in Nestar and I believe in her work. AND I am happy to support an organization run by someone from the region where the school will be built. Instead of sending in foreign workers who may not understand the local context, we're supporting someone who knows better than any of us how to help children in her region. Not only does she have first hand knowledge, having grown up in the region, but she has a passion and an education – a Masters degree in Public Policy and Human Development. Also, the organization is run by volunteers with low overhead, so 90-95% of your donation will go directly to providing education for children in rural Uganda.
If you have any questions, feel free to contact Nestar or me.
Thank you for supporting this important work.