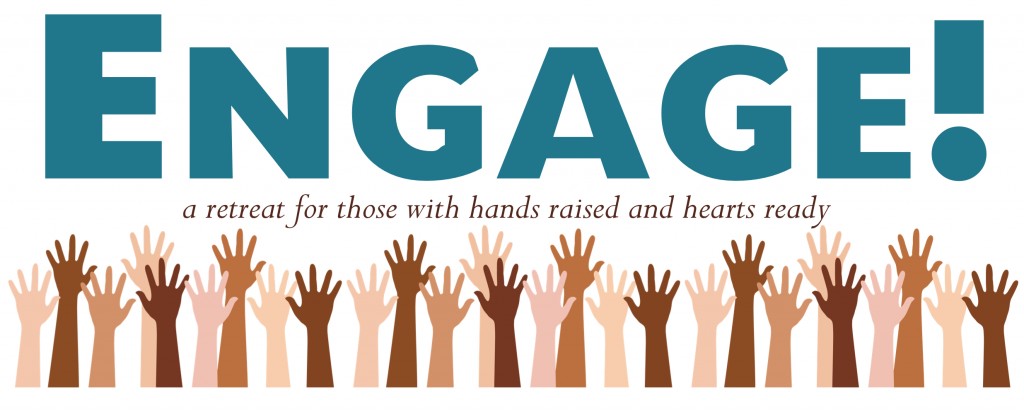 You are a change-maker, an edge-walker, a dream-weaver, a social justice enthusiast,
and you need a place to gather with others just like you.
Your heart has been breaking over racism, poverty, discrimination, gender issues, hunger, or marginalization and you need to know you're not alone.

You need a place for soulful conversations, broken hearts, hopeful dreams, and imaginative action.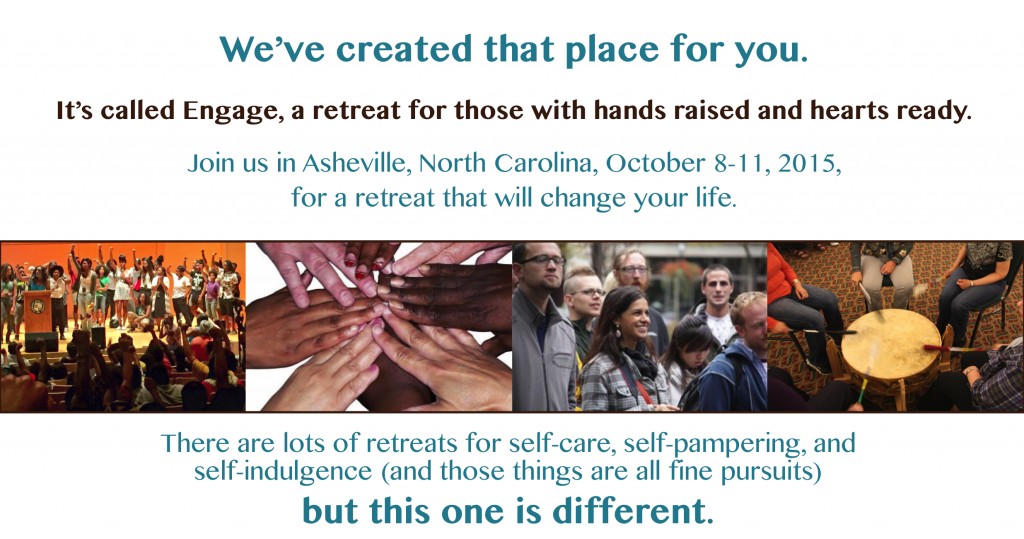 * * * *

This is a retreat for those who dare to look deeply into the longings and despair in their own hearts and in the hearts of others. It's for all who have the courage to see injustice in the world without turning away and burying their heads in the sand. It is for all who are willing to risk having hard conversations about race, gender, privilege, inequality, power, and all of the things that divide us, because they know that nothing else will heal us.
This retreat is for changemakers and trailblazers, for lovers and givers, for healers and helpers. It's for those who know we need to do more than just share meaningful Facebook posts when we see injustice.
It's for people of action and reflection.

* * * *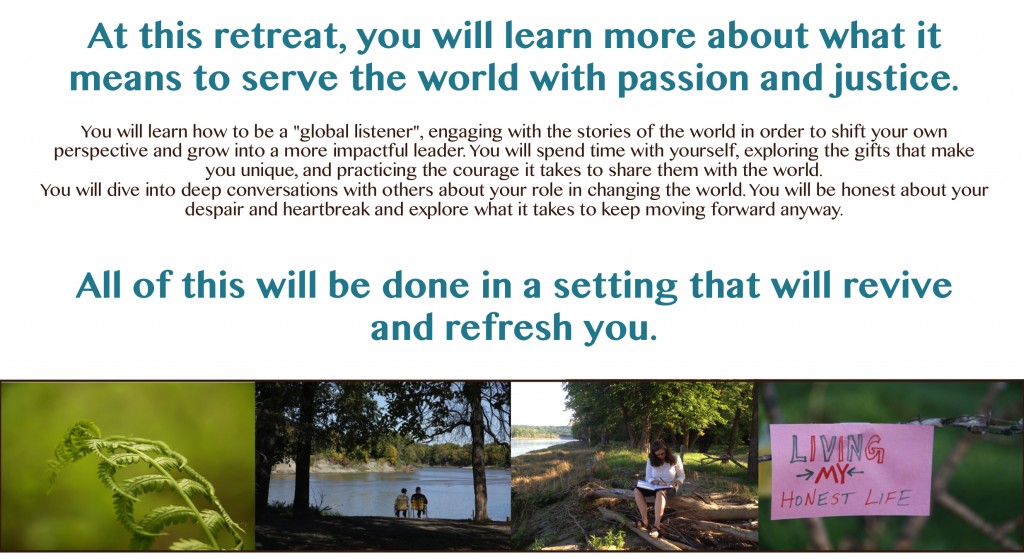 When you go home, you will take with you a greater sense of purpose and a clearer idea of the actions required to carry out whatever purpose tugs at your heart.
You will have a new community of changemakers and trailblazers, who know despair and heartbreak just like you do, and who trust that even if we change only our small corners of the world, we are doing our parts.
You'll also have practical tools for taking meaningful action and hosting challenging conversations.
---
"If you have come to help me, you are wasting your time. But if you have come because your liberation is bound up with mine, then let us work together." – Lila Watson
---

Accommodations at Engage Retreat will be simple and comfortable. We'll stay together in a big house, share meals, and live in community.  The food at the retreat will match the setting and intention – cooked by a local caterer with as much local food as possible in a way that honours the earth and your tastebuds.
Why should you come to this retreat?
You should come:
– for a deeper connection to yourself and to other people.
  – because you're longing for more honest and soulful conversations.
  – because you need inspiration and some fuel to keep your passion burning.
– to gather the tools you need to influence change in the world.
–  to be awakened and energized.
You should also come for FUN!
We'll be doing some challenging work at this retreat, exploring some pretty deep territory in our own souls and in our connections with the earth and with community, but that doesn't mean we can't have fun while we're doing it! We promise you there will be a lot of laughter, some dancing, some art-making, some body-shaking, lots of playtime, and a whole lot of PASSION!
 * * * *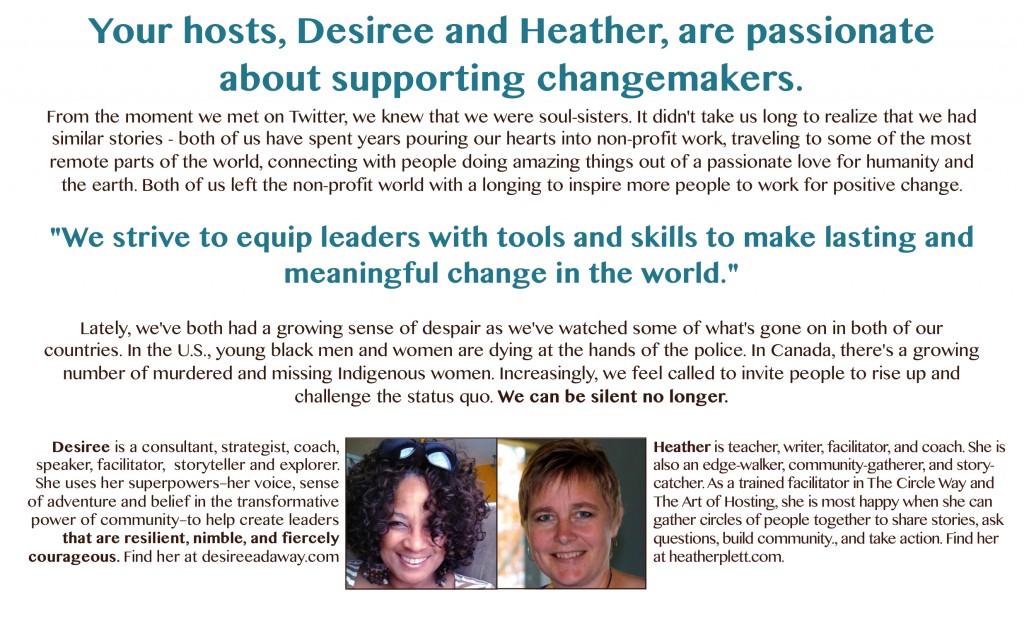 ---
"Let us walk away from that mountain of despair-inducing failures and focus instead on the people in front of us, our colleagues, communities, and families. Let us work together to embody the values that we treasure, and not worry about creating successful models that will transform other people. Let us focus on transforming ourselves to be little islands of good caring people, doing right work, assisting where we can, maintaining peace and sanity, people who have learned how to be gentle, decent, and brave as the dark ocean that has emerged continues to storm around us." – Margaret Wheatley
---

To get a sense of the passion and commitment we bring to our work and our relationship, watch this conversation we had last year about women, race, and privilege…
 * * * *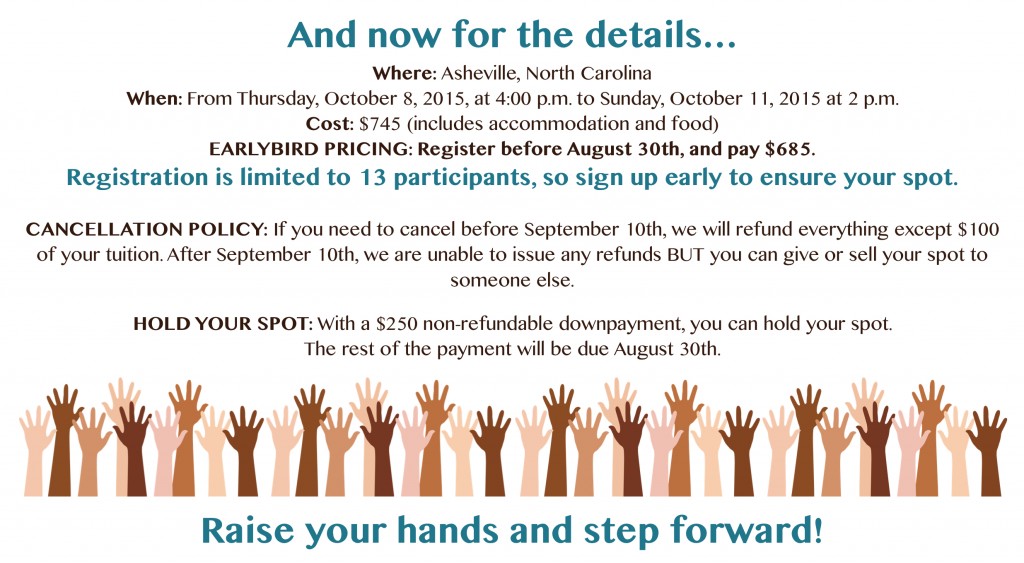 * * * *
If you register with a friend, we'll take 10% off your registration fee. Contact us and will give you a coupon code for your registration.
Questions? Contact Heather or Desiree.