Facilitator and Conversation Host
I facilitate meaningful conversations that help catalyze change.



Positive change almost always starts with good conversation, and good conversation often doesn't happen unless it is hosted with care and intentionality.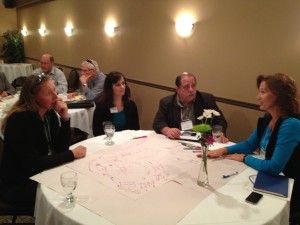 I am trained in a number of facilitation and hosting methodologies, with a special affinity for The Circle Way, The Art of Hosting and Harvesting Conversations that Matter (which includes World Cafe, Open Space, and Pro-action Cafe), and Theory U (a change process). I also do train-the-trainer workshops in these processes, usually together with colleagues from around the world.
Collaboration is important in my work and I often work with others in my wide, global network of facilitators. When we gather people in a circle to share stories and challenges, and to deepen our connection with each other and ourselves, we discover new ways to grow. When the connections have deepened, and the group has been strengthened, we don't stay there. We make big things happen. We move into careful planning and bold action.
I would like to work with you in planning meaningful retreats or planning sessions for your staff, community organization, faith community, or women's group. I can help you create a rich and beautiful space for deep conversations and positive change. I can facilitate your strategic planning and team-building.

In my sessions, people learn to listen deeply, think more creatively, embrace their leadership, trust themselves and each other, and take bold steps into the future.

I have led workshops, facilitated planning sessions, and taught courses for several years and love doing this work. I've worked with diverse clients, including a national organization of city planners, a yoga studio, a dental office, churches, non-profits, governments, etc. I've also taught an eight week creativity course, several leadership workshops, and university courses in writing and facilitation.
Click here to learn more about the kinds of workshops and retreats I can offer your organization or community.
A community conversation I facilitated (with over 80 people present) on improving race relations in Winnipeg was covered in Maclean's Magazine. My work in The Circle Way was featured in The Aquarian.
"Heather and Diane are keen to make sure they understand their client's needs – and that their client understands their needs too. They support their clients' exploration of the work that needs to be done, and the deep intentions for that work. They recognize that the more clear the client is, the better they can serve their client. When it comes time to pull the client's stakeholders together, they create the conditions necessary to honour and respect the voices in the room, an essential quality of space that allows collective insight to emerge amidst great conflict. ."  – Beth Sanders, Canadian Institute of Planners
I love people in all their diversity, and my wide range of experience, global travel, and flexibility are the assets that help me adapt to almost any situation. I approach each group in a non-judgemental way, creating a safe space where stories and hard truth can emerge, where healing can happen, and where growth almost always occurs. I invite people beyond the safety of "the way things have always been" into an exciting, though often vulnerable place.
All of my facilitation and teaching is infused with creativity and variety. Whatever your needs, I will work to tailor the workshop or planning session to suit you. I incorporate a variety of elements into whatever I teach and facilitate, including personal journaling, creative play, labyrinth walking, etc.
Let's start with a conversation about how I can fill your needs for facilitation, teaching, or speaking. Contact me or book an exploratory conversation on my online calendar.
"Heather has conducted a number of leadership sessions on a wide variety of topics for groups I have led. She is creative, down to earth, enthusiastic, humble and knowledgeable about the highs and lows of organizational leadership all at the same time. She conducts each session with compassion and care, seeing each individual in their own right. She has the ability to challenge people with practical methods and helpful exercises while proving flexible in the presentation of material if need be. I  highly recommended Heather's leadership experience, expertise and insights for your organization or the members of your group." – Rob Visser, pastor and leadership development consultant