"I'm not a teacher: only a fellow traveler of whom you asked the way. I pointed ahead – ahead of myself as well as you." – George Bernard Shaw
Back in 1992, My dad phoned me out of the blue (something he never did) just to tell me he thought I should be a teacher. (You can read the full story here.) As a freshly minted adult, trying to find her own way in the world, I wasn't particularly interested in my dad's advice at the time. I forged my own path as a professional communicator.
But Dad's words stuck with me. He saw something in me that I didn't yet see in myself. He saw someone who had wisdom to share and a presence at the front of the room that helped invite students into the learning.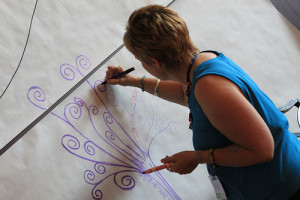 Though it didn't happen until after Dad's death, I did become a teacher. For five years, I taught a variety of courses at University of Winnipeg, PACE, including Writing for Public Relations, Effective Written Communication, and Effective Facilitation Skills. I also taught one-day seminars at the university, such as Blogging Fundamentals, Social Media Engagement, and Writing to Impact Change.
I've stepped away from that teaching role at the university, and now I teach a variety of courses that I offer myself, both online and in-person, including Creative Writing for Self-Discovery, Creative Discovery, Openhearted Writing Circle, Mandala Discovery, and others. I am also available to teach courses and workshops that are tailor-made for my clients.

As soon as I stepped into a classroom, I discovered a few things about myself:
I LOVE to teach! I take great delight in helping people learn more about the world, about a new skill, and about themselves.
I am a participatory teacher. I don't see much value in lectures – I'm much more interested in conversation and participation. I believe more that students learn more by doing and talking than they do by listening.
I am a creative teacher. I love to incorporate variety into the classroom and employ different learning styles, so we use games, creative play, art-making, circle conversations, small group processes, field trips, etc.
I believe in self-directed learning. I want students in my classrooms to be excited about what they're learning, so I help them find their own pathways through the material, even when that means tossing aside my lesson plan in favour of a great idea that emerges from one of them.
I am a fellow learner along with my students. I have no interest in being the expert at the front of the room. I hold the George Bernard Shaw quote at the top of this page as my mantra, and every time I start teaching a new group, I say "I'm not the only one who brought wisdom into this room. Please share your wisdom too so that we can all learn together."
I am an openhearted teacher. I have no qualms about sharing my own stories – even when they make me vulnerable – when I know that it will help my students feel less alone. I create compassionate spaces where everyone is safe to learn and be themselves.

Yes Dad, I AM a teacher. Thank you for seeing that in me. Thank you for trusting my ability to hold the container for others to learn and grow.
If you are looking for a teacher for a workshop, or a keynote speaker for a conference, I would love to talk to you about it. My primary specializations are leadership, creativity, writing, and personal growth.
I work in many environments with many kinds of students. I work well with diversity and complexity. One of my favourite classes to teach was one in which 25 students came from nine different countries and only 2 were Canadian-born. This created challenges for all of us, but it also created a beautiful learning opportunity for everyone in the room.
Let's talk about how I can meet you and your organization's needs for a dynamic, creative, and compassionate teacher.