Every day, women show ordinary and extraordinary acts of courage.
They stand up to abusers.
They raise their children with integrity.
They work their way out of poverty.
They lead change in their neighbourhoods.
They welcome foster children into their homes.
They support aging parents.
Courage comes in many shapes and forms. It takes courage to choose justice. It takes courage to serve people. It takes courage to step into leadership. Sometimes it takes courage just to get out of bed in the morning.
On Nov. 24, 2012 in Winnipeg, we'll gather to honour that courage.
Because we all have a little courage and we all need a little more.

You have courage. You wouldn't have made it this far in life if you didn't. Some days, you might not feel very courageous, but if you dig into your personal stories, you will find many moments when you displayed courage.
You will come away from this retreat reminded of your own courage, inspired by other people's stories, and more confident to step into courage for the challenges ahead.
"In the cellars of the night, when the mind starts moving around old trunks of bad times, the pain of this and the shame of that, the memory of a small boldness is a hand to hold." — John Leonard

It's easy to forget that we have courage. "I don't do anything really scary," we tell ourselves. "I'm not bandaging wounds in a war zone, or climbing mountains, or volunteering in an orphanage in a faraway slum." We forget the courage it takes just to live with integrity and compassion.
"Anyone can slay a dragon, she told me, but try waking up every morning and loving the world all over again. That's what takes a real hero." – Brian Andreas
At the retreat we will spend time in circle, sharing stories of courage and wholeheartedness. We'll experience deep listening in a safe environment where our stories are sacred and welcome. We'll also spend some quiet time with our own thoughts.
We'll remind each other that we are not alone.
At the end of the day, we'll make prayer flags that will remind us of the courage we have and the courage we want to claim. We'll take the prayer flags home and hang them in our homes to remind ourselves of our courage.

What will you get? A relaxing day away from the worries and tasks in your life. A lot of encouragement. A basketful of courage stories to use when you need reminders. A set of prayer flags to hang in your home. A delicious lunch cooked by courageous women. A circle of new friends.
When and where is it? November 24, 2012, from 9:00 a.m. to 3:00 p.m. at the Indian Family Centre, 470 Selkirk Ave., Winnipeg, Manitoba
What should you bring? Your stories. Your journal and a pen to write in it. (If you don't have a journal, that's okay – paper will be provided.) Your heart.
What does it cost? The cost of the retreat is $95, HOWEVER, many courageous women live in low income brackets, so there is a pay-what-you-can option. ALL are welcome!
Who is invited? Anyone! If you are a woman, you are invited.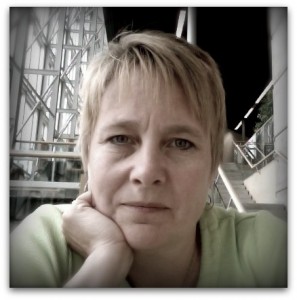 About the facilitator: Heather Plett calls herself a "guide on the path through chaos to creativity". She considers herself like a sherpa who helps guide people and share the weight of their burdens as they make the meandering journey up the mountainside. She has been through a lot of chaos and pain in her life, and that has made her lungs strong for when the air gets thin and the people she guides need extra support. She does her sherpa work through teaching, coaching, writing, and facilitating workshops. Her mentor and teacher in circle and storytelling work is Christina Baldwin, and she is a member of the international Art of Hosting community. She has traveled the world gathering stories of courageous women, like Elizabeth in Ethiopia, Fidelis in Kenya, and Kabita in India. Together with her husband, she is raising three courageous young women.
To pay with Paypal or credit card, select your payment amount below and then click "buy now".
If you'd rather pay by cheque or cash, contact me to make arrangements to send it or pay at the event.
Note: If you'd like to sponsor a low income participant, please contact me, or make a payment below and let me know it's for someone else.