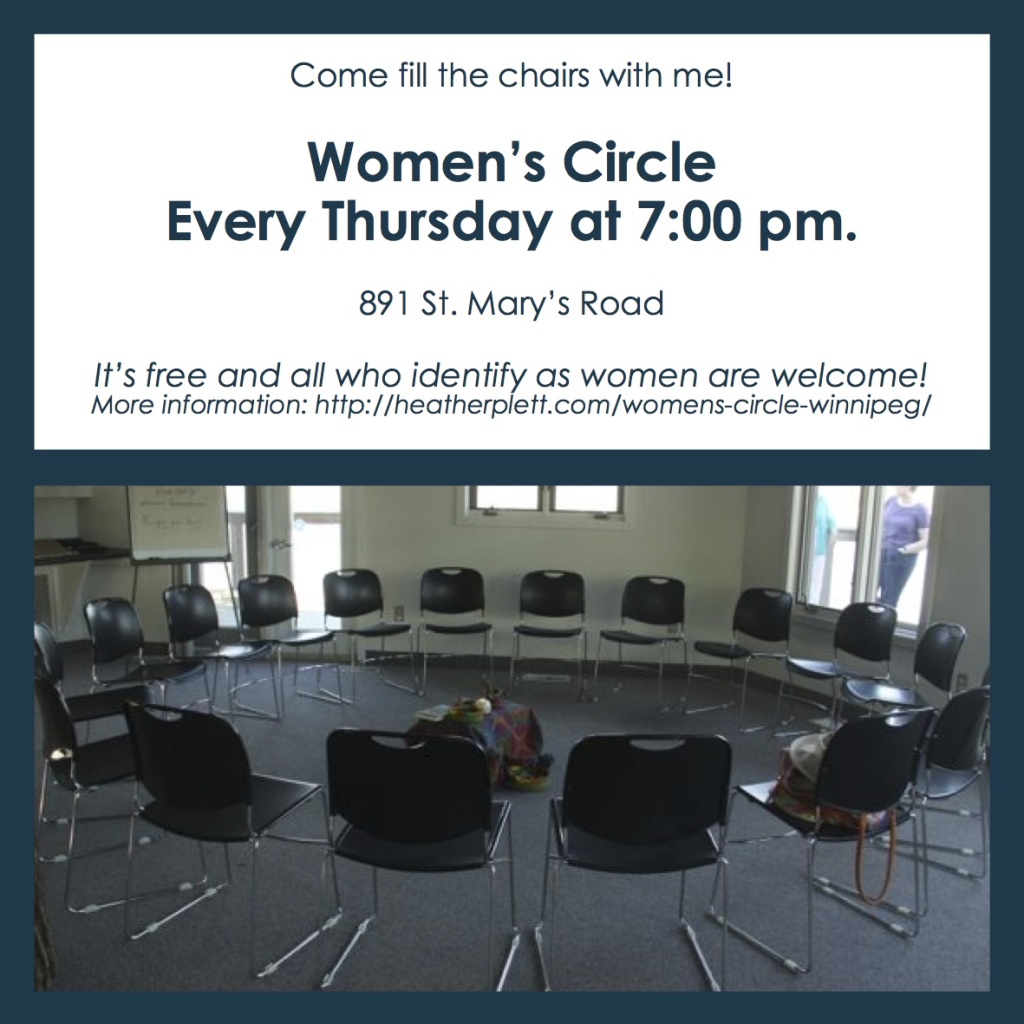 You are invited to:
A women's sharing circle
each Thursday at 7:00 p.m.
at 891 St. Mary's Road, Winnipeg
(Good News Fellowship Church).
A few answers to questions you may have…
What is the format of the gathering?  I will host the gathering in circle (based on my training in The Circle Way). If you want to know more about that, here's some info.  Depending on how many people show up, we will either stay as one circle or break into smaller circles for more intimate conversation. In the spirit of circle, I don't want to always be the host but will invite others to lead as they feel comfortable.
What will be the content? The content will be whatever the participants bring to the circle. I will have some conversation starters to get the conversation flowing, but I want it to serve whatever purpose it needs to serve for the women who gather. That means sometimes we might talk about the unique challenges and privileges of being a woman, what it means to pursue a feminine spirituality, what we see in the world that is breaking our hearts, what we're celebrating, or just what our day-to-day lives are like.
Can I bring a friend? Yes! Most definitely! This is not an exclusive gathering – it is open to anyone who identifies as a woman who wants a place to gather with other women for good conversation. Please feel free to share this invitation with anyone who may be interested.
Is there a cost?  No. Occasionally we pass a hat around, just to pay for the rental of the building, but otherwise there is no obligation to pay.
Do I need to bring anything?  No. We keep it simple. There is always tea available, and if you feel like bringing some snacks to share, you can, but nothing is expected.
Do I need to RSVP? It would be helpful if you could let me know if you'll be joining us, so that I have an idea how many chairs to set up, but it's not imperative. If you won't know until that evening if you're available, just show up.
Is this connected to any spiritual tradition?  No. Though it's being held in a church, it is not sponsored by the church and is not directly connected to it. You're welcome no matter what background you have and whether or not you have a spiritual tradition.
Is it connected to any organization?  It is connected to other circles around the world through Gather the Women, whose sole mandate is to support women's circles. It does not have an agenda or set of traditions – it simply wants to be a catalyst for supporting women in supporting each other.
If you have any other questions, please feel free to ask. I hope to see you there!