"After meeting Heather at an online virtual circle, I joined her Facebook page where she was plugging the newest session for The Spiral Path. "21 weeks? $45? Wow, what a steal, great way to pass the time" I thought. What a nonchalant feeling that was. Now, my thought is "Wow, I didn't realize that, I was too afraid to look at that, this art project's so inspiring, this lady knows her stuff!" Heather does know. She's a Wise Woman with Powerful Words. She knows how to ask the questions inside the questions. She's given me tools to look at a lot of deeply entrenched stories in my life, but her creative and embodiment practices help make this journey balanced with laughter and ease. I have the freedom to take my time as well. If you're ready to look within, The Spiral Path is a great resource to help you do so." – Mary Ann Conlin
The Spiral Path is a virtual labyrinth walk.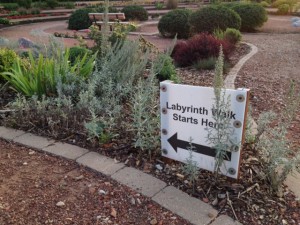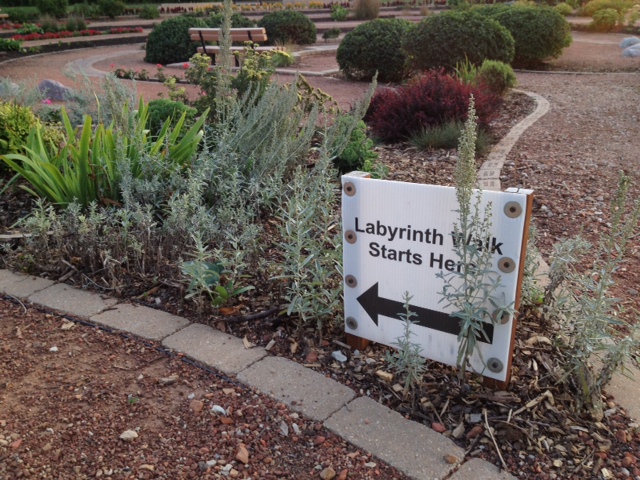 There are three stages in a labyrinth walk. First, when you journey inward, you release the burdens you were carrying and whatever distractions got in your way. Then, when you reach the centre, you are ready to receive whatever wisdom and guidance is waiting for you. Finally, you return from the centre, making the journey outward and bringing with you whatever new gifts and wisdom you're meant to share with the world.
These three stages help frame the journey through The Spiral Path. You'll receive twenty-one lessons in The Spiral Path.
The first seven will focus on releasing. You will be invited to release your need to control the outcome, your expectation of a straight path, your old stories, your fear, your concern about what others think, your tears, and whatever no longer serves you.
The next seven lessons will focus on receiving. You will practice receiving stillness, healing, curiosity, the Sacred, your Divine Assignment, and whatever you need for the return journey.
The final seven lessons will be about returning. You'll be invited to return to yourself with your God/dess, your strength, your circle, your gifts, your longing, and your courage.
If you want to learn more about labyrinths, you can listen to a free recording here.
NEW: You can now sign up for The Spiral Path any time you want and start the lessons right away. No more waiting until the next time it's offered.
Each lesson will include:
A teaching on one of the themes, including stories, tips, and other resources.
A creative prompt that will invite you to deepen your understanding of and engagement with the theme through creative expression. (Many of these will be based on mandalas and labyrinths.) These will be simply enough for anyone to do – you don't need to be an artist.
Journal prompts that will invite you to explore your own thoughts on the theme.
Ideas for body movement, ritual, or other ways of engaging with the theme in a holistic, body/mind/spirit way.
"I have shed tears, felt my anger, and looked at my fears up close and in 3-D. I have felt the darkness, and feel brave and courageous about sitting with it. I now feel much more comfortable in my body and am ready to move ahead and receive all the gifts that will come as a result of this work."          – Carol Brown
The Spiral Path is a journey of self-discovery. Although it is a sacred journey, it is not connected to any particular religion or spiritual path. Your path is your own and your understanding of the sacred is welcome. (Though I use language like God/dess, Sacred, Spirit, etc., you are welcome to insert your own language based on your own spiritual path.)
When you sign up for The Spiral Path, you'll receive a welcome email, and then you should receive the first lesson within an hour, followed by a lesson each day for 21 days.
Note: There will be no restrictions on how quickly or slowly you move through the material. If, at some point, you need to pause for reflection and/or self-care, you can always come back to it when you're ready. A link to the page where everything is housed will be provided to everyone and the content will stay there for the indefinite future.
The Spiral Path: A Woman's Journey to Herself is inspired by my own journey.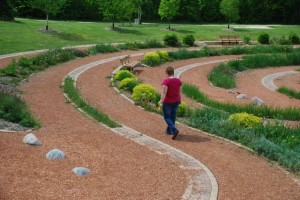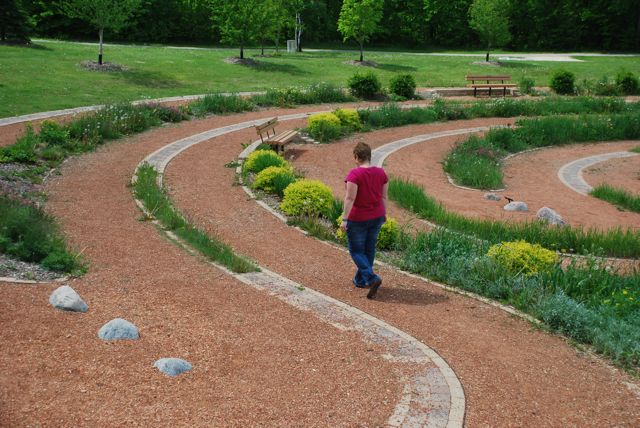 Fifteen years ago, at the height of my career, when I had everything I thought I should want (a good marriage, two daughters, a house in the suburbs, a camper at the lake, and an influential job that involved just the right amount of interesting travel), I was brought face to face with my own emptiness and spiritual longing. In a three week hospital stay, that ended with the stillbirth of my son, I began an intense journey of self-discovery and spiritual awakening. That journey led to me changing jobs and eventually becoming self-employed. It also led me to discovering and taking intensive learning journeys into The Circle Way, the Feminine Divine, labyrinths, mandalas, Gather the Women, Authentic Leadership in Action, and The Art of Hosting. (Find out more about me here.)
My life was changed when I began my spiral journey fourteen years ago, and now I want to serve as your guide and creative host as you take your own journey. I believe in this work wholeheartedly and I believe that it is the truest expression of my own Divine Assignment. I believe that women need to awaken to themselves and to their spiritual longing. I believe that awakened women can help change the world and bring us back into better balance, where the sacred is honoured in each of us, where the earth is treated with greater respect, where connection comes before commerce, and where the feminine is in better balance with the masculine.
"The overall thing I will take away from this course is stepping more confidently into and out of myself – listening to what my heart and the Spirit are saying, and acting from that place of quiet knowing." – Cecily Rosol
The Spiral Path will:
help you live more authentically and in touch with your own longings and gifts
teach you to listen more deeply to your own wisdom and the wisdom of the Sacred
encourage you to let go of what doesn't serve you on this journey
help you have a deeper understanding of the ways in which you're invited to serve the world
give you tools for self-discovery, spiritual practice, and moving forward

Note: The price has recently been adjusted from US to Canadian currency, so although they look higher than they were, they are actually a little lower (due to our dropping currency value).
The lessons – $55 CAD:
21 lessons which you'll start receiving as soon as you sign up.
Membership in a private Facebook group where you can share your thoughts, questions, etc. (Membership will be ongoing – it won't end when your lessons stop coming. You'll have the option to stay in as long as you want.)
A guide for hosting a circle based on The Spiral Path, in case you want to sign up with friends. (Note: The Spiral Path would be a GREAT resource to work through with your women's circle!)

Special offer for groups: If you want to sign up with a friend or your women's circle, email me with that information and I will provide you with a special coupon code that will give you each a 10% discount.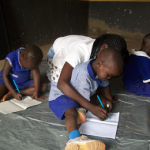 Important note: $5 from every registration will go toward supporting a school in Uganda. My friend (and former intern) Nestar Lakot Okella started the school (in the region where she grew up) less than 2 years ago and is already educating more than 100 children. You can read more about my commitment to helping her here.
Not only will be you finding your own path when you sign up for The Spiral Path, you'll be helping a child in Uganda find hers (or his).
If you have any questions about The Spiral Path, please feel free to contact me.
Refund policy: If, after the first 3 lessons, you are not satisfied with The Spiral Path, you will be refunded your registration minus a 15% administration fee.  
Note: If you don't receive anything by email within 30 minutes, check your spam & promotions folders. If nothing's there, contact me and my assistant Krista will be happy to help you.