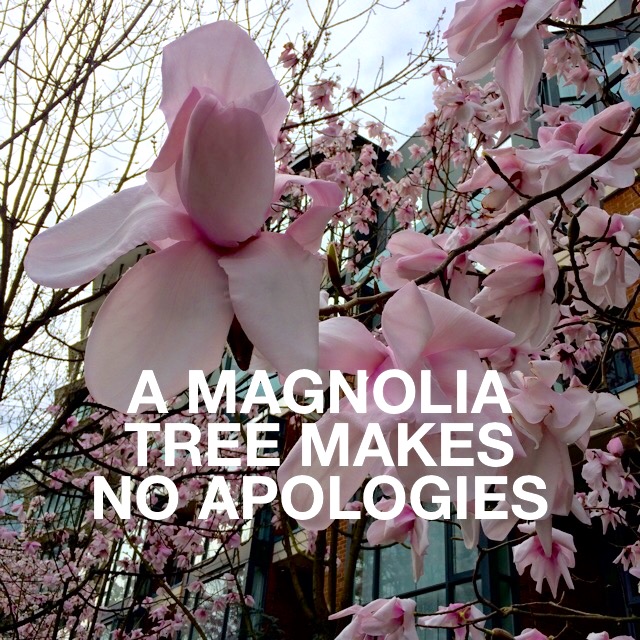 I have been sick this week, so I don't have a lengthy reflection to share with you, but I thought I'd still take the time to offer one simple thought that came to me while I was in Vancouver.
I was fortunate enough to be in Vancouver for the blooming of the magnolia trees. We don't have magnolia trees in Winnipeg, so it's a rare treat to see them in bloom.
The tree outside the window of my friend Lisa's apartment wasn't quite ready to burst open, so she drew me a map to make sure I'd get to see at least one tree in bloom before I went back home to the prairies. "Glorious magnolia tree" is what she wrote on the map, and I carried that map with me in search of beauty.
The map did not disappoint. There wasn't just one glorious magnolia tree but several lining a short block. Some of the blossoms were pale pink, some were white, and some were dark pink. All were in raucous, glorious bloom.
As I stood there, staring in awe at the sometimes refined and sometimes sloppy blossoms bursting out all over the trees, this thought came to me…
A magnolia tree makes no apologies.
It doesn't ask permission to bloom. It doesn't apologize for being big and bold and pink. It doesn't worry if it's not as demure as the tree down the street. It doesn't hide its glorious blossoms behind leaves or branches.
There is not a moment's hesitation in a magnolia tree's fulfilment of its purpose. It only knows that it must live up to what's put in its DNA to do. It only knows that it must respond appropriately to Spring's invitation to burst into bloom or it won't be able to produce seeds for future magnolia trees.
I wonder what it would be like if we all lived more like magnolia trees.
What if we simply trusted that each of us has a purpose that involves blooming and not hiding those blossoms? What if we dared to be big and bold and beautiful? What if we stopped worrying about how others will judge our shininess? What if our only authority on when to bloom were the seasons and not the people who prefer to keep us small?
If you want your life to amount to something – if you want to produce seeds that will grow beautiful things in the future – then you need to be prepared to burst into bloom when the time is right. No, you might not have a calling that looks as bold as a magnolia tree (perhaps you're a tiny violet hidden in the grass close to the ground) but whatever you're called to do… 
Don't apologize for bursting into bloom.
Just go ahead and burst open. And if it's not your season to bloom, then rest for now and trust that the blooms will come.