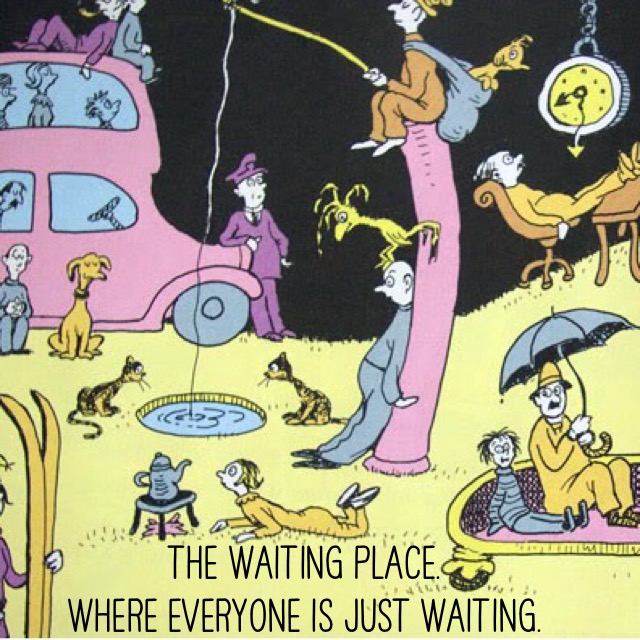 Sometimes, when you've read too many deep thinkers and thought too many deep thoughts, you just have to go back to Dr. Seuss for some clarity. While writing the first three chapters of my book on holding space in the last few weeks, I was puzzling over how to describe liminal space. I finally went back to this…
You can get so confused
that you'll start in to race
down long wiggled roads at a break-necking pace
and grind on for miles cross weirdish wild space,
headed, I fear, toward a most useless place.
The Waiting Place…
…for people just waiting.
Waiting for a train to go
or a bus to come, or a plane to go
or the mail to come, or the rain to go
or the phone to ring, or the snow to snow
or waiting around for a Yes or No
or waiting for their hair to grow.
Everyone is just waiting.
In the first chapter of the book, I wrote about the liminal space we were in when we were expecting Mom's death (an expansion of the blog post that was the catalyst for this book). Mom was in that liminal space herself (not quite dead, but no longer quite alive) and we were in that space with her) not quite bereaved and yet no longer able to participate in full relationship with her).
Inspired by Dr. Seuss, I wrote my own version…
We were waiting.
Waiting for her breath to change
or the pain to come
or the song to end
or the light to change
or the birds to visit
or the night to come
or the nurse to say "it's almost over".
Just waiting.
Ironically, (or perhaps serendipitously), while I've been writing these chapters, I've been in another kind of Waiting Place. This time, I am "not quite divorced and yet no longer in a marriage". It's been a summer of waiting. Waiting for divorce lawyers to draw up separation papers, waiting for the bank to clear the mortgage, waiting for the real estate lawyer to draw up new papers for the house, waiting for the land transfer title to go through so that I own the house. Each waiting period has been compounded with at least one of the parties involved going on vacation, so what should have taken a few weeks has dragged on for six months.
Last winter, I decluttered and repainted the interior of my house. Anticipating the new flooring that we badly need, I moved all of the living room furniture into the garage before painting. But then it took months longer than I expected to push all of the paperwork through, so the floors still aren't finished and the furniture is still in the garage. My living room, quite literally, feels like The Waiting Place. (In fact, a friend dropped in to pick something up and thought she had the wrong place because it looked like we'd moved out.) "Waiting for the bank to call. Waiting for the lawyer to return from a month-long vacation. Waiting for the old carpet to be torn out. Waiting for the furniture to be moved back in. Everyone is just waiting."
It's been frustrating and what little patience I had at the beginning of the summer has been stretched to the limit. A person can only take so much of The Waiting Place. It's been wreaking havoc with my emotions, bringing up old fears and frustration, and getting in the way of my most important relationships.
Finally, today, I decided it was time to do what I tell my coaching clients to do when they're in the liminal space between what was and what is yet to come – stay present for what's right now, find the tools and practices that help with processing, and open myself to what wants to emerge out of the liminal space.
For the first time in a long time, I took out my mandala journal and created a new mandala for the liminal space. It helped. Here's a mandala journal prompt that I created out of my own process…
Liminal Space – a mandala journal prompt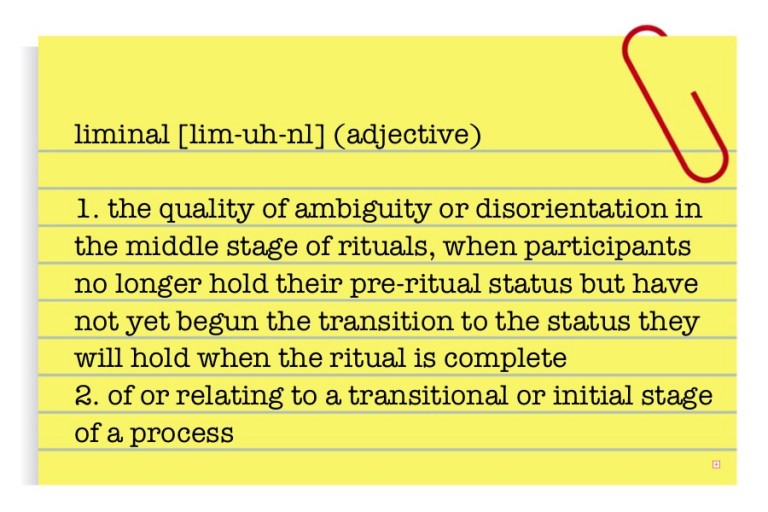 In anthropology, a liminal space is a threshold. It's an ambiguous space in the middle stage of rituals, when participants no longer hold their pre-ritual status but have not yet begun the transition to the status they will hold when the ritual is complete. That liminal space finds us between who we once were and who we are becoming. It's disorienting, uncomfortable, and it almost always takes far longer than we expect.
Much like The Waiting Place in "Oh The Places You'll Go", it feels like "a most useless place", but it's not. It's a time of hibernation, a time of transformation, a time of resting, and a time of deep learning.
Nobody teaches us more about liminal space than the lowly caterpillar. Not knowing why, and not having the capacity to imagine its future as a butterfly, a caterpillar knows only that it must surrender, shed its skin, create the shell of a chrysalis, and then dissolve into a formless, gel-like substance awaiting rebirth.
The liminal space is about surrender. It's about releasing the caterpillar identity before we have the vision for the butterfly. It's about falling apart so that we can rebuild. It's about daring to go into the darkness so that we can, one day, emerge into the light. It's about trusting Spirit to direct the transformation.
One of the most critical things that the caterpillar teaches us in its transformation is that we need the shell of the chrysalis to hold space for us when we fall apart.
We need a protective shell that holds us in our formless state. It keeps us safe in the midst of transformation. It protects us from outside elements so that we can focus on the important internal work we need to do. It believes in the possibility for us even before we have the capacity to believe it ourselves.
When we enter our own chrysalis, whether that is the waiting place of divorce, grief, pregnancy, job loss, career change, graduation, children moving away, or any number of human experiences, we must build our own chrysalises that hold the space for our transformation. Like a patchwork quilt, we stitch together the people or groups who hold space for us (family, friends, pastors, therapists, coaches, churches, sharing circles, etc.), the practices that help us hold space for ourselves (journaling, artwork, prayer, body work, meditation, etc.), and the spaces which make us feel safe for transformation (our home, the park, a church, etc.)
Mandala Prompt
1. Draw a large circle and a second slightly smaller circle inside it.
2. At the centre of the mandala, glue or draw an image or words that represent the liminal space. (I used an image from The Waiting Place in "Oh, the Places You'll Go". Another idea might be an image of a chrysalis.)
3. In the space between the image and the next largest circle, write sentences, words, or phrases that represent what The Waiting Place is like. Explore your emotions, fears, resistance, etc., and also explore your wishes, your opportunities for learning, etc. You can use the following as prompts for starting your sentences:
– I feel…
– I am…
– I fear…
– I want…
– I will…
– I am learning…
– I wish…
(Note: I blurred mine in the image above, since it was a little too personal to share.)
4. Imagine that the outer rim (between the two outer circles) is your chrysalis. Inside the rim, write down all of the people who hold space for you, all of the practices that help you hold space, and all of the places you go when you need to hold space for yourself.
5. Colour/decorate your mandala however you wish. As you are doing so, set an intention for what you wish to invite in as you surrender to the chrysalis. For example, I whispered an intention for more patience and grace as I wait for the next story to emerge.
Want more prompts like this? Sign up for Mandala Discovery and you'll receive 30 prompts on topics such as grief, fear, play, grace, community, etc.
Interested in more articles like this? Add your name to my email list and you'll receive a free ebook, A Path to Connection and my bi-weekly reflections.