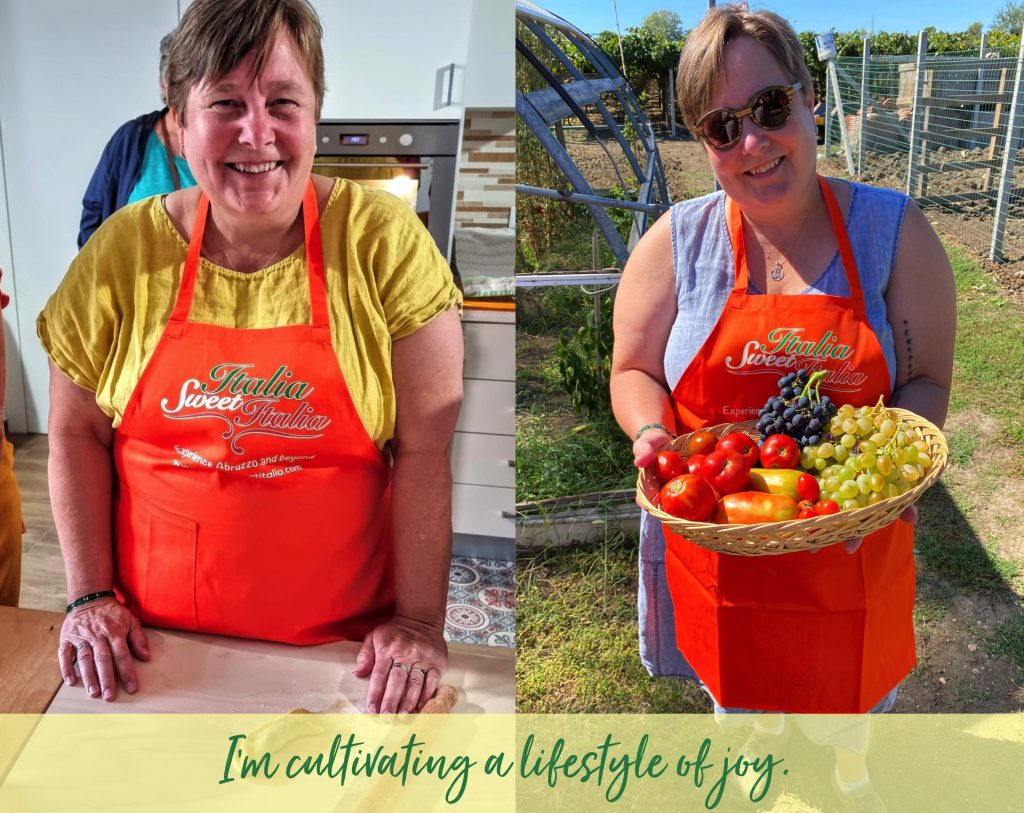 "We create most of our suffering, so it should be logical that we also have the ability to create more joy. It simply depends on the attitudes, the perspectives, and the reactions we bring to situations and to our relationships with other people. When it comes to personal happiness there is a lot that we as individuals can do." ― Dalai Lama XIV, The Book of Joy: Lasting Happiness in a Changing World
 
In The Book of Joy, which consists of a week-long conversation between the Dalai Lama and Archbishop Desmund Tutu, the two spiritual teachers talk about how they approach joy not as a feeling, but as a lifestyle – one which they've each learned to cultivate even in the midst of extreme hardship. Both have been through wars and have been exiled from their countries, and yet, when you watch them together in their advanced years, you can't help but be drawn in by their playfulness and delight in the world and each other.
 
With them as my inspiration, I am doing my best to cultivate a lifestyle of joy. I am intentionally chipping away at some of the old stories that tell me I am not worthy of joy, I am working to heal the trauma that gets triggered when too much joy is present, I am removing things in my life that actively serve as thieves of my joy, and I am finding daily practices that help to grow a strong foundation of joy.
 
If you have been following along on my journey over the past several months, you will know that, after helping my daughters launch into their own lives, I have sold my house, packed my belongings into a storage unit, and set off on a nomadic journey for at least six months. I've got some in-person workshops to do in Europe and then in Costa Rica, and then… I don't know where I'll settle (or if I'll choose to wander for a while longer). I'm letting my heart be my guide. Right now, I'm in a seaside town in Spain, and though I planned to spend only a week here with a friend, I've already booked additional days because my body feels so relaxed and peaceful here. That's how I intend to make decisions for the next six months (and hopefully the rest of my life) – by checking in with my heart and body and not just my often-overactive mind.
 
I am calling this my Liberation and Tenderness Tour. I want to continue to liberate myself from old stories and limiting beliefs and I want to find more freedom from the bounds of oppressive systems like the patriarchy, capitalism, and colonialism. I'm doing my best to challenge things like internalized fatphobia, misogyny, martyrdom, and shame. I believe that tenderness is the path toward the liberation I seek, and I believe that joy is the outcome. In other words, it's not hedonism I'm talking about, but a deep, intentional, and sturdy joy.
 
Cultivating a lifestyle of joy doesn't mean that I expect to be always happy. No, life continues to have its challenges, and I don't intend to gloss over anything with spiritual bypassing or avoid feeling the hard stuff when it comes. At the beginning of this journey, for example, I spent a few days with my beloved friend Randy, who is dying of ALS, and I carry the grief of that anticipated loss with me everywhere I go. Instead, like the Dalai Lama and the Archbishop, I want to create a bedrock of joy that offers a solid foundation for whatever may come.
 
"'Discovering more joy does not, I'm sorry to say,' the Archbishop added, as we began our descent, 'save us from the inevitability of hardship and heartbreak. In fact, we may cry more easily, but we will laugh more easily, too. Perhaps we are just more alive. Yet as we discover more joy, we can face suffering in a way that ennobles rather than embitters. We have hardship without becoming hard. We have heartbreak without being broken.'" – The Book of Joy
 
Last week, when I was in Italy enjoying a week-long food, wine, and art tour in the Abruzzo region, I noticed exactly what the Dalai Lama talks about in the above quote. As I opened myself to more joy, I was feeling ALL of the things more deeply. I stood in the crypt of a twelfth century abbey and felt the grief and longing of centuries of spiritual seekers who'd stood there before me. I stood in a cattle barn, and the familiar smell flooded me with grief over the loss of my dad. The grief was real, and yet… none of it diminished my foundation of joy. If anything, the moments of grief made the joy even more vibrant.
 
I don't believe you need to pack up your belongings and set off on a quest like mine to cultivate a lifestyle of joy – I believe you can do it right where you are, right now. Here are some of my thoughts about how you can begin to cultivate a lifestyle of joy:

Make peace with the fly. For this piece of wisdom, I must credit my friend Randy, whose body has been ravaged by ALS. When I spent time with him just before leaving for Europe, the mobility in his arms and hands had become limited to about five inches of movement in his left arm. He is now completely dependent on other people for all his physical needs. Yet even in his dying and dependency, Randy embodies the kind of joyful lifestyle that the Dalai Lama and the Archbishop talk about. His eyes still sparkle when I walk in the room and his grin still frequently flashes across his face. "I was lying in bed one day and there was a fly in the room," he said to me, in one of the brief moments when he had enough energy for conversation. "It kept landing on my face, and I could do nothing to chase it away. I simply had to practice accepting the fly." For Randy, after years spent cultivating a rich spiritual life and mindfulness practice, the fly became his teacher and the practice became acceptance of what was. Ever since that conversation, every time I experience a frustration (a person who annoys me or a situation that's outside of my control), I try to ask myself "can I simply accept the fly?"

Laugh at broken doorknobs. This point is a lot like the last one, but it's worth mentioning separately. On my second day in Italy, in the bedroom of an Airbnb I was sharing with some people I'd just met, the doorknob on the inside of my bedroom door broke off in my hand and I was left trapped, with no other escape route. Fortunately, I had my phone with me and could text the other occupants of the house to come and rescue me, so I wasn't trapped for long. We shared a good laugh when they opened the door, and it became a shared memory that we could go back to later in the week when other situations seemed outside of our control. Sometimes you simply have to surrender to the ridiculousness of a situation, let other people rescue you, and then have a good laugh.

Let other people's emotional journeys be their own. Some of the greatest thieves of our joy are other people's problems – or rather, our attachment to their problems. Because many of us have codependent tendencies, we attach our own emotions to those of the people we love and we think we can only be happy when they are happy. We try to fix their problems because their problems become our problems and their anxiety becomes our anxiety. And sometimes, if we're too happy, codependent family members or friends become resentful or afraid we'll abandon them, and they try to drag us into their drama because it makes them feel more safe. But nothing is truly served in sacrificing our joy for other people. We can't make them happier by giving up our happiness. We can hold space for them and help to soothe their fear of abandonment, but they must find their own pathway to joy. Holding space, as we teach about in the Foundation Program, is all about loving detachment.

Slow down and be mindful. Many North Americans (and probably other places in the world, but I can only speak of what I know) are addicted to busyness. In a culture built on capitalism, where productivity is highly valued, we think we only have worth when we are busy and making a meaningful contribution. But busyness numbs our emotions, keeps our nervous systems on high alert, and makes it hard for us to listen to the deeper longings of our hearts and bodies. Deep, embodied joy is cultivated in slowness and mindfulness, when we take the time to breathe deeply, smell the flowers, slow our nervous systems, listen to the music, and enjoy the flavours of a lovingly prepared meal. Last week, in Vasto, Italy, with a guide who understands what it means to live a good and intentional life – a life not driven by capitalism – I learned to make homemade pasta, to savour the flavours of olive oil from ancient trees, to bake bread in a brick oven, and to paint with the petals of a flower on the side of a mountain overlooking the sea. All of it was slow and mindful and all of it helped to soothe my nervous system and give my body a place to feel safe and at home.

Pluck only the chin hairs that matter. If you're over 50 and living in a female body, you know about the chin hairs. Nobody told me that this would be a thing! When I arrived in Italy, after spending a very busy couple of months packing up my belongings and helping my daughters settle into new places, I looked in the mirror and realized how little time I'd spent tending to my appearance. There was a vast array of long hairs sprouting from my chin. Since I was about to spend time with a dozen women I'd never met, I pulled out my tweezers and started plucking. As I stood there, looking at myself in the mirror, I made a very intentional choice. "I will only pluck the chin hairs that matter," I said to myself. "I'm going to leave my eyebrows bushy, and I'm not spending a lot of time fussing over my hair or putting on makeup." It wasn't just about chin hairs, though. It was about accepting my body as it is and treating it with tenderness. It was about liberating myself from the pressures to conform to a patriarchal beauty standard. In the week that followed, my commitment went far beyond chin hairs. When other women on the tour criticized their own bodies, talked about how they needed to "earn" their gelato with exercise, or worried about the pounds they might put on because of the abundance of food we were offered, I stayed silent. I was determined not to speak one word of critique of my body, not to contribute to the talk of food restrictions or body shame, and simply to be in loving relationship with my body. (For more on this, I recommend the brand new book Reclaiming Body Trust, by Hilary Kinavey and Dana Sturtevant.)

Let go of martyrdom and performative acts of sacrifice. This has become one of my most important areas of personal growth lately. I was raised with a very strong narrative around the value of martyrdom and acts of sacrificial service. I continue to unpack the ways in which my religious and family lineages taught me that sacrifice is next to godliness and I continue to question the ways that I act out of a subconscious belief that I only have value when I am being sacrificial. While I was traveling with other women last week, I could see so clearly how some of them had been raised with a similar value system. They were eager to give up the best room to someone else, eager to be the first to jump up to do the dishes, and eager to be of service even when that service was not requested, plus they expressed guilt when other people served them. As I witnessed this and noticed the same tendency in myself (especially when surrounded by others doing it), I tried to be mindful of what was genuine generosity and what was rooted in martyrdom as a conditioned response (for myself – I tried not to make assumptions about others' reasons for doing it). There's a fine line between generosity and martyrdom and I'm trying to find that line in myself, trying to allow myself pleasure and accept generosity without rushing to sacrifice myself for others. There is a way, I believe, of being of service to other people while also unapologetically receiving service from others and welcoming pleasure without guilt. (Just before I finished writing this post, the friend who I'm staying with in Spain decided to go for a swim at the beach just outside our front door. At first, I was going to stay inside and finish this post, but then I asked myself why I was denying myself the pleasure of a swim, and I closed my laptop and went outside.)

Stop trying to change other people. One of the other thieves of our joy is our attachment to the way that others should behave. Other people should be kinder, more patient, less angry, more generous, less chaotic, more playful, more mature, less serious, less critical, etc., etc. In other words, they should be more responsive to our needs and create a world that is safer and more comfortable for us. But when we attach our joy to other people's behaviour we become, in a sense, enslaved to them. And… let's face it… everyone has their own problems and insecurities and they're all trying to get their own needs met just like we are, so they won't always behave in the way that suits us. Last week, in a moment in which I noticed some agitation with other people's behaviour, I looked around and could suddenly see the little child in each of the others I was with – a little child who had developed behaviour that was simply an adaptive strategy to help them cope with whatever they'd faced in their childhood. That awareness helped me be more patient and accepting of them, knowing that I too have such a child within me. To cultivate a lifestyle of joy, instead of trying to change people, we need to stop allowing their behaviour to control how we feel, and we need to "tend our own membranes". (That's a term that comes from my book, The Art of Holding Space: A practice of love, liberation and leadership.) Through a lifelong practice of self-exploration, we can become more aware of our own needs, we can discover who has the capacity to help us meet those needs and whose behaviour hinders us from having those needs met, and then we can develop healthy boundaries that help protect us from the behaviour that is harmful to us. "Boundaries are the distance at which I can love you and me simultaneously." – Prentis Hemphill
 
Admittedly, I am far from perfecting any of these points, but some of my joy comes from accepting myself as a work in progress. I take solace in the fact that I still have several years to catch up to the Dalai Lama and the Archbishop. I'll be patient with myself and keep practicing. I invite you to do the same.
****
Learn more about holding space for yourself and others, and about cultivating the lifestyle and relationships you want, in our upcoming online Holding Space Foundation Program.
You can also learn from me in-person at one of my in-person workshops.