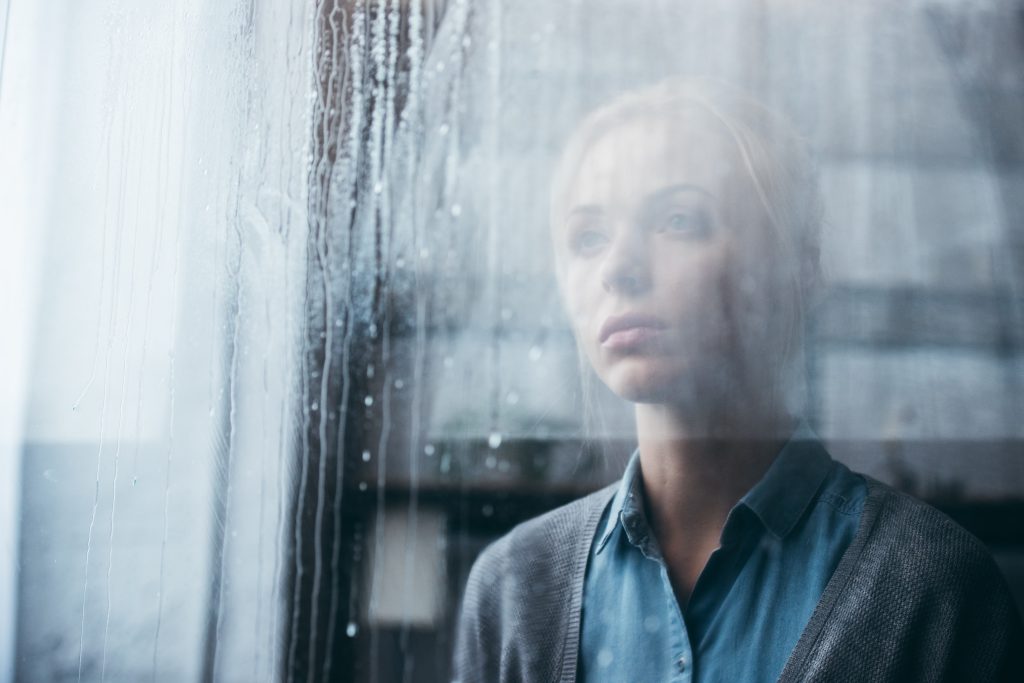 Listen to Heather read the post:
I can't fix it. I want SO BADLY to fix it. My daughter is in distress, she's far away, and all I can do is be here, listening, at the other end of a FaceTime call. I feel so helpless. My words feel empty and void of purpose. My emotions swell into desperation as my nervous system sends my brain scrambling to find at least one small thing that is fixable by me, her mom. There is nothing.
This is the hard stuff of parenting young adult children from a distance. I feel so frequently helpless when their lives overwhelm them. I can't show up with food, I can't rush over to their apartments to hug them or do their laundry… I can't even send them a plane ticket back home because "home" is no longer a physical place. (And yes… the niggling guilt over selling their childhood home sometimes pokes at me when the desperation swells.)
Even as I write this, the tears well up in my eyes. I feel the enormity of it all over again. This parenting stuff – even when the children are grown and living lives of their own – it's not for the faint of heart. It wrecks us again and again, tears us apart and leaves us raw, battered and lost. Nothing has ever made me feel more helpless and vulnerable than parenting. Nothing else has triggered my fears of irrelevance, incompetence, or failure in quite the same way.
In an interview I listened to yesterday, Kerry Washington was talking about two of her acting roles and how those roles related to parenthood. The first role she talked about was in Scandal, a series in which she played a "fixer" who was almost always the most powerful person in the room, fixing things on behalf of a government, believing she was doing so for the greater good. During the eight years of taping Scandal, Washington gave birth to her own two children, and she wrestled with whether her character, Olivia Pope, should become a mom in the show. It was a deliberate choice on the part of Shonda Rhimes, though, not to let the character become a parent, because that would have made Olivia too vulnerable and no longer as capable of the kind of power, control and ruthlessness she needed to be a fixer.
Immediately after Scandal, Washington appeared on Broadway in American Son in which she played the mother of a Black son who's gone missing and may have been killed by the police. This was the counterpoint to Olivia Pope, a role in which she could explore the vulnerability and powerlessness that comes along with parenthood. Unlike Olivia, the mother in American Son has no power to fix (especially as the mother of a Black son).
It's true – there is a way in which parenthood disempowers the "fixer" in us. It takes away some of our potency and leaves us vulnerable and exposed. It's an unraveling, a deconstructing – it unmoors us from what once felt like control.
Some of us resist that deconstruction at every level. Helicopter parents, for example, or those who've sometimes been referred to as "Tiger moms" – they cling desperately to their ability to control every situation on behalf of their children. They push away the powerlessness and swoop in to rescue, control, and strong-arm whatever situation threatens their child. Back when I used to spend summer evenings in a lawn chair beside many soccer fields, I witnessed this resistance on a regular basis – parents who reacted to feelings of powerlessness by inserting themselves into every situation. Some always knew better than the coach, some insisted on having input into every decision that would impact the team (and specifically their child), and some were overprotective about the potential for injury to their child.
I understand the temptation to over-control. I have sat helpless on the sidelines and witnessed more than one injury to one or the other of my children – once a concussion that required an ambulance be brought onto the field, once a broken arm, and once a torn ligament that required knee surgery.
It's a vulnerable thing to allow your child to enter a situation where you have no control over what happens to them. It starts when we watch their first lurching steps across the living room, and it gets increasingly more complex as they get older and take more and more risks. From the first day of school to their first sleepover to their first job – it's a gradual (and sometimes painful) process of letting go.
Now, while my daughters each navigate big cities and diverging lives far away from me, I have to let go even more. The thread that ties us to each other has stretched and I have less and less capacity to be the "fixer" in their lives. Sometimes I feel completely lost, not sure what my role is anymore.
For years now, I have been teaching people that holding space is the practice of walking alongside someone and supporting them, without trying to control them, while they pass through liminal space into an unknown future. At its heart, it's about letting go of our attachment to the outcome.
But what about when the person we're trying to hold space for is our child and we've been the primary person committed to raising them into responsible, compassionate adulthood? How do we let go of the outcome THEN?! In some ways, it feels like the outcome is the WHOLE POINT of parenting – we want to attach the label of "success" to their version of adulthood.
Therein lies the rub. It is ALWAYS the hardest to hold space for the people we are closest to, and the complexity of it increases for the people we've birthed and/or raised. We can't help but be attached to the outcome when we love someone, especially when we've been highly invested in training and guiding that person into adulthood. We want the outcome to be a better, happier, healthier, more fulfilling life. We want them to know ease and love and contentment.
There is love in this attachment and in our wish for them, of course, but there is a shadow side too. Especially when it comes to our children, our egos are invested in the outcome. We don't want our children to fail because we ourselves are afraid to fail and their failure can feel like a personal failure on our part. We don't want our children to experience discomfort because we ourselves are afraid of discomfort and we get triggered by theirs. We don't want our children to be unhappy, afraid, lonely or depressed because we're uncomfortable with our own emotions, and (because our children feel like extensions of us) their emotions make us feel too exposed.
It is hard to disentangle ourselves from our children's identity and emotional experience. It's hard to watch them be educated in the school of hard knocks.
Some of us, because we haven't done enough of our own healing and personal growth work, become enmeshed and codependent, shaping our lives around our children's lives and taking too much responsibility for their emotional well-being. I understand this tendency – in my most vulnerable moments, when I want to swoop in as the fixer on my daughters' behalf, I feel nearly helpless to the energetic pull toward codependency. There's a pattern of it in my life. It flared up especially during the two times my former husband attempted suicide. In the years since, I've had to work hard to avoid slipping back into the pattern whenever another out-of-control situation presents itself.
It sounds selfish to say this, but I'm going to say it anyway… the best thing we can do for our children when they are struggling is to take care of ourselves. I don't mean that we take care of ourselves AT THE EXPENSE of them, centering our own needs and feelings and dismissing theirs. No, I mean that we hold space for ourselves, for whatever ways that we get triggered and feel powerless and desperate, so that we are grounded enough to provide for them the "safe haven and secure base" that they need.
It's become a well-worn cliché to say "put on your own oxygen mask first", but it's worth repeating nonetheless. We can't support our children from an empty tank. We can't hold space for them well if we're not holding space for ourselves. We can't support their breakdowns well if we are too enmeshed and their breakdowns trigger our own. We can't help them hold their big emotions if we are afraid of those big emotions and stifle them in ourselves.
Since selling my house (and my daughters' childhood home) last year, I've come to the realization that, especially now that there is no physical place to return to, my children's version of home is ME. My presence serves as an anchor for them while they learn to navigate the world on their own.
I want to be a solid and secure place in which they can sink their anchor. I want to be emotionally available and reliable so that they don't have to second guess my capacity to hold space for them. I want to do my own work, continuing to heal my own woundedness and resourcing myself well, so that, whenever they need it, I am a safe place to land. I want to be on the other end of FaceTime, not solving their problems for them, but listening and supporting and loving and empowering. And I want them to know they can call.
Our children don't need enmeshed or codependent parents. They don't need fixers who will disempower them when they swoop in with solutions. They don't need us to become overly attached to their identity, their emotional experience, or the outcome of their decisions.
They need a safe place where they can fall apart occasionally. They need to know that they won't be abandoned (or fixed) when they fail. They need to be allowed to have big emotions without having those emotions shamed, ridiculed, fixed, or projected back at them. They need to be allowed the autonomy to discover their own resilience and their own tools for navigating hard places. They need us to hold space for them – with a love that's not enmeshed.
But first… we have to learn to hold space for ourselves.
****
Want to learn more about holding space for others and for yourself? Join us for the How to Hold Space Foundation Program. It starts the week of October 23.