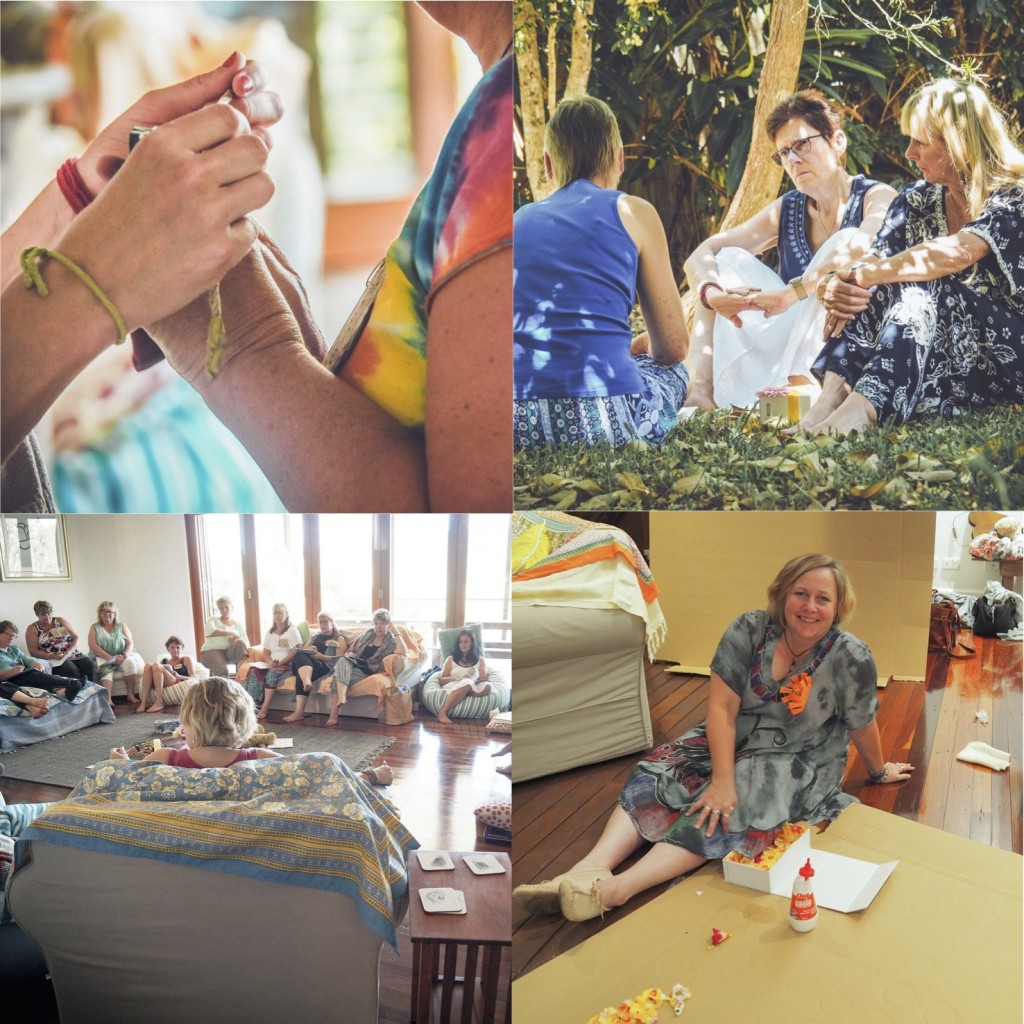 I was on a fourteen hour train ride between Brisbane and Sydney the day the U.S. election was sealing the fate of the country for the next four years. I'd chosen train travel over flight because, after the intensity of facilitating two sold out retreats and a one-day workshop in a country far from home, I needed many hours of integration, electronic disconnection, solitude, and staring out the window at the vast countryside. Slow travel offers me self-care in times like those.
For those fourteen hours, I had no access to internet, so I didn't know who won the election until hours after it had been announced.
I say that I didn't know, but really… I DID know. Hours before an astonished fellow traveler announced to the rest of us in the railcar what she'd read online, a sudden ominous, panicky feeling engulfed me and I knew intuitively what the outcome was. I had a strong sense of the shadow showing itself in the world. I knew that the world was about to change – and not in a good way. I didn't want to believe it, but when the woman exclaimed "Has the whole world gone mad?!" my fears were confirmed. A man who is openly misogynistic, racist, narcissistic, and emotionally immature is about to become the leader of arguably the most powerful country in the world.
Yes, I'm Canadian, and my life and the lives of my children may not change dramatically because of this election, but what happens in the U.S. affects the world. What hurts my Muslim, Black, GLBTQ+, Indigenous, and Mexican sisters and brothers hurts me. And this is not an isolated incident – it comes too quickly on the heals of Brexit to not be seen as a global pendulum swing toward protectionism and the far right.
There is good reason for the ominous feelings in the pits of so many of our stomachs. White supremacy and the patriarchy have reared their ugly heads and they appear to be winning this round. The shadow is big and ominous and it demands to be seen.
Just a few days before sitting on that train, I had a similar ominous feeling in the pit of my stomach, but this time it was much more personal and close to home. I was facilitating the second retreat at Welcome to the BIG House when things started to go sideways. No, they were not on the "Trump winning the election" global scale of ominous, but not unlike what's happening in the U.S., group shadow had showed up at the retreat and was threatening to derail everything we'd worked to build.
I'd known from the start of the retreat that something was slightly out-of-balance. It started with a gut feeling when I walked into the room and it continued when the opening sharing round did not invite as much vulnerability and trust as it normally tends to. The next morning, I was even more certain that there was some stuck energy in the group when a simple exercise fell flat. We were simply trying to walk in a circle together, looking down at the words we'd placed on the floor, but, try as we might, we couldn't get the circle to move. We were stuck.
It was hard to put a finger on what was going on. There were beautiful, openhearted people in the room who came willing to learn and to engage in meaningful conversation. Nobody was openly disruptive or serving as an "energy-vampire". When we moved into smaller circles, the energy flowed more easily and intimacy and trust seemed more present, but when we were in the large group, there was a flatness and disconnection that didn't seem to shift.
I questioned everything. Was the group too big? Had the purpose of the retreat been unclear and so people arrived with differing expectations and intentions? Was I trying to mix together the wrong content? Was my ego getting in the way? Was there some underlying conflict I didn't know about? Was there a cultural disconnect I didn't understand? I didn't have the answer.
On the afternoon of the second last day of the retreat, we started to talk about shadow. I explained how shadow is made up of all of the things that we keep out of sight because we're afraid to bring them into the light. These are not necessarily all bad things – they are simply the things we fear will make us feel unsafe if we reveal them. Beginning with an exploration on personal shadow before we moved on to group shadow, I invited the group into a guided meditation in which each person explored the messages they'd received in childhood about which parts of their personality and identity they'd learned to keep hidden because it wasn't safe to reveal them. "Perhaps you learned to keep your voice down because you learned it was unsafe to be too loud. Perhaps you hid your body because revealing it wasn't safe."
Before we could move into a conversation about group shadow, the shadow showed up and revealed itself to us. A few people in the room spoke about the shadow that was coming up for them within the container of this retreat. (Giving more specific information would betray confidences, so I will simply say that they were honest about their personal shadow and how it might be contributing to what was happening in the group.) As soon as the words were spoken, it felt like a bomb had been tossed into the room. Suddenly there was something staring us in the face that many of us were afraid to speak of. Some were confused and disoriented by it, and all felt some measure of discomfort.
What should we do now? Everyone looked to me, hoping I could magically make the bomb go away. I knew I couldn't do that alone and I knew we didn't have enough time or energy left in the day to fully dismantle it.
With my head spinning in circles like a roulette wheel trying to land on the right number, I reached deep for what my intuition told me was the next right step. "It's late in the day, we need a meal and a rest, and I don't believe that we have the space and time to fully address what just happened," I said. "We need a strong container to hold the shadow that just showed up, and we can't be strong if we don't care for ourselves first. I know that, as the circle host, my resources are spent at this point in the day, so I don't think we'll serve ourselves well if we stick with this right now. I'm going to suggest that we close with a check-out round, and then we each do what we need to do to care for ourselves throughout the evening. In the morning, when we are refreshed, we will come back into the circle and hold the space for what showed up. I will set aside the teaching exercises I had planned so that we can give as much space for this as we can in the short time we have remaining."
For the check-out round, I asked the question "what are you curious about?" Most people spoke to their curiosity about what had just happened and how it would be resolved. When everyone had spoken, I read the following poem:
Lost (by David Wagoner)
Stand still. The trees ahead and bushes beside you
Are not lost. Wherever you are is called Here,
And you must treat it as a powerful stranger,
Must ask permission to know it and be known.
The forest breathes. Listen. It answers,
I have made this place around you.
If you leave it, you may come back again, saying Here.
No two trees are the same to Raven.
No two branches are the same to Wren.
If what a tree of a bush does is lost on you,
You are surely lost. Stand still. The forest know
Where you are. You must let it find you.
In closing, I offered this invitation. "Tonight, I invite you to sit with your discomfort. Go sit with the trees, if that helps. Don't try to resolve it too quickly. Sit with it and ask what it is here to teach you. Because in your discomfort is great opportunity for growth, learning, and transformation."
By the time I got back to my own room, I could feel the heaviness of what had just happened settling into my body and I could hear the gremlins beginning to offer their displeasure in my head. "Did I do the right thing? Did I fail the group? Should I have been more forceful or decisive? Will I let them down if I don't teach the parts of the curriculum I'd planned to teach? Will we really be able to resolve this in the morning? What if everyone leaves the retreat dissatisfied? What if I fail?"
I turned to my go-to self-care stress-reducers. First, I climbed into a bathtub full of hot water and epsom salts. I stayed there for nearly two hours – as long as it took to slow my breath, still my brain, ground my body, and give comfort to my heart. Each time the gremlins attacked, I took deep breaths, said a prayer, and repeated a few of my favourite mantras. I also sent out a couple of SOS text messages to dear friends who would hold space for me from afar, and, after my bath, I unpacked what had happened with Georgia, the owner of The BIG House and the guardian of the circle. As we were talking, sitting in darkness in her living room, two creatures showed up in the room – a large frog by the kitchen sink and a bat flying through the open window and fluttering above our heads.
By the time I climbed into bed, I was relaxed and confident that, if I could get my own ego out of the way, the circle would be strong enough to hold the shadow in the morning.
The next morning, I started by asking the group for their permission to clear out the centre of the circle. We'd let it become cluttered with some creative containers we'd made earlier in the retreat as well as other things that didn't need to be there. "I want to clear out the centre," I said, "to remind us of the intention that brought us here this weekend. This retreat is called 'Living with an Open Heart', and that is what we came here to do. We want to place our intention to be openhearted at the centre of the circle and remind ourselves that, whatever happens in this space, we commit to connecting back to our own open hearts."
Then I asked the question "How are you arriving?" and passed the talking piece for a check-in round. People were tentative at first, but then there was a gradual opening up and the energy in the room began to shift. It felt like a little light was peeking through a window. Part way through the round, a few people started to open up more than they had before in the large circle.
Once we'd completed a check-in round, I said, "My intuition tells me that we simply need to allow the talking piece to make its way around the circle again and invite people to say whatever they feel needs to be offered into the circle."
One person asked "aren't we going to confront the shadow that showed up here yesterday?" I responded with "'Confront' isn't the language I'd like us to use. Instead, let's do our best to speak with open hearts so that we can reveal and shine light on the shadow that we've all brought into the room."
This time, while the talking piece passed around the room, people cracked open even more, especially those people who'd revealed the shadow the day before. What they offered into the room revealed deep awareness and learning that had happened overnight. Each person was willing to own what she or he had brought into the room. 
The energy shift was palpable and people leaned in to the centre in ways they hadn't before. They were finally beginning to trust the circle to hold their vulnerability and personal shadow. Some profound shifts happened for several people, and one person in particular admitted that this was the very first time she'd ever come to a place where she was safe in a group setting. "When I knew that I was safe to sit with my discomfort and then come back into the room, I felt like I was truly safe with other people for the first time in my life." She wept and many of us wept with her.
Several people thanked the shadow-bearers. "If you hadn't spoken what you did into the circle yesterday, we would have walked away with only half of an experience, not knowing what we were missing. This morning was worth every bit of discomfort we felt last night. I am leaving this circle with an open heart."
We were ending the retreat at noon, so we only had time for a short break and then a check-out round. During check-out, each of us spoke to what we were taking with us from the retreat, and many spoke of life-changing shifts they'd experienced.
"Some of you were uncomfortable giving up the teachings that I had prepared for this morning," I said, "but if I had pushed through with my curriculum, it would have come from a place of ego and not openheartedness and it would not have served the good of the group. Also, all of the things I had planned would have kept you in your heads, but what happened here this morning brought us all back to our hearts. You have taught each other much more valuable lessons than I could have taught you."
A few days later, when I was on the train and had received the news of Trump's election, I thought back to our experience at the retreat and wondered what it had to teach us about the state of the world right now.
Just like at the retreat, there is an underlying shadow in the world that we haven't always known how to talk about. There have been some brave souls who've spoken about it throughout history, but many have been killed, tortured, or ostracized for their efforts and the rest of us have been scared off by what they've endured. If I were to give it a name, I would use words like "patriarchy" and "white supremacy". There are other related words… "consumerism, greed, environmental destruction, protectionism, etc."
It's been under the surface for a very long time and, collectively, we've tried to ignore it because it brings up shame and fear and makes us feel unsafe to speak of it. But in recent years, it's been surfacing more and more and there are more and more brave souls willing to speak of it. Many of those brave ones – like those in the Black Lives Matter movement, or those protecting the waters from the Dakota Access Pipeline, or any feminist who dares to face the trolls online – continue to suffer the consequences. The courageous ones continue to do it anyway, because they are called to be the light-bearers. 
When you dare to speak of the shadow, it can show up in the room like a bomb that's been dropped, surprising and disorienting us all. Trump's presidency is one such bomb dropped into our world, revealing to us the shadow that exists in ALL OF US. We can't simply blame a few scapegoats – we have to take ownership of this shadow if any real change is to happen.
Just like at the retreat, we need a strong container that can hold space for the shadow. We need people who aren't afraid to speak of what they hide inside themselves. We need people who will come to the circle with open hearts. We need strong leaders who do not back down in the face of conflict or their own fear. We need people who are willing to sit with their discomfort so that the learning and wisdom can emerge. We need those who will turn to the trees and to the creatures for wisdom and guidance. We need prayer warriors and caregivers. We need those who offer sustenance and shelter. We need warriors and lovers.
We need commitment, courage, compassion, and curiosity. 
If there had not been strong and committed people in the room with me at the retreat, there is no way I could have held it alone. The circle would have crumbled and we all would have taken our fear, discomfort, and shadow with us, probably stuffing it further down so that it would emerge in much more destructive ways later on. The shadow doesn't go away – it just goes underground for awhile until it finds another crack through which to crawl.
This is my challenge to you – can we gather together the people we need to create a container strong enough to hold this shadow? Can we rally our co-leaders, our allies, our prophets, our teachers, our guardians, our disruptors, our light-bearers, our disenfranchised, our marginalized, our priests, our caregivers, our helpers, our prayer warriors – anyone who is willing to hold the rim while we wrestle with the shadow in our midst? Can we sit with our discomfort long enough to let the learning and wisdom sink deep into our hearts? Can we stand firm in the face of those who continue to hide the light?
Can we commit to real change rather than surface platitudes? Can we dare to face our own shadow so that the collective shadow loses strength?
I believe we can. Let us begin.