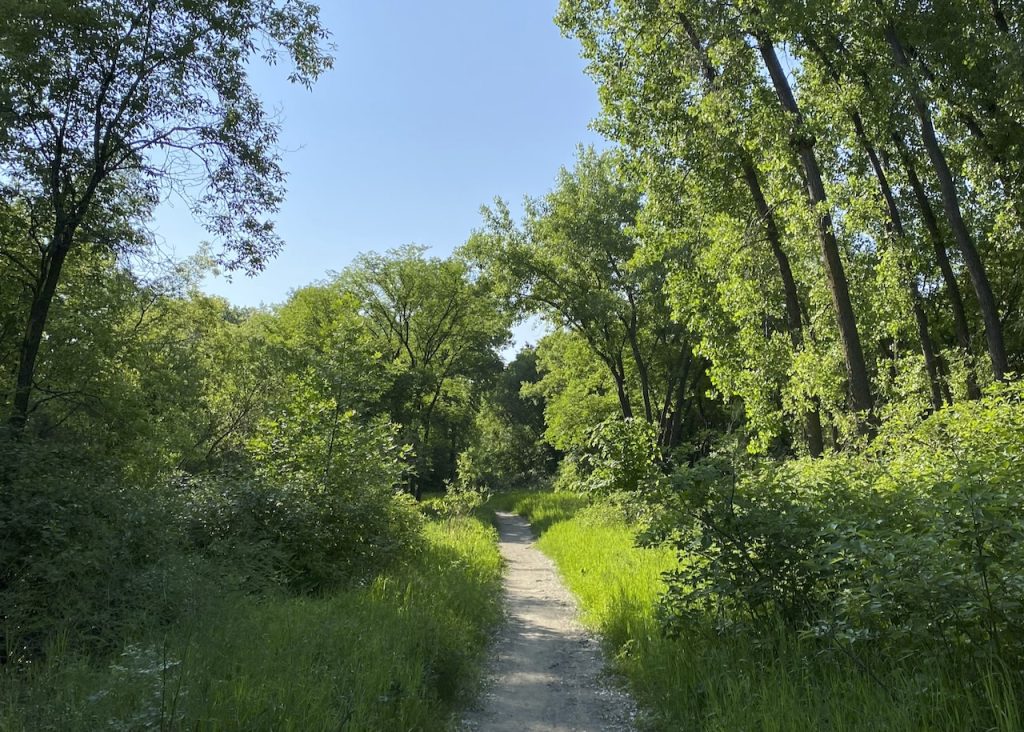 On my semi-regular walk this morning, I found myself in the woods and suddenly realized I wasn't really IN the woods. I'd headed down a familiar path, and yes, I was surrounded by trees, but I wasn't really present. My body could have been anywhere while my mind was on its own separate journey. My mind was busy bopping around, thinking about all of the things involved in launching my new program today, and ruminating over some challenging conversations I've had recently. Truth be told, I hadn't noticed a single tree and, even though I didn't have my headphones on, hadn't heard a single bird.
When I suddenly realized my lack of presence, I stopped in my tracks and started taking it all in. I noticed some of yesterday's raindrops still on a few leaves. I noticed the graffiti on the rail bridge I was about to pass under. I noticed some clouds moving in and wondered if there would be more rain.
Then, to help me stay present, I turned off the familiar path to a less familiar one. As I discovered while I was traveling this past year, unfamiliarity is more conducive to staying present because it forces me to notice things and pay attention so I don't get lost. A few minutes on that path was enough to shift my brain out of its ruminating spiral. Occasionally it was tempted to go back there, but then I'd stop in my tracks again and look at a leaf or the trunk of an old tree.
In his book, Awe: The New Science of Everyday Wonder and How it can Transform Your Life, Dacher Keltner talks about how awe, "the feeling of being in the presence of something vast that transcends your current understanding of the world," can shift us out of self-consciousness, ego, anxiety, pettiness, and rumination. What I was doing, when I stopped on the trail to notice the trees, was hitting the pause button on all of those self-protective patterns my mind is habituated in, and landing myself more fully in the moment, more fully in the experience of being in a body that's present in a beautiful world.
Keltner talks about many kinds of awe in his book (awe in people's acts of bravery, for example), but says there is something special about awe we experience in the natural world. "In fact," he says, "it is hard to imagine a single thing you can do that is better for your body and mind than finding awe outdoors."
In a study that Keltner cites about the impact of awe, Frances Kuo had children diagnosed with attention-deficit/hyperactivity disorder "go for a walk of comparable length and physical exertion in a green park, a quiet neighborhood, or noisy downtown Chicago. Children scored better on a measure of concentration only after the walk in the park. Getting outdoors in nature empowers our attention, what William James called 'the very root of judgment, character, and will,' and our ability to discern what is urgent from what is not and how to place the hectic moments of our days into a broader narrative."
Time spent in nature can also make us less entitled and narcissistic. Keltner talks about another study in which one group of students was sent to stare up at trees and another group was sent to stare at a tall building. Later, when told of the compensation for being in the study, those who'd stared at trees asked for less money, citing reasons such as "I no longer believe in capitalism, man." While participants were answering questions about the experience, a person (who was in cahoots with the researchers) walked by and dropped a bunch of books and pens. Those who'd stared at trees picked up more pens than those who looked up at the building.
As I did on this morning's walk, I am trying to be more intentional about being in awe, especially in nature. I am also trying to be more intentional about having an embodied experience in a beautiful, complex world. There are far too many ways in which we dissociate and numb ourselves, especially because there is much in the world right now that activates our nervous systems and makes us feel wobbly and disconnected.
To help us all have a more embodied, awe-filled experience in the world, I've created a new program called A Full-Bodied Life. It's both a self-study program and a community where we can have ongoing conversations about topics such as this. You can sign up any time you want and either study alone or join the conversations.