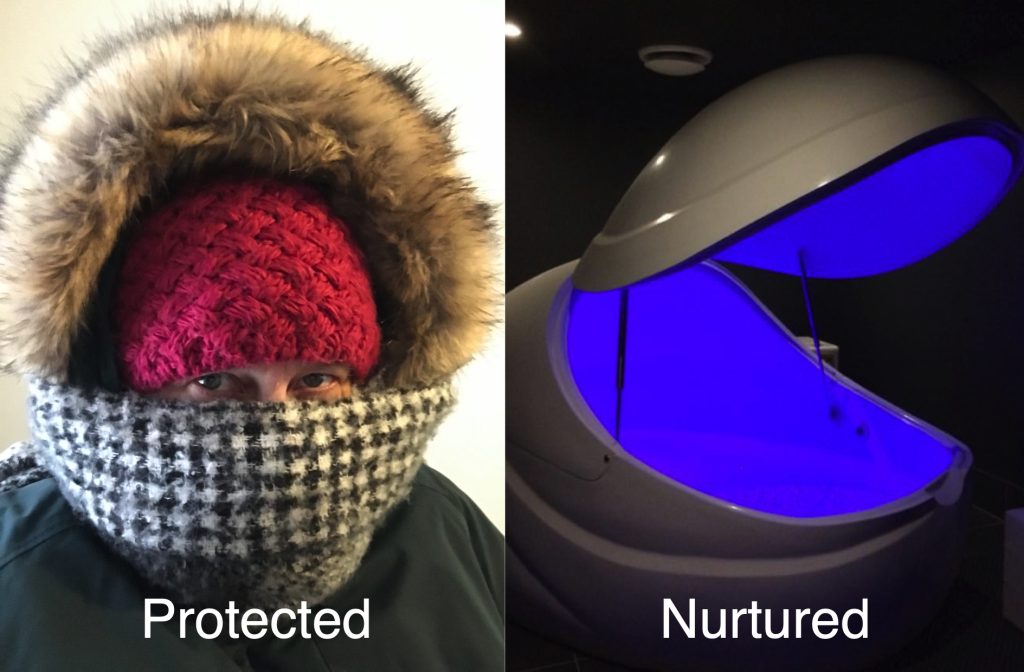 My friend Saleha laughs at me and shakes her head in puzzlement when I bundle up in -30° C weather and go for my daily walks. "It's not weather that's fit for humans," she says, and she's mostly right. This is the kind of weather that could kill me if I weren't dressed for it or if I stood in one place for too long.
I do it anyway, because my walks help to keep me grounded and, as I said last week, they help me soothe some of the emotional overload that's so often present these days. A few days ago, I snapped a picture of myself to send to Saleha just before heading out the door. She sent back a TikTok video and emoji poking fun at me.
I have the right clothes for winter walking – a down-filled parka and down-filled mittens, a pair of good ski pants, warm and sturdy boots, and a woolen hat and scarf. It can be surprisingly pleasant (unless there's a lot of wind) and I usually come home sweaty and happy.
I was looking at the selfie I'd snapped for Saleha when it suddenly occurred to me what a good metaphor this is for how our bodies protect us when they sense danger in the environment. My layers of clothing protect me against the cold the way my nervous system protects me against the threat of harm. Like putting a coat on, my nervous system becomes activated (i.e. fight/flight/freeze/fawn) so that I can survive the threat and come home alive.
I love my parka for how well it takes care of me when it's cold. I also love my nervous system for how well it takes care of me when there's a threat. They both do their jobs beautifully. I am happy, though, when neither of those things need to do their jobs.
Imagine if I somehow convinced myself that I still need to wear those layers of clothing when I go to the beach in the summer and it's +30° C outside in the blazing sun. You'd not only look at me funny, but you'd worry that I'd die of heat stroke from being overprotected.
That's what happens when stress or trauma gets stuck in your body. Your normally well-functioning nervous system becomes convinced there is a threat when there is no real threat. It's just trying to do its job, but it's become conditioned to misinterpret the situation and can inadvertently cause harm.
Everyone's over-reactive nervous system looks a little different (and can also be situation-dependent), so we don't always recognize it in each other. (It's not as simple to discern as a parka on the beach.) While one person might tend toward dissociation (freeze), someone else might have an easily triggered temper (fight), or they might run from the room as quickly as possible (flight). Others might become overly solicitous to the source of the perceived threat (fawn), or they might look after everyone else in the room and try to mitigate the threat while abandoning their own need for safety (tend-and-befriend).
Right now, with this pandemic entering its third year, it feels like almost all of us have been walking around with our parkas on for two years, trying to protect ourselves from harm even when the harm is invisible and sometimes non-existent. Not only is the virus a threat, but, for many of us, there are relationship landmines to protect ourselves from, especially in families or communities where people have different opinions about vaccines, etc. Add to that the racial injustices and political unrest that seem to be escalating and it's just… TOO MUCH.
When do we get to take our parkas off? When can we trust that the environment is safe enough to lean into? For many of us, that might take quite some time because our bodies have become so primed for danger. (Here in Canada, when Spring finally arrives, we often still take our parkas along on long road trips because we never know when the weather might take a turn for the worse.)
I am looking forward to Spring! In more ways than one!
This past weekend, in need of some intentional self-care, I went to the float spa. In a way, the float spa experience is the opposite of the walking-outside-in-winter experience. To get the full experience, you have to strip naked, surrender to the salt water, close the pod to block out light and sound, and float. No effort required. For an hour, you simply lay there and try to rest your mind and body in a womb-like space.
According to the website of the spa I visit, "Without the constant noise of analyzing the world around you, your body lowers its levels of cortisol, the main chemical component of stress. Your brain releases elevated levels of dopamine and endorphins. Not having to fight gravity lets your muscles, joints, and bones take a well-deserved break. Your body suddenly has loads of extra resources, which it gets to focus on things like healing and resting."
A float spa experience is one of trust and good boundaries. It wouldn't feel safe if the pod were situated in an area exposed to the public, but with the door to the private room locked, I am able to trust that no harm will come to my body. There are times, though, when I just can't get to that level of trust. I've tried the float spa a couple of times when I've been in periods of high stress and burnout and I simply wasn't able to quiet my over-active brain enough to enjoy the experience. Fortunately, this most recent visit was not one of those times.
This post is not meant to be an endorsement for float spas (they're certainly not for everyone, and there are less expensive ways to get access to a soothing experience), but rather it's meant to offer the comparison and to suggest that we all need to find and create spaces where enough of the conditions for safety are met so that our over-active nervous systems can rest. We all need to be able to take off our parkas sometimes, or we're going to pass out from heat exhaustion on the beach.
One of the other things I do (that's like a float-spa for my brain) is to stay off social media on the weekends because I know that social media often floods me with too much cortisol. I've also limited my activity on social media and limited the amount I express my opinion on hot-button issues so that I don't get sucked into as many of the cortisol-inducing debates that usually end up leading nowhere (and are engineered by social media to keep us hooked). (That's been especially challenging recently with our country so divided over the "freedom convoy".)
I don't want to "die on the beach", so I need to regularly take off my metaphorical parka and climb naked into the pod. In other words, I had to make an intentional move away from warrior stance into tenderness.
It's not that I intend to stay silent on issues of injustice, but if I want to function well enough to do the work that I love, I need better boundaries and more of what makes me feel nurtured and protected. Instead of being a warrior for social justice on social media (where I'm often convinced it makes little difference), I will do my best to continue to bring love, liberation and justice into the spaces I hold. I will protect those spaces with fierce boundaries and help people find what they need so that they can contribute to a world of more love, liberation and justice.
A few people have asked me, lately, why I've seemingly turned from my focus on holding space toward tenderness as a theme, and my answer is that those two things are inextricably intertwined. You simply CAN'T hold space without tenderness. And if you never offer tenderness to yourself, then you'll be much more inclined to hijack space rather than to hold it.
That's why I wrote the free e-book, The House That Tenderness Built, and why I'm hosting the workshop, Living in the House that Tenderness Built this weekend. I'm doing it because I want to give people their own version of a float spa, where they can take off your metaphorical parkas, let the sun shine on your faces, and let their bodies, minds and hearts rest.
I can't fix any of the problems people face and I can't protect them from injustice or a deadly virus, but I can help them find ways to treat themselves when the problems threaten to overwhelm them.
There is far too much evidence of the lack of tenderness in our world these days, and so it's my mission to help people find it and bring it back. I want it for you and I want it for me. Let's be tender together. It's the only way we'll find the resources we'll need to step back into the less-than-tender world.