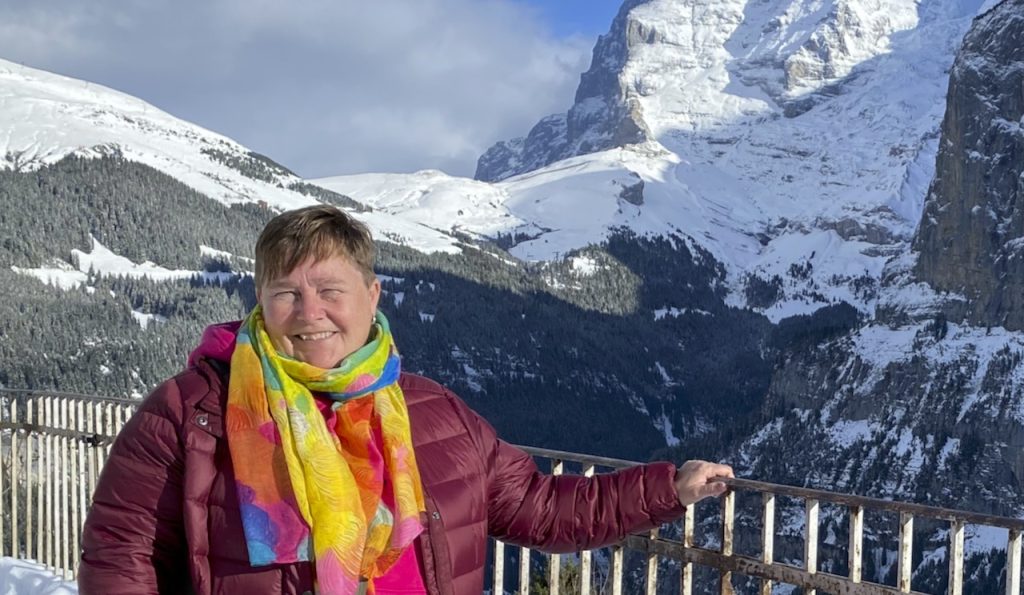 "Can the liminal space also be joyful?" Someone asked me that recently, at the end of a talk I gave to facilitators of Deep Democracy in Belgium.
"Yes, definitely!" I said. "I'm in such a liminal space right now!"
If you've read my book or taken my courses, you know that when I talk about liminal space, I usually talk about emotions like confusion, fear, loneliness, and grief as part of the journey out of an old story and into a new one. As this person pointed out, though, the liminal space can also be a time of joy. In fact, it can be a time when we prioritize our joy as the guide that leads us into the new story.
As I write this, I'm in a cozy little apartment on the western coast of Italy. After I finish writing, I will likely walk down to the water for a while and, if it's warm enough, I may sit at an outdoor café with a cappuccino for a few moments before I join a Zoom call this afternoon. It's a good life I'm living, in the middle of this liminal season.
At the end of August, I stepped into the liminal when I walked away from the house I'd lived in for twenty-two years, gave away all of my furniture, packed my personal items into a storage unit, and started living out of a small suitcase. I'm calling it my Liberation and Tenderness Tour. I could also call it my Prioritizing my Own Joy Tour.
When I ask myself why I did this – why I gave away so much and walked away from a home I'd poured a lot of love and care into – I come up with a few answers. For one thing, I no longer felt a strong pull to live in Winnipeg, especially since none of my daughters live there anymore and neither of my parents are alive, but I wasn't sure where I wanted to live next. For another thing, I crave adventure and I love to travel, so when a few invitations to teach in Europe lined up, it seemed a good time to have a longer visit here. And for a third thing… I wanted a lighter and more agile life, with less attachment to things and less need to worry about the maintenance of a house.
But there's something else too – something deeper. I think I knew, intuitively – like the caterpillar knows when she crawls up into a tree and surrenders to the process of metamorphosis – that it was time for change. There was a growing restlessness – a sense of something new wanting to be born in me.
Like a vision quest, or even like a gap year where students go away for a while to figure out who they are, I felt the need to re-explore my own identity and discover the ways in which I am being reshaped. For one thing, my relationship with my daughters is being reconfigured, now that they are all adults living away from me, and I need to explore who I am when less of me is shaped by motherhood. For another thing, my relationship with my work has been reconfigured, now that I am in a business partnership and we have a teaching team running our online programs. And for a third thing, I've completed my next book which will take my work in a slightly new direction and which is an even more deep dive into my personal stories than I've shared in the past.
Where does joy enter into all of this? Well… it became more and more clear to me in recent years (especially as I was writing my new book), that, in whatever ways I was going to reconfigure my life at this pivotal moment, I wanted to be more intentional about placing joy at the centre. As I talk about in the book (which will come out next year), there is a deep vein of martyrdom and unworthiness living in my body, inherited through my lineage and the systems I'm part of, and I wanted to be intentional about disrupting that narrative and living into a new story. Like the girl in the Velcro dress, I wanted to strip away the things I was carrying that weren't mine to carry.
That's why, on this season of liminality, I am leaning into joy to help guide me into the new story. I am being intentional about noticing what gives me joy each day and what steals my joy. Each day is different – sometimes I find joy in solitude, sometimes I find joy in companionship, sometimes I need hours of walking, and sometimes I need a day spent in bed. I'm trying not to judge those needs or desires – I'm being mindful of them and responding in the best way I can.
(It should be mentioned here that prioritizing joy does not mean that it is ALL joy. I haven't banished any of the other emotions that pop up – especially when my dear friend Randy died in October. I let myself feel the complexity of emotions and do my best to turn my face back toward joy.)
Back in the Spring, when I was in the process of selling my house, I got the following line from a Mary Oliver poem tattooed on my arm: "…let the soft animal of your body love what it loves". I'm paying attention to what the soft animal of my body loves and I'm trying to give her more of that.
In the past, I might have read a post like this and dismissed it as the empty pursuit of hedonism (especially since I was raised with a great deal of consciousness around sin), but that's not what I'm talking about. This isn't the blind pursuit of pleasure that obscures the needs of others and the injustices around me. In fact, it's quite the opposite.
What I've been learning, as I explore the themes of liberation and tenderness on this trip, is that an honest pursuit of joy that includes a disruption of the narratives around martyrdom and unworthiness, can be the most radical act of defiance against the oppressive systems that cause the injustices we're all surrounded by. To love ourselves, to free ourselves, to live joyfully, and to treat ourselves and each other with tenderness is to dare to create alternatives to those systems that seek to bind us in their trauma and oppression.
We have been raised in systems that teach us to measure our own bodies against other bodies in order to prove our own worth. We've been taught by our schools how to measure our intellect and our athletic ability. We've been told by the media and by our institutions which bodies have more merit and which ones deserve punishment. We've been taught by capitalism how to determine our worth based on our productivity, wealth and status.
Performance measurement, perfectionism, and punishment… those are the themes that run deeply in these systems of hierarchy and oppression. All three are rooted in trauma and we pass that trauma from generation to generation, upholding the systems as we do so. We learned these patterns in our infancy and they've been so present all of our lives that we don't even notice the ways we've internalized them. We are largely blind to the ways that they inform our own relationships with our bodies.
Diet culture is one of the ways we punish our own bodies and measure our performance. (For more on this, read Reclaiming Body Trust, by Hilary Kinavey & Dana Sturtevant.) Grind culture is one of the ways we sacrifice our bodies on the altar of capitalism and we internalize the perfectionism of that system. (For more on this, read Rest is Resistance, by Tricia Hersey.)
I'm no longer going to willingly participate in things like diet culture or grind culture. I'm intentionally choosing to liberate myself from those patterns of harm and I'm seeking a new path. I'm treating my body with tenderness and challenging myself every time I hear a voice in my head telling me I'm not worthy of that tenderness. I'm being tender with my fat belly, my crooked teeth, and my fussy feet that can only wear the most functional of footwear. I'm prioritizing rest and play. I'm letting my inner child speak the things that she wasn't allowed to say. I'm honouring the longings that I've so studiously silenced in the past. I'm pulling away from social media whenever it sparks feelings of "not-enoughness". I'm being especially kind to myself whenever I fumble.
I let go of a lot of physical baggage in August when I moved out of my house, and, in the months since, I've been working to let go of a lot of psychic baggage. I am carrying less martyrdom, less unworthiness, less self-criticism, less anxiety, and less trauma. Just as I hoped, I am living with more lightness and agility, in more ways than one.
I've been inspired by the writings of many wise teachers on this journey toward more liberation and tenderness. Here's a list of some of the books that have especially inspired me:
If you, too, have a growing awareness that it's time to liberate yourself from some of the patterns you've learned from your lineage and the systems you're part of, and it's time to treat yourself with more tenderness, perhaps you'd like to join me in Costa Rica in January for Liberation & Tenderness: A Gathering for Seekers, Lovers, and Dreamers? It will be a special time in a beautiful setting when we'll collectively explore the burdens we no longer need to carry so that we can ALL live with more lightness and agility. We'll do our best to put joy at the centre of our circle, while also honouring all of the feelings that might surface in the process.