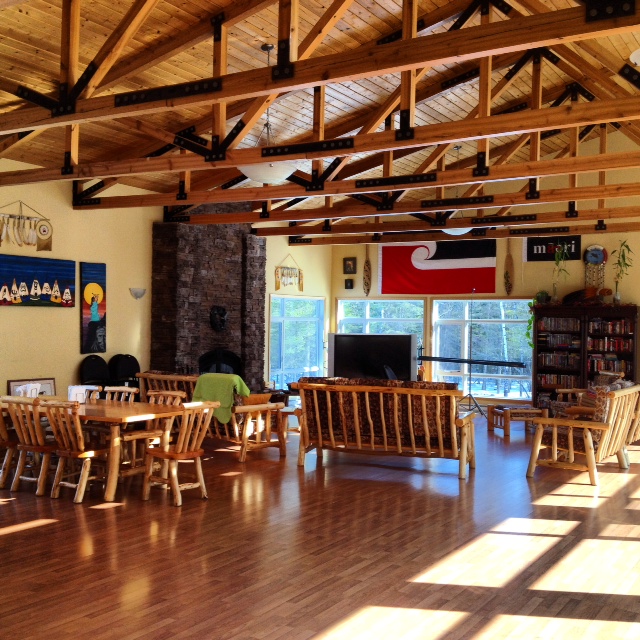 Let's see… what have I done this week? Well, I taught my regular writing class at university, I welcomed a professional storyteller into my class to do a short workshop (and took her to lunch because she fascinates me), I made arrangements for an upcoming retreat I'm hosting, I visited the retreat centre where the retreat will be held (photo above), I wrote a lesson for Lead with your Wild Heart, I did a coaching session with a new client and accepted her invitation to do a workshop with the staff of her yoga studio,  I promoted my upcoming Creative Writing for Self Discovery class, and tomorrow I'm heading out of town for a couple of days with my daughters.
Wow. When I break it down like that, I suddenly realize that this… THIS is the life I dreamed of two and a half years ago when I started self-employment.
I suppose you could say I manifested my dreams.
But there's another part to this story that I refuse to ignore.
On the way to my dreams… I had a LOT of moments when I worried whether I'd have enough money at the end of the month to pay the bills, I went through a really rocky period in my marriage, my father-in-law died, my mom was diagnosed with cancer,  she went through the horrors of chemo, and then I watched her die, I had some significant business failures, and my husband had a heart attack. (There's more, but I don't want to overwhelm you with the details.)
Would you say that I manifested that too?
The truth is, life is full of the yin and yang of happiness and sadness, darkness and light, dreams coming true and dreams crashing at our feet, love and betrayal, life and death, success and failure, grief and joy. It's all part of the package and it all matters. You don't get to choose one or the other – the yin or the yang.
No matter how hard you pray or meditate or think happy thoughts, you won't be spared the heartache that is part of the package of your life. You don't get the happiness without the sadness. And it you try to push past the sadness in favour of the happiness, you'll miss one of the best teachers of your life.
I'm not suggesting you shouldn't dream because it might not come true – not at all! I'm a BIG dreamer and I'll keep dreaming until the day I die! I'm just saying that there are no guarantees, and sometimes your dreams will shift with your evolving life. It's all part of the journey, and you need to develop your flexibility and resilience skills along with your dreaming skills.
The best you can do is to learn to ride the waves and be present in the journey rather than focusing only on the destination. Hold your seat lightly, reach for the tools that keep you from crashing too hard on the rocks, trust the other people in your boat, relax when the water is calm, prepare yourself for when the water is rough, and be present in the flow. And when you find yourself capsizing, poke your head above the water and swim for your life.
Whether you're in the rapids or the calm waters, remember this – everything that comes your way is meant to be your teacher. If you forget that, and try to live only in the calm waters, your growth will be stunted and you won't get anywhere. Just like the water needs to flow in order to stay fresh, you need to move through the rapids in order to thrive.
This week was good, but last week was hard. I don't know what I'll get next week, but I'm here, present, trusting that I have the courage and resilience to handle it. Through the ups and the downs, many of the things I've longed for are coming to me, but many of them have also been discarded along the journey.  The best I can do is to keep my paddle in the water and keep rowing.