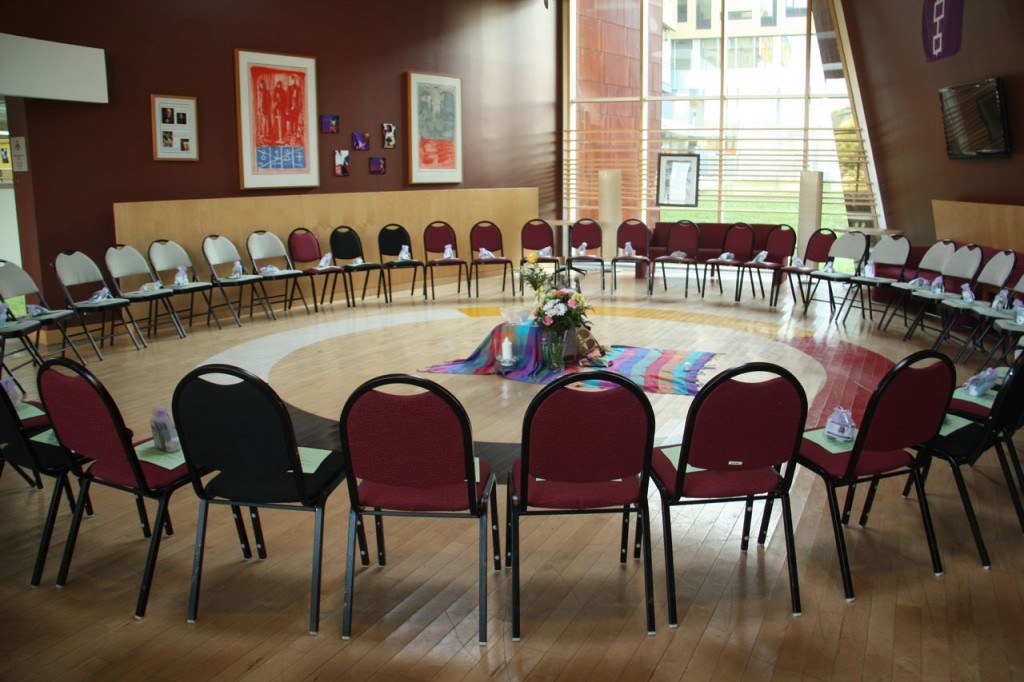 It seems appropriate and metaphorical that my journey to the Gather the Women event I was co-hosting was a long and arduous journey, and yet filled with moments of beauty and grace. The thirty-five hours I'd planned to spend on a train turned into forty-five and a half. I'd looked forward to the many hours of reading, writing, contemplation, and staring out the window (especially after the hard week before), but there's only so much of that a person can take before the body begins to complain.
The moments, though, when I watched a moose run across a pond, or a great blue heron flap its mighty wings as it lifted itself out of the water, or a perfect circle of sunlight streaming out of a dark cloud, made the difficult journey bearable.
When I finally arrived in Peterborough, along with the other three members of the planning committee, I was weary but excited for what the next four days would bring. Forty-five women were gathering from across North America to sit in circle, share stories, and honour their feminine wisdom. I felt incredibly humbled to have the opportunity to host such a gathering. (Side note: I just realized that there was one woman for every hour I spent on the train! That thought makes me smile.)
The night before the gathering was to begin, I got bad news that almost convinced me to return home. The results of my Mom's CT scan had come back. It was confirmed that the cancer she'd been treated for over the past year was still growing in her abdomen. Grief swept in and encompassed me. I didn't know how I would make it through the rest of the week and do the job I needed to do.
I shared the news with the planning committee, and they surrounded me with love and community. "Go home if you need to," they said. "We've got your back."
The next morning, I decided I'd stay. Something told me that being part of this circle of women would help me have the courage to return home to what I needed to face.
It wasn't easy. The details of gathering – putting together registration packets and gift bags, writing flip charts, and cutting string for my creative workshop – felt so trivial in light of what I was dealing with. At the same time, though, creating a space of comfort and inspiration for the women who were traveling many miles (literally and metaphorically) to be there was not trivial at all.
Before the opening circle began, I stepped into the room where creative women were preparing to sell their art in a small marketplace. Near the entrance was the beautiful art of Maia Heissler. She was in the midst of hanging her beautiful Forest Friends on a small hand-made tree when I stopped to chat with her.
"I've created these specially for the gathering," she said. "They tell the stories of women gathering. This one is of a woman celebrating, surrounded by the women who love her. This one is of a woman who's been dealt a basket of sorrows. Her community of women are helping her bear the burden."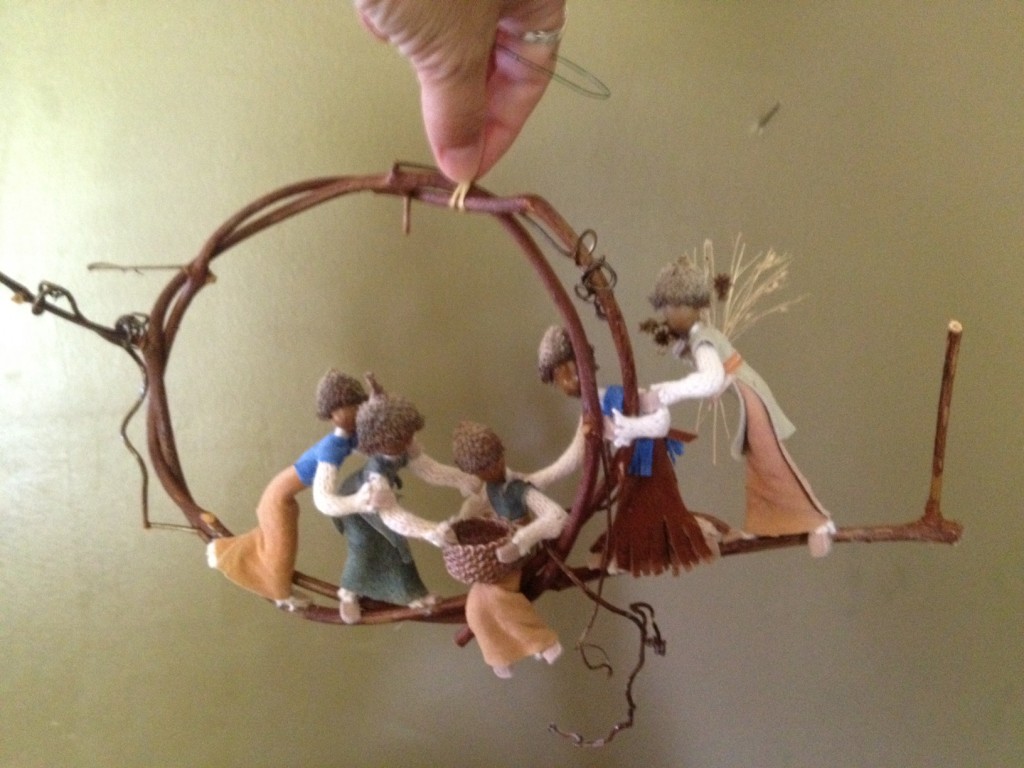 "That one," I said. "I think I need to go home with that one. I AM that woman with the basket of sorrows." I didn't tell her what was in my basket, but I asked her to hold the piece until I'd decided whether I could afford to buy it.
On Thursday evening, there was levity and celebration in the opening celebration. I could hardly bear to be in the room. I spent most of the evening lying on my bed, alone in my room. I emerged only periodically to hear some of the stories that were being shared. Another woman shared how she, too, had taken the train and been subjected to lengthy delays.
Friday morning's opening circle was beautiful and powerful. One by one we shared stories of how we'd come to be in this circle. Each of us placed a meaningful object in the centre of the circle and then added water we'd brought from our various homes into a collective bowl. When it came my turn to share, I added water that I'd brought from the graveyard where my son Matthew is buried and said that it felt like I was carrying a vial of tears with me. I said nothing about my mom. Something told me to hold that story close for the time being.
In the afternoon, I lead a workshop on storytelling, courage, and community. The women were invited to break into small circles of three to share stories of times in their lives when they'd had courage and times in their future when courage would be required of them. Out of those stories, they chose words and phrases to put onto prayer flags to take home and remind themselves of how the community supports their courage.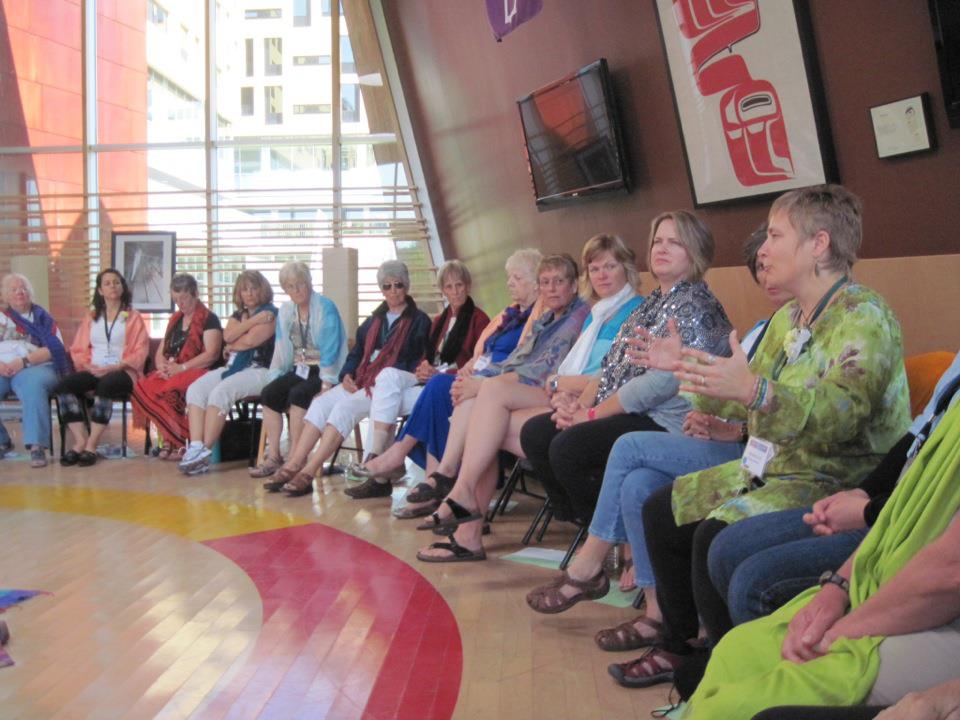 I didn't participate in the story-sharing. Instead, I walked around with my camera, taking pictures of the beautiful faces as they softened and grew more vulnerable within the safe circles of trust.
Before the weekend ended, I bought the art piece of the woman with the basket of sorrows. Though it felt like more money than I could justify spending on myself, I knew I needed to take it home with me.
As the weekend progressed, I found my spirits lightening despite the heaviness in my chest. I was able to celebrate and dance and sing around the campfire. On Saturday afternoon, together with my delightful and spontaneous friend and mentor Diane, I went swimming in my clothes in the river that runs through the centre of Trent University. We convinced our new young friend Lindsay to join us. It was a lovely moment of lightness and joy.
As we drew nearer to the closing circle on Sunday morning, I contemplated whether or not to share the story of my Mom with the circle. I was a little conflicted. As one of the hosts of the gathering, I was somewhat reluctant to draw too much attention to myself, and yet as a member of the circle, it didn't feel right to leave the circle without entrusting them with my pain. The beauty of the circle is that we all hold equal positions and one's pain or joy is as important as another's.
Just before the closing circle, one of the women with whom I hadn't spoken much approached me. "You are a gifted woman, and you give so much to the group," she said. "And yet there's a sadness in your eyes. I want to honour whatever it is that gives you sadness." At that moment, I knew I needed to share.
It took quite awhile for the talking piece to make its way to me. As it traveled, I listened deeply to the stories that were shared. So many women were going home with renewed courage and hope and strength after being part of the circle. It was a beautiful thing to behold.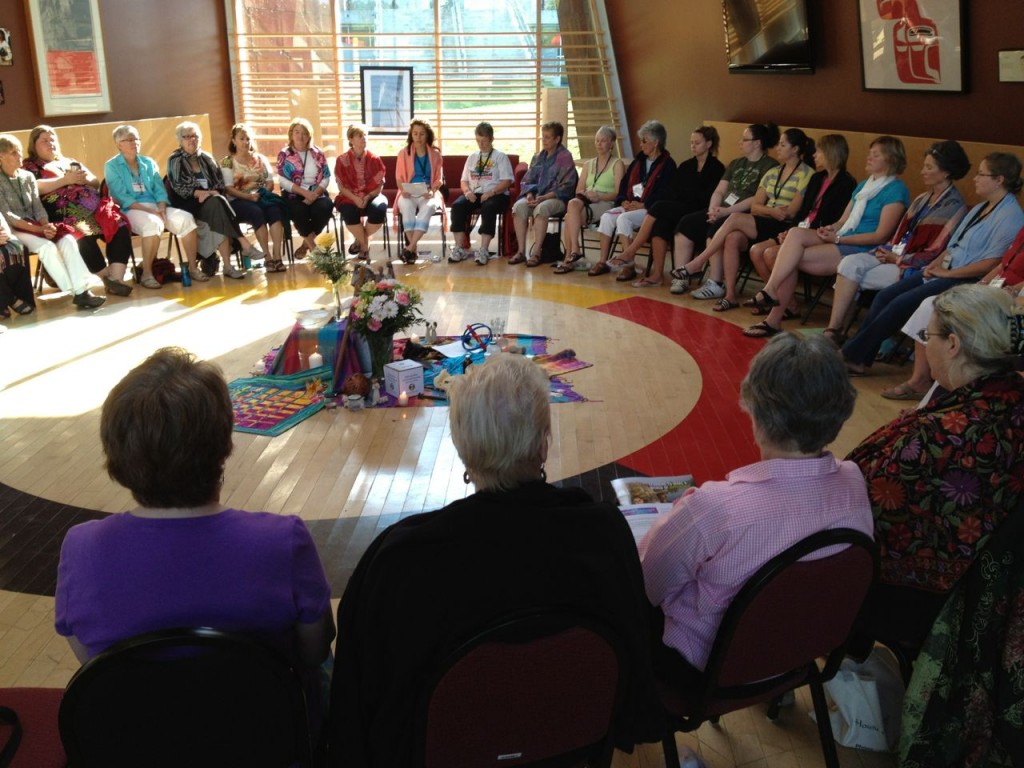 When it came my turn, I began by saying that I felt like I'd just been held in the arms of the Great Mother. "I am conflicted," I said. "It is always so exciting for me to come to an event like this, because I know that this is my calling – to be in places like this, and to teach more people about storytelling, circles, courage, and community. I want to go home and do big things – teach, write and speak. And yet I have received a new calling this weekend – one that I am much more reluctant to follow."
And then I shared the news I'd gotten – that my own mother might not be with me much longer. "My calling now," I said, "is not to do big things, but to do small things – to sit in circle with my mother and be with her as she journeys toward the end of her life here with us."
I held my water vial up and said "before we meet again, there will be many more tears in this vial." I looked around the room and saw that nearly every woman in the circle had tears in her eyes. My pain had become their pain.
What an incredibly moving thing it is to know that you don't cry alone! I am surrounded, in that circle and in the circles I returned to when I came back home, with so much love and community.
Yes, I am a woman who has been dealt a basket of sorrows (as is my mom, my sister, my mom's sister, my sisters-in-law, and the other women who surround my mom – and of course there are many men in that circle too), but I know that I don't have to carry it alone, and for that I am immensely grateful.
On Monday, the day after Gather the Women ended, my sister and I went to see the oncologist with my Mom and her husband. There we were told that Mom may be with us for six months or more, but probably less than a year. She has the option of taking more chemo treatments, but that will merely prolong her life somewhat and not stop the growth of the cancer. In the coming months, we need to prepare for her journey into the next life.
I didn't take the train home on the return trip, and yet I know that there is a long and arduous journey ahead of me in the coming months. I also know that that journey will have intermittent moments of peace, beauty, and grace, just like my train ride did.
This I know – we are surrounded by love and we are held in the arms of the Great Mother/Father. May I continue to trust in that.