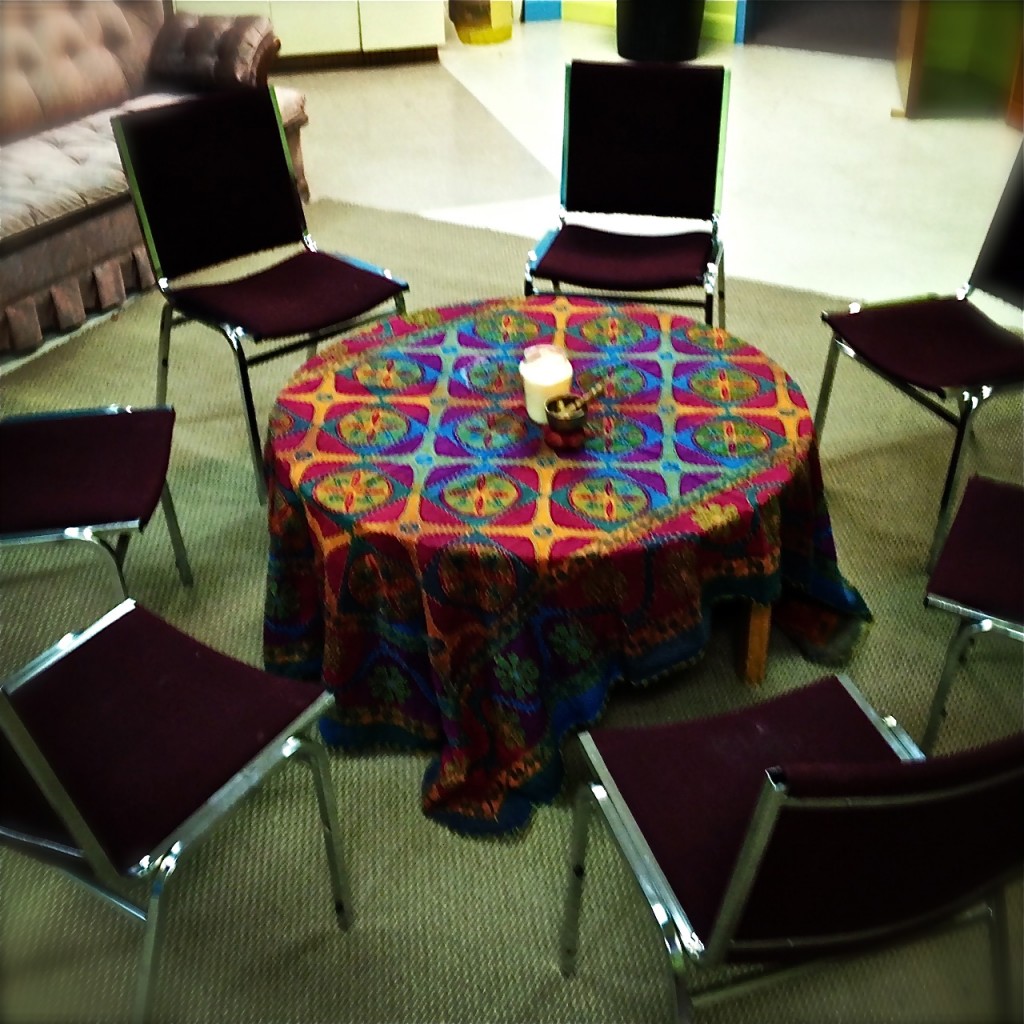 It's another Tuesday night and I prepare once again for my small circle of writers. I arrive early and place the low round table in the centre, covered with the colourful tapestry that comes with me to every workshop. Like the threads of the tapestry, many stories will be woven together tonight.
At the centre of the table is always the candle – the warmth that holds us together. Next to it is my Tibetan singing bowl and whatever talking piece has been selected for this evening's sharing time. Sometimes the participants bring talking pieces that are meaningful to them. Tonight one woman has brought a beautiful black polished stone, adorned with a dragonfly mosaic. "It represents transformation," she says.
The women (and occasionally men) settle into their chairs and I welcome them with the ringing of the bell. We sit quietly, focusing on our breath as we wait for the end of the rich tone. After the bell, a centring piece is read – a poem by Mary Oliver or a blessing by John O'Donohue. Then the talking piece is passed, and we share the details of how our weeks have gone – from the mundane to the profound. None of this is about writing, but it's important nonetheless. Our writing voices emerge out of our personal stories and we know that those stories will feel more safe in a circle of people we trust. Only three weeks in, and we are already bonded, sharing increasingly more vulnerable stories with each other.
Next they begin to share the pieces they've been working on throughout the week. "I didn't have much time," one apologizes, or "it's not very polished," says another, or "it's nothing great," says yet another, and yet each time they share, I marvel at how profound and beautiful their simple offerings are. This week, they've written a dialogue between the voices in their heads – the one that wants something new and the one that's resisting. Their individuality and shy dreams shine through their pieces.
Tonight we are exploring what voice means – both our own voices and the voices of those people and creatures we want to bring into our writing. I pull out a set of cards depicting forest creatures – the Elementals designed by my intuitive friend Thomas – and they are invited to write in the voice of the creature they see on the cards they select.
As they write, I boil water for tea. Tea goes well with writing and storytelling. There is silence in the room, each person wandering away from the space for awhile, imagining themselves in the forest with a mesmerizing creature that has a message meant just for them.
They share their pieces, surprised by how much wisdom flows out of them. Before long, the conversation has veered far away from writing. We're talking about our connections to the earth, our secret longings, our hidden shame, our deepest fears. I say very little and offer only little guideposts to help them know the conversation is good and true and heading in the direction it's meant to head in. In this moment, I am not teacher but host. It is their wisdom that is emerging – their truth, their gifts. I am here simply to help them unleash it.
As I listen, I find myself grinning at the beauty of this circle and all of the others like this that I have had the pleasure of hosting. Each offering I make, the right people show up, the right voices emerge, and the right truth is spoken. Always, the people that are drawn to what I offer are open-hearted and open-minded. They come because they want to learn and grow. They come because they are beginning to find the courage to explore and share their own stories. I am always fascinated by how unique and wise each person is.
Often, early in our time together, there is resistance in one or two of them, but usually by the end, the resistance has softened and openness has taken its place. Only once has someone stopped coming because she wasn't prepare to process the depth of feelings that surfaced for her in the circle.
The evening ends quickly and they are given their next assignment. This week, they will write about place. They'll find a place that feels meaningful to them and they'll find the unique quality and voice of that place. I have no doubt that once again they'll be surprised at what shows up in their writing.
One more time, the talking piece is passed, and we share what we learned or what intentions we wish to set for the week ahead. The bell is wrung one more time, and we begin to leave the circle and depart for our various homes.
I drive home, taking the long way through the park, savouring the magic of the night. This is my greatest dream coming true, circle by circle, story by story. I am honoured and blessed to be the host of so much goodness.