I have the great privilege these days of co-hosting a women's leadership program that meets every second week in a small town an hour and a half from the city where I live. There are so many things about this that I love, including the fact that I have a regular reason to drive out into the country and see the wide open prairies and the wild, alluring woods. With no parents left to visit, I don't get out to my rural roots often enough to suit me.
On the drive out there yesterday, we had a rare and wonderful sighting of a lynx as it dashed across the road and ran off into the snowy woods. It felt like a moment of blessing.
Yesterday's session focused on facilitating change. The best change process I know of is Theory U, a process I was first immersed in at ALIA Summer Institute and that I've been a dedicated student of since.
I introduced the idea of a Change Lab, where-in we would walk through the U process by casting ourselves in the role of community leaders who recognize the need for change in how the community is organized.
I started out by sharing the story of Baba Yaga's House in Paris, France, a home created for aging feminists by a circle of women who realized that none of the available models for seniors' housing fit with their values or expectations of how they wanted to live. (I encourage you to listen to the podcast at the link above.) "Imagine we are these women," I said. "We are faced with an established community model we know doesn't work for us, and yet we haven't found a new model that we're comfortable with."
From there I moved on to an explanation of Theory U, a method for co-creating social change. Instead of trying to find a direct route from challenge to solution – the way some of the more linear models do, with brainstorming, strategic planning, etc. – Theory U takes us on a deep dive into the unknown. Instead of trying to direct change, we host what is wanting to be born. Instead of trying to control, we let go and let come. Instead of expecting the future to look like the past with just a few tweaks, we invite a new future to spiral up out of the brokenness of the past.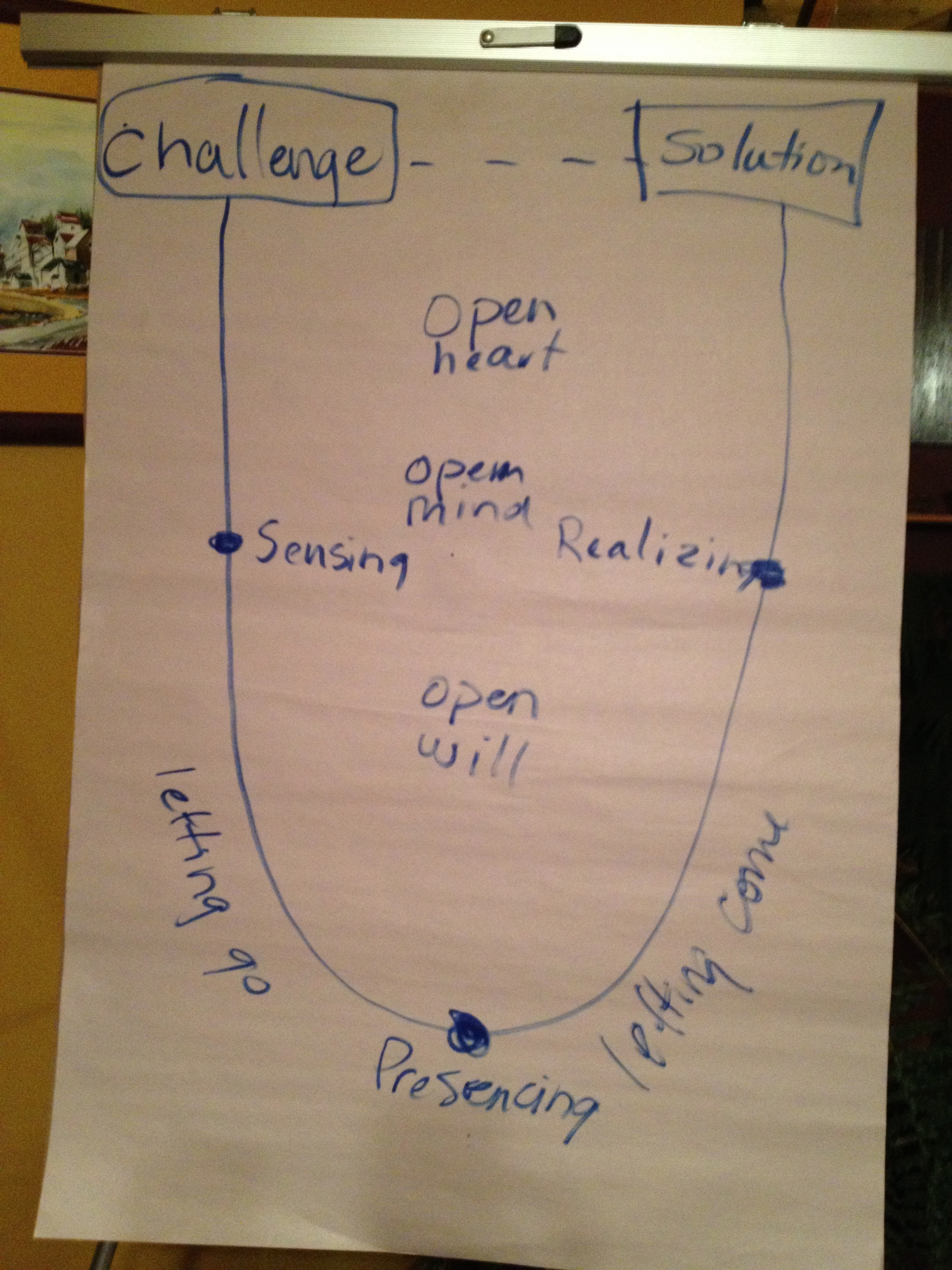 In Theory U there are three main parts – sensing, presencing and realizing. In the sensing phase, we are invited to use all of our senses to witness what is present. We are invited to suspend our judgements, opinions, assumptions and mental models, and to use our eyes and ears and the feeling of our bodies to sense into whatever the context is. We host conversations, we ask good questions, we listen deeply, we watch with full attention, and we notice how our bodies feel.
In the presencing phase, we are invited into the inner work of grounding ourselves in our bodies and paying attention to what is emerging. We listen into the space and learn from the future as it emerges, letting go of our expertise and experience. Rather than moving directly into problem solving or brainstorming, we take time for retreat and reflection. The best place for presencing is outside in nature where we ground ourselves in the earth and lean into the trees.
The third phase is Realizing. In this phase – on the upward movement out of the U – we "let come" what wants to emerge. We bring insights, sparks of inspiration, and crystals of ideas into prototypes. We move into action quickly and create small projects that can move the vision forward.
When I introduced Theory U to a women's circle in Ontario last year, someone pointed out that I'd just drawn a woman's breast. She said it with laughter, but when we started to unpack that, we realize that there was resonant truth to what she witnessed. This process definitely has a feminine aspect to it (as is laid out in this article by Arawana Hayashi) and it relates well to an infant suckling at the source of his/her life. It's about going back to Source, it's about seeking nurturing and rebirth, and it's about the kind of rest and retreat that a mother must seek every few hours when an infant needs to suckle. It's about being innocent, vulnerable, uneducated, without judgement, and open to a new future, just like that tiny baby. Since that first observation, I've brought up the idea every time I introduce it, and it always opens up interesting dialogue.
Once I had introduced the Theory, it was time to move into practice. To start with, I did one of my favourite things to do in workshops – I dumped a pile of garbage on the floor (things I'd gathered from my household recycling bin). "This," I said, "represents the chaos and brokenness of the systems that no longer work for us. Out of this, something new wants to emerge, but we don't yet know what it is. It will be up to us to host that new thing into being, without relying on what was or casting judgement on the 'way it's supposed to be'."
In the Sensing phase, I asked them to sit in one-on-one conversations with a few different people in the room. "Ask deep questions, explore what is present, and use your senses to witness what is. Suspend judgement and don't rely on past or second-hand information."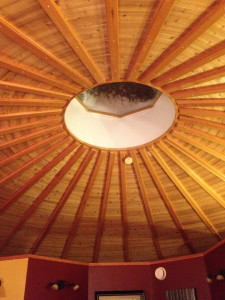 After a few rounds of conversation (too short, but all the time we had), they were invited to move into Presencing. "If it weren't a cold winter night outside," I said, "I'd encourage you to move outside for this part. Instead, find a quiet place inside where you can be alone with your thoughts and with whatever wants to emerge." (As an aside, it felt beautifully appropriate that we were gathered inside a mandala home, a circular home built with great intention around honouring the four directions, giving space at the centre, and blending into the beauty of nature that surrounds it.)
The next phase brought them back to the garbage on the floor, where they began to explore what wanted to emerge. Some felt stuck and really didn't connect right away with the garbage on the floor. Others were eager to jump in and host the emerging future. Before long, though, everyone had made a valuable contribution to the scale model of the new community that wanted to be born.
We spread our community out on a large piece of cardboard on the table. Some pieces represented a connection with nature, others represented a connection with our neighbours, others represented a connection with opportunities/arts/beauty/etc., and still others represented a deeper connection with self and the sacred.
When we sat discussing the panorama in front of us, we realized that the resounding theme of what was emerging was connection. We were all longing for connection – with each other, with the earth, with the water, with the Sacred, and with ourselves.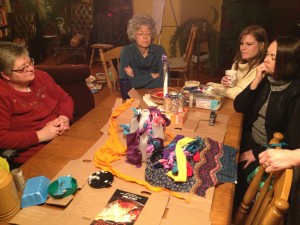 One woman asked "If recycling is the bi-product of a culture of consumption, what can replace consumption as our dominant paradigm that will no longer have a requirement for recycling?" Connection, we agreed. We need deeper connection.
Before we departed for the night, I invited the women to consider (in their private moments, when they were back in their homes) "How might each of us be ambassadors for connection in our communities? How might we begin to invite this future into the circles in which we live?"
The women left with new lights in their eyes that hadn't been there when they'd entered the room – all because of a pile of garbage and a time of connection.
(Next week's session flows beautifully out of this… We'll be talking about making connections in women's leadership circles, using the new toolkit created by my teachers Christina Baldwin, Ann Linnea, and Margaret Wheatley.)
Note: If you want more inspiration on this, visit Presencing Institute, read Theory U, Presencing, or Walk Out Walk On.