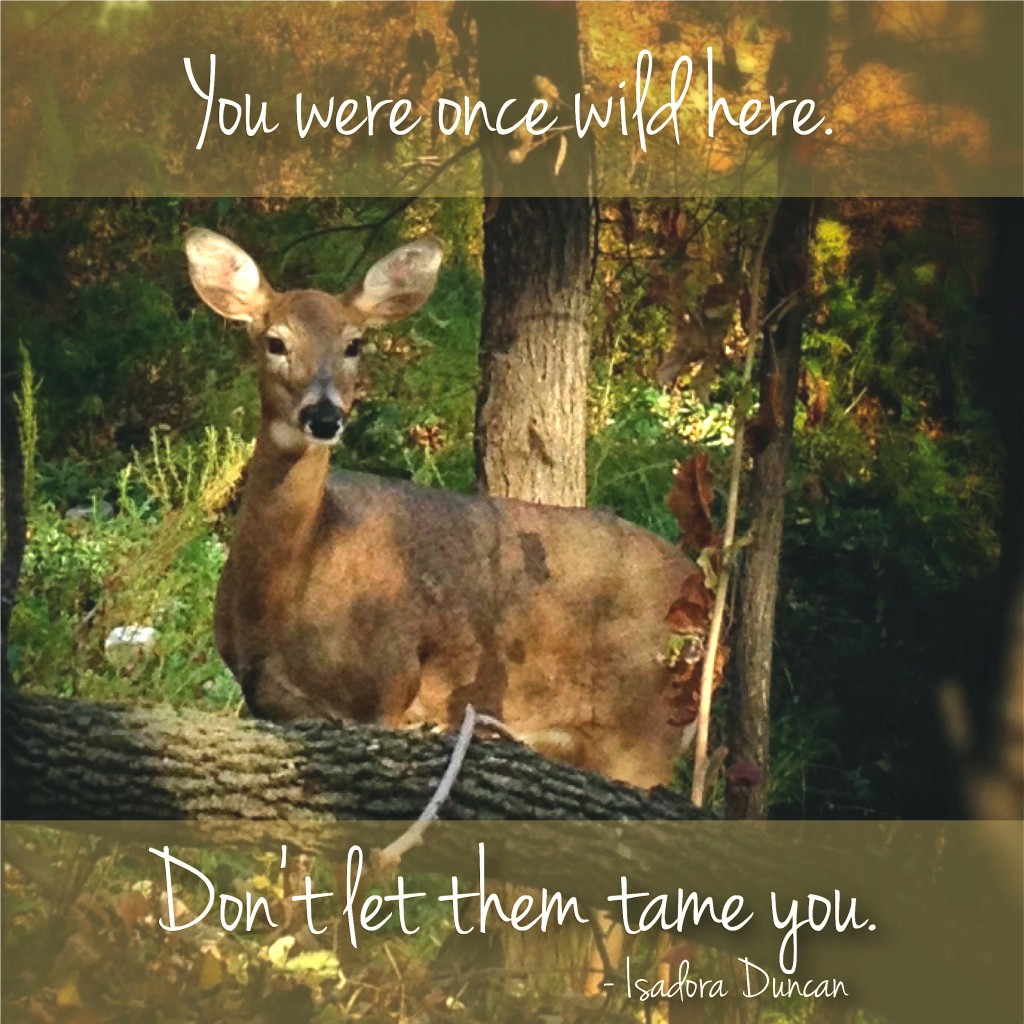 I didn't know how much launching Lead with your Wild Heart would change my life and my business, but it has, dramatically. Interviewing the incredible members of my wisdom circle, researching, writing, and teaching this program have taught me more than any course I've ever taken or ever created.
In shamanic language, this feels like my original medicine – the gift I'm meant to contribute for the healing of the world. In helping women (and, in the future, possibly men) get closer to their wild hearts, I am becoming intimately familiar with my own. (The next offering will begin in May, and I expect there will be in-person offerings to come as well.)
The seeds for this course came to me one day last summer when I was wandering in my favourite woods. There are often deer in those woods, and I have such great reverence for deer that I always stop to pay attention when I see them there. Often I follow them deeper into the woods.
One particular time, I almost missed the deer that was standing completely motionless about ten feet from the path on which I walked. The deer was watching me, and when I stopped on the path, we stood locked in a visual embrace for what I think was about ten minutes but what felt like an eternity.
I walked away from that encounter with the profound sense that the deer needed me to understand something that I'd been missing before. Further along the path, it came to me. "I need to create a program called Lead with your Wild Heart. I need to teach women how to get reconnected again."
The deer invited me back into the wild – back to my wild-hearted trust, wild-hearted love, and wild-hearted courage. Those are the things I now share with the incredible circle of women who have gathered for this program.
Sometimes my coaching clients lament that they are not very good at planning or goal-setting, and I tell them "Maybe you don't have to be. Maybe you just need to be good at wandering in the woods and listening for the wisdom." You won't hear that in business school, but my best ideas have almost always emerged when I've found time to be silent in nature.
The deeper I go in this journey, the more I understand what it means to be wild again.
To be wild again means that: 
We are connected with the earth, the wind, the deer, and the trees.
We are connected with each other in a deeper way than our culture encourages.
We trust that which is primal and wild in ourselves and we offer our most natural gifts to each other.
We trust that which is primal and wild around us and we honour the wisdom of creation.
We remember that we are stewards and citizens rather than consumers and conquerors of this earth.
We dare to weep when we are wounded, laugh when we are joyous, and touch when we are in need of each together.
We reclaim the circle and gather around the fire, sharing our most vulnerable, wild stories.
We dare to plunge the depths of our wild hearts and honour what we find there.
We sing and dance, trusting both our voices and our bodies to be expressions of the sacred.
We are courageous warriors, serving the cause of all that is good in the world.
We dare to believe that the world is a good place to call home.