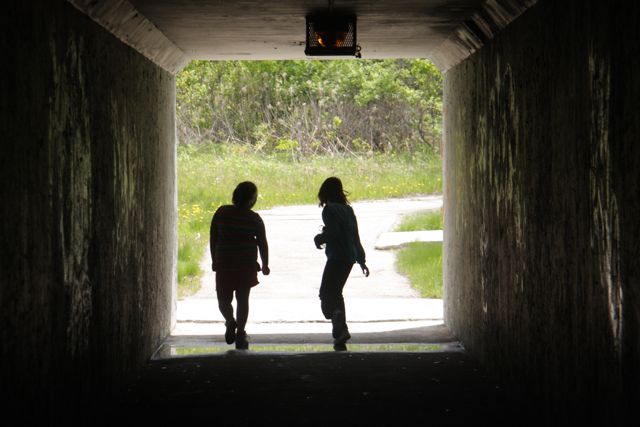 I'm a statistic. I'm one of the women Sheryl Sandburg and others talk about who don't, in their opinion, help the cause of feminism. I made it all the way to the glass ceiling, peered through the cracks, decided I didn't like what I saw, and walked out. I'm a "walk out who walked on."
There's a pretty good chance I would have made it through that glass ceiling if I'd "leaned in" long enough. I had all of the credentials and was an ambitious up-and-comer at the time. I took the fast track through the ranks of the public service, had the title "director" added to my name, got the office right next to the corner office, and was making more money than I'd ever dreamed I could.
On top of the career, I had a good feminist husband who carried his share of the household and parenting responsibilities, a couple of beautiful daughters, a house in the suburbs, a minivan, a trailer at the lake, and a boat. You could say I had it all – the feminist's dream.
And now? I still have the husband and daughters (with an extra one since those days), but I no longer have the trailer at the lake, the boat, the comfortable paycheck or the title of "director" attached to my name. Instead, I have a tiny office in my basement without a window and a fledgling career as a teacher, coach, facilitator and writer.
Some might call me a failed feminist. I let go of the dream that my foremothers fought for. I quit the corporate climb on the wrong side of the glass ceiling. Instead I now spend a good portion of my days creating mandalas with Sharpie markers, hosting story circles, and inviting retreat participants to stitch together quilt squares – not exactly the things a traditional feminist would take pride in.
Why did I walk away from the corporate career and the frequent flyer points in favour of Sharpie markers, quilt squares, and women's retreats?
There are a few reasons.
At the height of my career, I had a stillborn son whose presence in my life reminded me that my priorities are not wealth, work, or prestige but rather family, community, and space for spirituality.
I wanted to find happiness. I knew that the corner office wasn't my path to happiness.
I became convinced that it's time for feminism to grow into something new, and I was pretty sure that I could serve a greater role in helping to birth the new wave of feminism from outside a corporate structure.
It's that last point that I want to talk about in this article. Instead of a "failed feminist", I like to think of myself as an "emergent feminist".
It's time, I believe, for women to change the world.  That won't happen simply by getting into CEO positions and taking more seats at the boardroom tables. Women will change the world only if we CHANGE LEADERSHIP.
When I was in formal leadership, on my way to the top, I thrived because I learned to think like a man. I listened to the voices of mentors who told me that "feelings have nothing to do with leadership and you should leave them out of the boardroom", I shut down my intuition in favour of logic, I left my spirituality and much of my creativity at home, I was careful not to be too wild or passionate, and I even started to believe what I was told once that "relationships get in the way of good programming."
By the time I broke away from formal leadership to start my own business, ten years after being named a director, I was almost completely burnt out from living in a way that was not authentic to me. I returned to the things that made me feel alive – spiritual practices, art-making, wandering in the woods, and relationships – and when I did I realized that THESE THINGS were exactly what had been missing in my leadership practice. More importantly, they weren't just absent from my own journey, they were missing from leadership in general.
Instead of leaving them at home, I should have clung to them and brought them into my work. Instead of shutting down my feelings and encouraging my staff to do the same, I should have invited them to bring their vulnerability into conversation circles. Instead of creating strategic plans that rarely evoke any imagination, I should have drawn mandalas that wake up the right brain and invite it to the table. Instead of sitting around energy-killing boardroom tables, I should have held staff retreats in the middle of the woods.
For far too long, we've accepted a masculine-dominated leadership paradigm in our government offices, our businesses and even our non-profits that is no longer serving us. As Margaret Wheatley and Deborah Frieze say in Walk Out Walk On, we've been relying on the leader-as-hero model, when what we really need now is the leader-as-host. In the words of Tina Turner, "we don't need another hero". We need people who can lead from a place in the circle, people who can help heal the brokenness in the world, people who help us feel connected again, and people who can remind us of the importance of our relationship with the earth.
"Leadership is about rearranging the chairs, getting the questions right, putting citizens in front of each other and then knowing what's worth focusing on. The leadership I'm longing for is the leadership that says my number one job is to bring people together, out of exile, out of isolation, and into connection." – Peter Block
All around us, we see signs of how disconnected we have become – over-consumption of our resources, terrorist attacks, climate change, extreme poverty, etc. These are the stories of a disconnected human race and this disconnection has been fueled by competitive, hierarchical, power-driven leadership that has been allowed to run un-checked.
If the new wave of feminism has a role to play in the world it is not about pushing harder for the corner office, but about bringing us back to a place of connection. Instead of fighting for the top jobs, the power and the prestige, we should be urging our leaders to bring us out of exile and back to community, back to spirituality, back to earth stewardship, and back to ourselves.
Instead of simply fighting to gain entry into the halls of power, we should be working to change the furniture in those halls. It's time to move the chairs into a circle and open the windows to the world. It's time to air out the corner office and replace it with conversation spaces. It's time to replace competitiveness with collaboration, and hierarchy with community.
This is why I decided to walk out and walk on… my role in the world is no longer to fight for power, it's to help us figure out how to balance power with love. Instead of standing in front of people, I'm sitting beside them and creating space for conversations. Instead of thinking like a man, I'm inviting men to think more like women.
I don't want the corner office, but that doesn't mean I don't want to see a woman there. I will always fight for her right to be there, and when she gets there, I'll be standing beside her, helping her to take down the walls of her corner office and invite people in. I will urge her to see the world through balanced eyes, honouring both the feminine and the masculine in the world, and creating space for us all to have meaningful conversations that lead the world into the transformation it needs.
I'm now leading from a place in the circle so that I can help other women (and men) learn to do the same. When we've gathered into that circle, we can all lean in and listen to each other.
If you're looking for a new way of defining leadership, join me on a free call on Re-imagining Leadership for our Time on May 1 at 2 pm. Central.