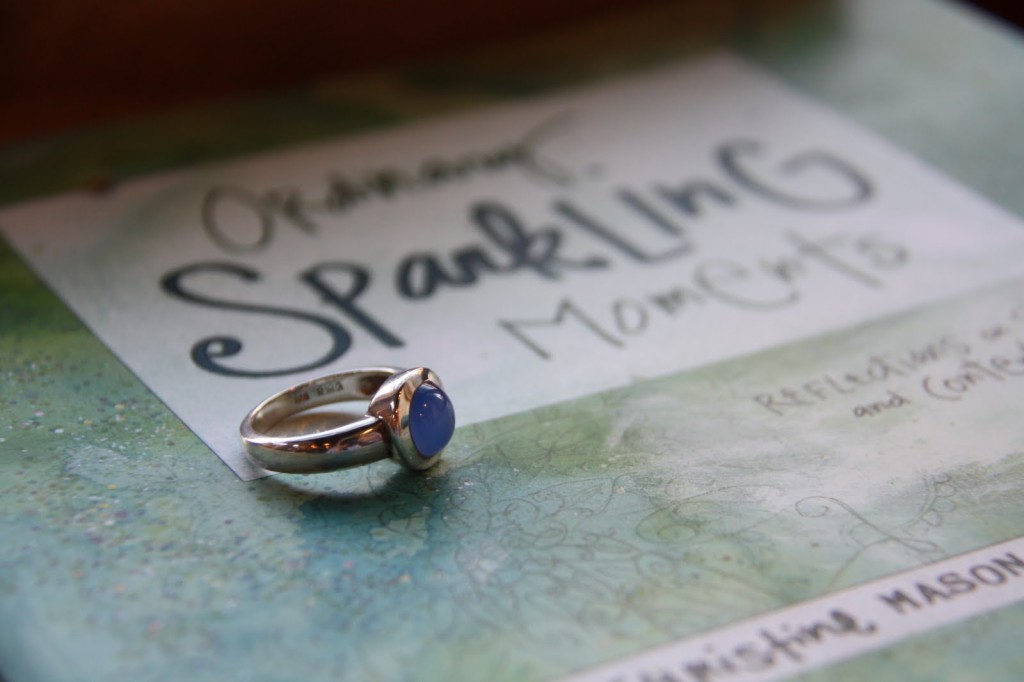 Three and a half years ago, I brought myself a promise ring.
I was visiting Banff at the time, after a business-related road trip through Western Canada. Visiting Banff always brings up mixed emotions for me. I love the beauty of the place, in the middle of the Rocky Mountains, but it holds a sad story from my past. I lived there the summer I turned 19, and it wasn't a particularly happy summer. I was in that "trying to decide whether to stay safe in life or to take more chances and risk getting hurt" phase of early adulthood. Sadly, I let the things that happened to me that summer convince me that safe was a better option. I gave up the plans I'd had to change schools and move to another province and I went back home to nurse my wounds and play it safe.
One of the places that always brings up deep longing for me is the Banff Centre. When I lived there, my roommates and I sometimes went to watch visiting performers, and each time I went, I'd think "oh, if only I were talented enough to spend time at a place like this!"
When I visited three and a half years ago, I drove past the Centre and started to cry. I cried for the young woman I was more than twenty years earlier who believed she wasn't talented or worthy. I cried for the hurts that young woman had already suffered and had yet to suffer. I cried for the long journey I've had since then, learning to trust both my worthiness and my longings, and learning to be both resilient and courageous through the hard times.
When I drove back into town after visiting the Centre and the resort where I spent the summer cleaning other people's mess out of hotel rooms, I wandered through the downtown and dropped in at a jewellery store. In a flash of inspiration, I bought myself a promise ring with a blue chalcedony stone.  (I later learned that the chalcedony speaks of spirit and trust and is known as the Speaker's Stone, the stone of one who must measure his words. It encourages reflection and meditation, its gentle radiance preparing us for action but helping to hold back words we might regret. The great Roman orator, Cicero, is said to have worn one around his neck.)
Later that day, I sat in a cafe with my journal and wrote the following promise to myself:
I promise:
– I will take more chances.
– I will believe that I am an artist.
– I will trust my ability.
– I will look for opportunities to paint and make art as often as I can.
– I will sign up for another class or workshop that stretches me.
– I will honour the muse.
I couldn't go back and make those promises for my 19 year old self, but it wasn't too late to make them for my 40+ self.
Last week, in the last lesson for Lead with Your Wild Heart, I invited participants to make a commitment to themselves and to honour it with some kind of gift, like a ring. That tweaked my memory and I went back to find the original post I wrote about the promise ring I'd bought for myself. I started crying all over again – not because I was sad anymore for my 19 year old self, but because I am delighted for my 46 year old self that I can honestly say that I have kept my promise to myself.
I have done just what I said I'd do. I took more chances (quit my job and started a business), started making more art and taking art classes, I've been honouring the muse, and trusting my own ability.
Nothing to date has felt so much like an honouring of that promise as the creation of Lead with Your Wild Heart. Nothing has felt so much like it is emerging out of my most authentic, most beautiful, most Spirit-guided self.
I've just opened registration for the second offering of Lead with Your Wild Heart, and I can say that I am thrilled beyond expectation with how beautifully it has turned out. This has been an exercise in trusting my own wild heart, and I know that it will serve as a gift to all those who take it into their own wild hearts.
And now… can I tell you a little secret? I'm dreaming of taking some version of Lead with Your Wild Heart to the Banff Centre for Leadership Development. I don't know yet how to make that happen, but I'm sharing the dream in hopes that will help me get closer to it.
I'm trusting my wild heart and seeing where it leads.