There's something about September – the way it hovers in between seasons, reminding us of what we're leaving and what is yet to come.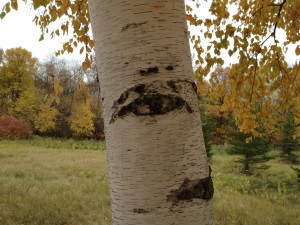 I always feel a mix of emotions at this time of year.
I feel the melancholy of summer ending. I feel the sadness over school starting again (mixed with a little joy that I'll have a quiet house again). I feel the dread of winter just around the corner.
I also feel the delight over the weather shifting and the vibrant colours showing up on the landscape.
When I'm honest with myself, I have to admit that I love September. It's probably one of my favourite months. I don't love the heat and I don't love the cold and September is usually just right.
And yet… I don't always let myself love it. I get caught up in the rush of trying to get the girls back to school and I get mired in that sinking feeling of winter coming and I forget to pause long enough to really appreciate the way the weather has shifted into a more gentle warmth with cooling evenings and the way the trees are adorning themselves in orange and yellow and red.
I love long walks in crunching leaves. I love campfires on cool evenings. I love the quality of light at this time of year. I love slipping on a sweater when the weather begins to cool.
Despite the melancholy it brings, I truly love September.
But… there's something else about this time of year that I don't love.
It's the season when death feels close at hand.
There's a pattern in my family. Most of the births happen in the first half of the year, and most of the deaths happen in the second. My dad, my mom, my son, my father-in-law, and most of my grandparents – they all died between August and November.
And so this time of year comes with reminders of all that I've lost.
And this time, September brings with it the possibility of another loss. My oldest brother, who's been battling cancer for over a year, with multiple surgeries and lots of chemo, has been told the cancer is growing again and there may not be anything they can do. He was told he may have only months to live. (And then, a few days later, he was told they'll probably make one last ditch effort to save him through surgery.)
When I let myself think of the possibility of losing him, desperation closes my throat and it's suddenly painful to breathe and impossible to swallow. NO! Death can't take another member of my family! It's too soon! I NEED him! It's not even two years since Mom left us. Please God NO! He's my big brother. He's always been a rock in the storm, a solid place to land – as dependable as the earth beneath my feet. I need something dependable in my life. He JUST. CAN'T. GO.
And then I realize… it's just like September. If I focus only on the fact that I might lose my brother, I'll forget to live in the now. I'll forget to see the beauty. I'll forget to laugh at the jokes he sends, forget to appreciate all that he's been in my life, forget to recognize what a gift it's been to grow up in a family so full of love, faith, humour, and wisdom.
If I rush through September, lamenting the summer that's been and dreading the winter that's coming, I'll miss this month that I love so much. If I rush through my life, feeling sorry for myself over all that I've lost and dreading the losses yet to come, I'll miss everything that makes my life so good and beautiful.
I don't want to miss September. I want to be present for what's here. Now.
Winter might be hard and long, but right now is beautiful. Right now the sun is painting the tips of the trees with gold. Right now the birds are still singing, the butterflies are still dancing, and the sun is still warming my skin. Right now I have friends who invite me to campfires in teepees and other friends who don't mind walking through the English gardens in the rain with me. Right now I have daughters who make me laugh. Right now I have a brother walking a courageous path through cancer, who's crazy in love with his family, and I get to be part of that big love.
Right now is all I need.
If you want to be more present for what's here right now, you might like Fall Reflections: A Mindfulness Journal.