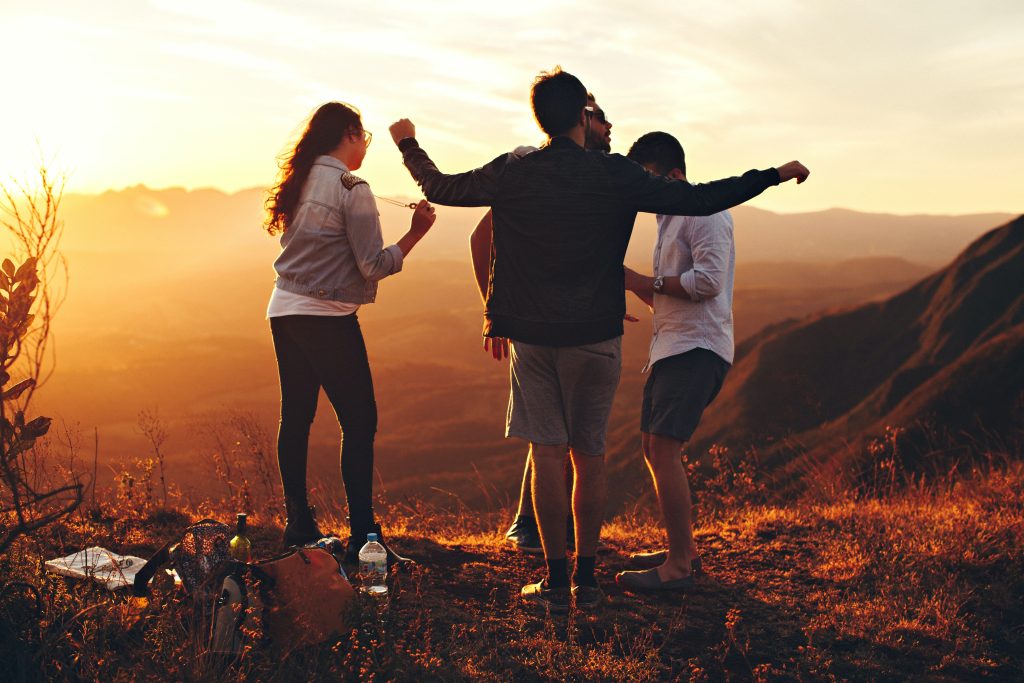 A few weeks ago, I had the pleasure of spending time in the company of a group of twenty-somethings. At the Winnipeg Folk Festival, for four evenings in a row, my daughters and their friends gathered on our tarp for the mainstage shows and I (together with my sister) got to play the role of benevolent elder, offering them food, blankets, and kindness.
It was delightful. My daughters' friends are all interesting people whom I've grown fond of and being with them was easy and fun.
Watching them, I caught a glimpse of the person I was, back in my early twenties, when I first started attending the Folk Festival. There was nostalgia, grief, and tenderness in that realization.
I wanted to go back in time and give that young Heather a hug. If she'd listen to me – a ghost from her future – I would assure her that, despite her feelings of self-doubt and the many times she'd worry about finding a place to belong, and despite some of the hard stuff she was going to face in the years ahead, she would turn out alright. I might even let her know that someday, in the far distant future, she'd bring three beautiful daughters along with her to the Folk Festival, and they would bring their beautiful friends and she would feel the warmth of all of those years in tender moments on the tarp. (I probably wouldn't tell her about those two years when the pandemic would take the Folk Festival away – she wouldn't need that kind of burden weighing on her.)
There are a few other things I wish that twenty-something version of me knew and that I want those twenty-somethings who sat on the tarp with me to know. Here's what I'd tell them…
It's okay to hurt your parents' feelings sometimes in order to be true to yourself. Let me tell you something now, from my advanced years, that not many parents will tell you… Despite your expectations that grownups be, well… Grown Up, most of us still have a lot of hang-ups and a lot of insecurities and a lot of wounds, and sometimes we project that stuff onto our kids (mostly because people expected us to become grownups without teaching us how to heal that stuff). It hurts, when you're the kid, because you just really want to be loved and accepted for who you are and your parents should give that to you more than anyone, but sometimes parents aren't very good at giving unconditional love. Sometimes we see our own flaws and parenting failures mirrored back to us through our kids, and sometimes that triggers our self-loathing and then the shame and punishment we heap onto ourselves also gets heaped onto our kids. And sometimes we expect too much (or the wrong things) from our kids because we haven't met our own expectations and don't want to see them similarly letting themselves down. I'm sorry this is true, but it is. You aren't responsible for your parents' healing or self-love, you are only responsible for your own, so do your best to love yourself and be true to yourself despite what you've inherited from your parents and despite the ways in which they sometimes fail to behave like the parents you want them to be. (Also… you might be one of those flawed parents yourself one day too, so you're going to need to learn some self-compassion and some healing practices along the way. See also #5.)


You will be lonely sometimes, and that doesn't mean you're unworthy of love. You will have times when you can't find a sense of belonging anywhere and you will go through moments when you'll be fairly certain that everyone in the world is having fun with other people and you're the only one left out. That's normal. It happens to ALL of us (yes, even us not-very-grown-up grownups). And it's just the lonely, wounded, self-protective part of your brain lying to you and trying to convince you that you're not worthy of love. You ARE worthy of love, and a lot of the people who are posting shiny versions of their lives on social media are doing it so that nobody sees just how lonely they are. You know what two of the best defenses for loneliness are? 1.) Not comparing yourself to other people, and 2.) Learning to enjoy your own company as much as you can. Go out to movies by yourself, take yourself on play dates, travel alone… do all of the fun things that you've been waiting for other people to invite you to do. You might discover that those things are just as much fun alone as they are with other people (some things are even MORE fun), and you might even find other lonely people at those places who are fun to hang out with. (Note: Other people might feel threatened by your ability to have fun alone, and they might tease you because of their own insecurity, but don't let their opinions become your guide.)


You will make new friends and you will lose old ones. It's going to suck, sometimes, when relationships change, but sometimes it's for the best. Sometimes there are friendships that hold you back, and sometimes you'll realize that you can only grow if you let go of the people who don't have your best interests at heart. And sometimes you'll just drift apart because your lives are heading in different directions and it's not because anyone did anything wrong. Learn to let go without resentment or fear and be grateful for the time you had with a person even if the friendship didn't last. And always do your best to seek out people who lift you up instead of tearing you down.


You don't have to be normal. Sometimes it will feel like you have to cut off pieces of yourself to fit in, and one day you might wake up and realize that you've lost yourself because of all of the pieces you've edited out. Please don't lose yourself, even if you feel like that "self" is too weird or too complicated or too queer or too neurodivergent to be loved. You will find the most contentment and freedom in your life when you have the courage to be yourself. And while you're busy learning to be yourself, look for other people who are courageous enough to be themselves too. They'll be the right kind of people to spend time with because they won't expect you to adjust who you are in order to suit them.


You also don't have to be exceptional. It's okay to have an ordinary life and it's okay to make mistakes and it's okay to not really have a clue what you want to do with the rest of your life. (Side note: One of the dumbest things grownups ask kids is "What do you want to be when you grow up?" As if there's only ONE thing you're going to be! And as if you should know that One Thing when you're still a kid! And as if your life will only be defined by a career! Yeesh. Don't get me started. Know this – you can let that shit go.) Let me tell you a little secret… my favourite kind of people are those who aren't afraid to let their flaws be seen, who aren't afraid to say "I don't know", and who reject the pressure of perfectionism and exceptionalism. One of the most important things you're going to need to learn is how to forgive yourself and how to love yourself with all of your fumbles and failures. Start now – forgive yourself for the most recent mistake you made and then say to yourself "Hey you – I love you. You're human. And imperfect. And you're pretty cool just the way you are."


Self-care is good, but you know what's even better? Collective care. There are few things better than people learning to look after each other – people asking for what they need and offering what they can so that nobody gets left out. Look for people who want to look after you and who let you look after them. Look for people who tend to notice who's being left out – and also try to be one of those people. Look for people who've got a sense of justice about who's being marginalized and go stand shoulder-to-shoulder with those people (and the ones who are marginalized).  There's a lot of individualism in our culture, and far too much measuring of one person's value against another person's, and you might find yourself buying into the hype that you should be independently successful and that you shouldn't need other people, but you DO need other people. And other people need you too. Be honest about where the gaps are and let other people fill them.


Love your body. Love your fat body, your queer body, your black body, your white body, your differently abled body, your chronically ill body, your trans body, your thin body, your clumsy body, your short body, your tall body, your awkward body, your lumpy body, your beautifully imperfect body. Love it with a radical love that accepts it no matter how other people might criticize it or expect it to meet certain criteria of acceptability. Love it despite the way our systems of dominance and control (you know – those pesky things like patriarchy and white supremacy) might try to marginalize and shame it. Love it as an act of resistance and revolution. Love it in a way that makes the older generation uncomfortable. (Note: We, in the older generation, can be kind of squeamish about too much self-love because we've been well-trained to punish ourselves and each other for any deviations from the norm. Please do your best to reject this pattern, even when we get pushy about passing it down to you.) And while you're busy loving yourself that way… remember to love other people that way too. We all need it. (Yes, even us older folks.)


Find people who can help you. You're going to go through rough patches in your life. There's just no point in pretending otherwise. Maybe you've already gone through rough patches and you know this to be true. Don't try to navigate that shit alone. I hope that someone in your family will step up to help you, but if they don't, or if they gaslight you into thinking the rough patches aren't as rough as you make them out to be, then find other people who won't judge you for it. Find a therapist, find a friend, find another grownup you can trust – find someone who will listen while you try to work through whatever rough patch you're in. If you're going through mental health struggles, find someone who can point you toward the right professional. Don't be ashamed of needing help, even if that help comes in the form of medication. And try not to listen to that lying part of your brain that tries to tell you the rough patch will last forever. It won't. You'll see the light again someday, I promise. Hold on.


Be happy. Don't become one of those boring grownups who gets too serious about life and loses their sense of fun. Have fun and stay playful. You might be surprised to discover how much play can help you find yourself, bond with your friends, and heal your trauma. Pay attention to the things that make you feel joyful and do more of those things, preferably with your friends. (Unless, of course, those things become addictive and unhealthy and you're mostly doing them to numb the pain – that's a whole different thing. See #8.) A wise person once told me that in the same way that we have trauma triggers that send us back to painful moments in our younger lives, we have joy triggers that bring us back to the joyful moments. Find your joy triggers. If you love to make art, then make art. If you love to ride bikes, then ride bikes. If you love to play on swings, then play on swings. Be radical in your pursuit of joy. (That doesn't mean you should bypass the grief – it just means that a fully lived life includes being in touch with ALL of your emotions.)
*****
P.S. Want to spend some time with me in-person this Fall? I have several workshops and retreats coming up. Plus the Holding Space Foundation Program starts again in October.