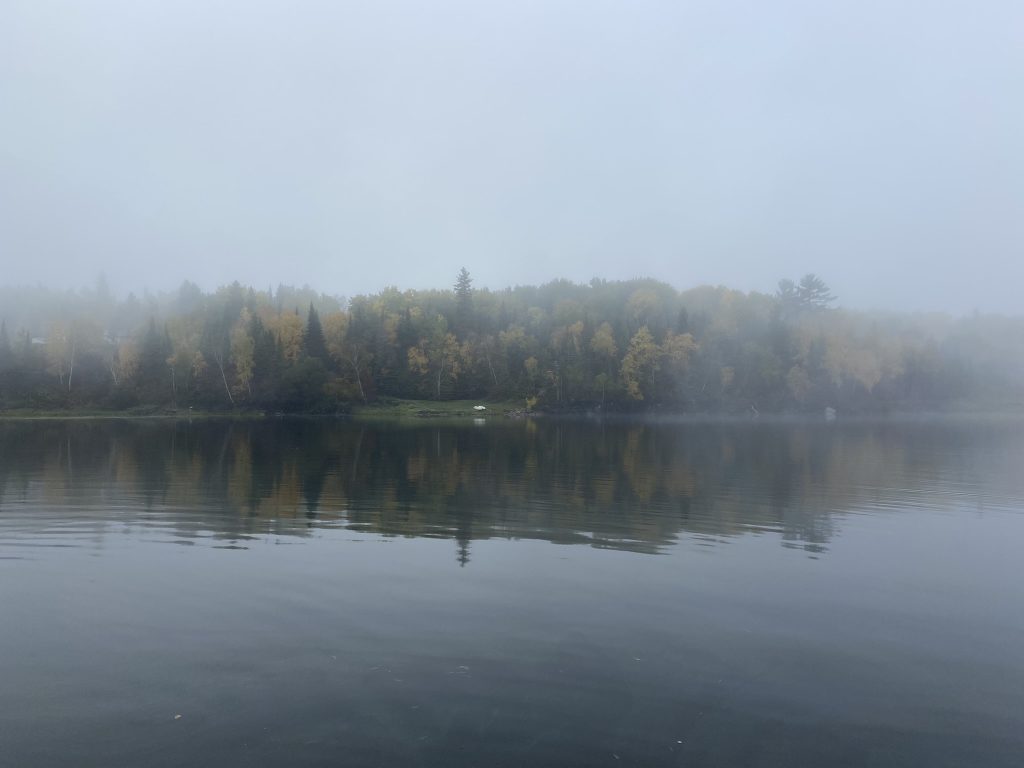 Listen to Heather read the post:
I've come to the woods to remember who I am. As I write this, I'm off-the-grid, offline and unplugged, tucked into a tiny cabin by a lake, with just enough solar power to occasionally charge my laptop so that I can write. I cook over a propane stove and haul water in a bucket to wash my few dishes. The only bathroom facility is a compost toilet in a little outhouse just a little further up the hill. I brush my teeth with a cup of water and then spit into the woods. I haven't showered or looked in a mirror for two days. When I need a break from writing, I wander down to the dock and watch the ripples on the lake. In the evenings, I light a fire and sometimes I read under the light of my headlamp.
Just now I wrote in my journal, "I love it here. It soothes my nervous system. It ignites my creativity. It allows the words to flow onto the page. I love it in all its variations – the rain of yesterday, the sun and warmth of the day before, the deep fog of this morning, and even the chill that made me pull my sleeping bag tighter in my little loft bed last night."
This kind of solitude and connection with nature nourishes me and re-ignites the spark that sometimes gets dampened by the over-stimulating, demanding, noisy world. I am more myself here, more grounded, and in greater equilibrium.
I know myself here. I remember that I am part of nature – both contributing to it and receiving from it. I am in reciprocal relationship with the woods, the birds, the lake, and the trees. I talk to chipmunks and listen to the songs of the loons floating across the lake. Sometimes I talk to myself.
I know my body and I trust her needs. I know how to meet those needs with the simplicity of what's available to me. I have little judgement of my body out here in these woods, because I see it in relationship to all that is around me – everything that is both imperfect and wildly beautiful. There's a gnarly oak tree not far from where I sit and… gosh, she is beautiful in all her imperfection. Out here, I begin to move to the rhythm of the woods and the moon, and my body remembers herself into beauty.
The noise of the city makes me forget these things sometimes. I forget my natural rhythm and my place in the order of things. I forget my beauty and I begin to see myself through the lenses offered up to me by social media, advertising, and capitalism. My body begins to absorb the ways that she has been devalued. In the city, I am fat and aging, and both of those things make me more invisible. In the city, I know my flaws and I get sucked back into the drive for perfectionism. I judge myself through the yardsticks that the patriarchy, white supremacy, and colonization have imposed on me. I evaluate myself through the expectations of other people.
Out here, I disconnect from all of that. I disentangle myself and I stop performing according to the script for which I was trained. I become more fully embodied, more fully in love with myself, more fully visible.
Sometimes I find myself wishing I could stay here, in these woods, but I'm not sure that is wise or even possible for me. I know that I need community too. I know that I need to be part of the world. And I know that this deep connection I have nurtured with myself and with the natural world I am part of is a gift that many are longing for, so I have some responsibility to bring it back into the city with me. I know that, so I sit here in this beautiful place and I write words that I will share with you, my readers and friends.
Sometimes when I teach people the practice of holding space for themselves, they think it's simply about self-care, but that's only a small part of it. Holding space for yourself is about knowing yourself, truly seeing yourself. It's about living a deeply embodied life. It's about making yourself visible so that you can see yourself more clearly without the lenses that have been passed down to you. It's about recognizing the harm that's been done to you by the systems you're part of. It's about healing that harm, and then divesting yourself of those systems as much as you can so that you can be free.
Ultimately, holding space for yourself is about freedom. It's the kind of deeply embodied freedom that I feel when I'm out in these woods. It's about connection with all that is and acceptance of all that cannot be changed, and it's about presence. It's about nurturing relationships of reciprocity and grace with all human and non-human beings, knowing that you are an integral part of all of it.
No, I can't stay in these woods. I will emerge in a few days and return to the places where people gather to have meaningful conversations and to wrestle with the many complexities in the world. I will emerge because I still have work to do and a contribution to make. But I will return to these woods whenever I need to be reminded of who I am.
****
Are you longing to remember who you are? Join us to learn how to hold space for yourself at our How to Hold Space Foundation Program