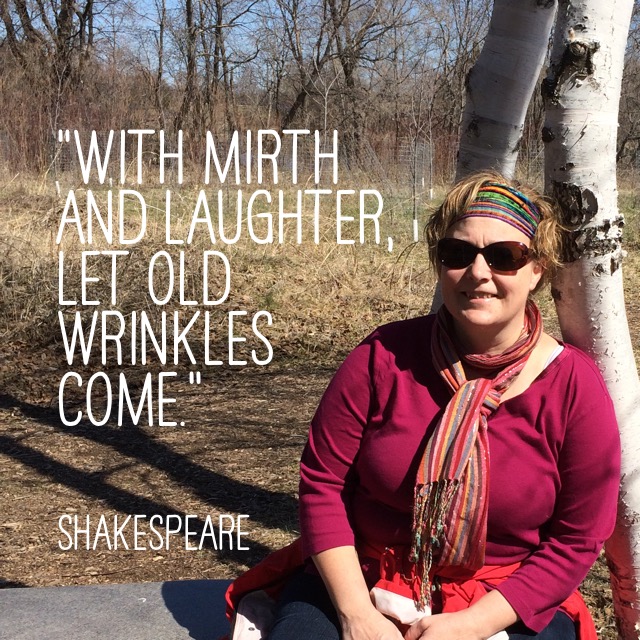 It's my birthday month. I'm turning fifty in just a few weeks. A half century! I'm having some trouble wrapping my brain around that.
I had big hopes of doing something epic for my fiftieth birthday. Almost all year, I've been trying to come up with just the right epic adventure to mark 50 years. Should I return to Africa and maybe visit the school I've been supporting? Or should I go on a solo backpacking trek? Or maybe a vision quest? Or maybe I should book a retreat centre and invite all of my friends to a big art-making sleepover?
For a variety of reasons, I decided that it was best to let go of the epic adventure. Not this year. Maybe it will unfold another time.
Putting epic aside, I still want to mark what feels like a major transition at the end of what's been a year of major change for me, so I'm doing smaller things closer to home.
I've been painting my home, creating fresh space for my daughters and me. And I'm getting ready to publish my book. Those are the big projects that are keeping me busy during this birthday month.
I want to bring you into the celebration. With this big birthday coming up, I've been taking stock, looking back over my body of work. It makes me happy to see what has been emerging out of me.
I may not have epic, and I may not have reached some of my big dreams (yet – I've still got time!), but I have lived a really great life and have created a lot that I am proud of. So I'm sharing some of that with you this month. Some will be stuff I've already created at discounted rates, some will be a re-imagining of what's there, and at least one thing will be brand new. Almost everything will have the theme of "fifty".
First…
I'm offering Mandala Discovery at 50% off!
That means that, for less than a dollar a lesson, you can get some of my best work sent to you each day for thirty days. I'm pretty sure you'll love it!
Here's what you need to do to collect the discount… go to the sales page, and in the coupon field on the registration form, enter the following code: birthday. And then hit "apply" and it should show the reduced rate.
Stay tuned for more offerings this month. ALSO… there will be a chance for you to contribute to a collaborative art piece that will hang on my newly painted walls! (Details to come.)
Now, I'm off to teach The Circle Way with my friend and colleague, Amanda Fenton. This really is a dream come true and it feels perfect that my inaugural public teaching of The Circle Way in my home city is the same month as my fiftieth birthday. (We still have spots available, if you can make it to Winnipeg by Tuesday evening!)
Here's hoping that, even without the epic adventure, May will be a fantastic month.