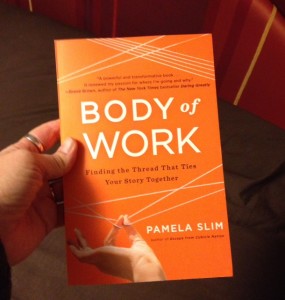 Pam Slim's book Body of Work arrived at the perfect time – just as I was on the threshold of doing some big work that marks the next stage of my own body of work.
A few months ago, Dianne McCoy and I accepted a contract to facilitate a major meeting of a national association and their stakeholders from across the country, gathering in our city this past weekend. This was one of the biggest and most complex meetings I've ever been called on to facilitate. There were moments leading up to it, when the complexities mounted and the potential for failure grew more evident, when both Dianne and I were sure we were in over our heads. There was even a moment or two when we considered turning down the contract.
But we worked up the courage to carry on. Not only did we carry on, but we pushed the client to allow us to use some methods that we both strongly believe in, but that we knew would create discomfort for many in the room who are used to more formal, hierarchical ways of gathering. Circle was at the foundation of how we wanted to gather, and there aren't a lot of people in the corporate world who are accustomed to engaging with each other while they hold a talking piece in their hands and look into each others' eyes. (Thankfully, we had an ally on the planning committee who is equally committed to circle work and she nudged the others to trust us.)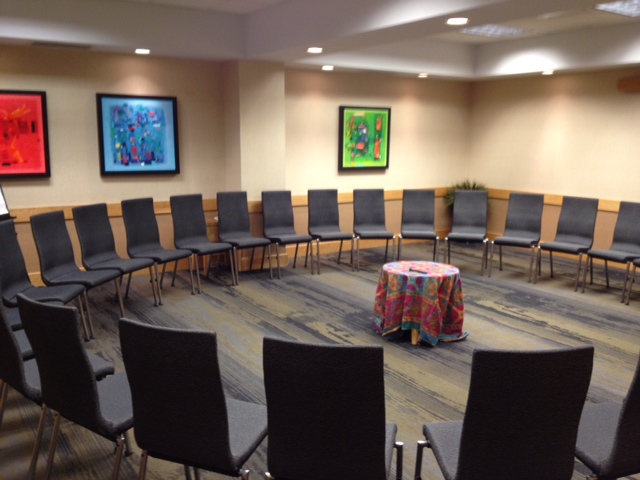 This was a monumental meeting for the organization. The ground was shifting beneath them, and they weren't sure what shape they'd need to emerge into to continue to be relevant. They needed a brand new level of engagement with their stakeholders (that was both risky and unheard-of) if they were to continue to serve their public.
Needless to say, these two days of work required all of the skills I've accumulated – ability to read and respond to the energy in the room, leadership and strength in the face of conflict, intuition, good communication (speaking and writing) skills, attention to detail, ability to host meaningful conversations, creativity, adaptability… and a few skills I didn't even know I had.
The meeting went well. There was more agreement in the room than the organization had anticipated, and even though things got tense at moments, we were able to redirect the energy and take it into a positive direction. Thanks to strong partners in the room who understand what it means to hold the rim of the circle, we worked our way through some very difficult territory to a positive conclusion. People in the room felt heard in a way they never had before, and the governing council had clarity about the new direction their organization needs to head. At the end of the meeting, several people remarked how the circle had been instrumental in changing the way they'd gathered.
In the evenings, when I returned home, exhausted and yet invigorated, I relaxed while reading Body of Work. As I'd expected, it's a beautiful articulation of the way my own work has evolved. Pam talks about how the emerging story of our work is a compilation of all of the pieces that led us to this place – experiences we've had, things we're passionate about, things that have happened to us, skills we've developed, etc.
Although there's a part of me that's long known that this was the direction my work was taking me, there was nothing in the early days of my education or career that indicated that I would one day relish the opportunity to host such a gathering. And yet… when I sit on this side of history and look back, I can see how the threads started coming together a long time ago to tie into this tapestry of my work.
In university, I studied literature and theatre. I've always known that writing would be part of my life in some way or another. I also thought that I'd find a place on stage. Little did I know that that place was not on a theatre stage, but at the front of the room speaking, teaching, and facilitating.
I found my way into a career in communication, first in government and then in non-profit. I worked hard to master the art of effective communication, writing more press releases and planning more press conferences than I can count. That grew old, though, and I knew that my longing to communicate was not about finding the best way to tell people about new government policies, but to tell meaningful stories that would change people's lives.
I left government for non-profit, and finally got to tell more meaningful stories, but knew that wasn't the final stop either – it was another stepping stone that was helping to prepare me for the next stage of my work. While there, I gained immense value from the opportunities to travel internationally and learn to communicate effectively with people of different cultures and different socio-economic status. This experience built a beautiful platform for the way I hold the container for meaningful conversation – recognizing the value of all of the stories in the room and honouring the differences we bring to the circle.
There have been lots of other things, aside from my paid work, that have helped grow this body of work – serving in leadership and church and community organizations, being a mom, getting some of my writing published, developing relationships with people all over the world, making art, developing creative practices, making mandalas, walking labyrinths, traveling, etc. All of it is meaningful, and even those moments that felt like dead-ends were learning opportunities.
All of those pieces helped prepare me for that moment, nearly at the end of the meeting, when I stood in front of the room, and somebody threw something into the mix that felt like it could derail everything that had just happened. It was the scariest moment of the weekend, and I wouldn't say I handled it perfectly, but I adapted, trusted the others who were helping me hold the container of the room, and shifted into what was needed for that moment.
I wouldn't have been ready for this moment ten years ago, or even five years ago, but I was now. As circle has taught me, I was especially ready for it because I had allies in the room (and outside of the room) and I knew I wasn't standing alone. One of the most important things that the growth of this work has taught me is that I don't do it alone.
Just before the weekend started, I bought myself a new ring. This is something I've done a few times in the past – buy a special piece of jewellery at significant moments of my life both as an act of kindness to myself and as a way of marking a new threshold in my growth. It's a practice that holds a lot of meaning for me. This particular ring has a series of spirals that wrap around my finger. As many of you know, the spiral has a lot of meaning in my work (especially in Mandala Discovery). In this case, it reflects the way my work grows like a fern, reaching with tender green spirals further and further into the world, never in a linear path, but always in the direction it feels pulled. (Later this week, I launch the hard copy version of Pathfinder, so my week of big offers and spirals reaching in different directions, is not yet over.)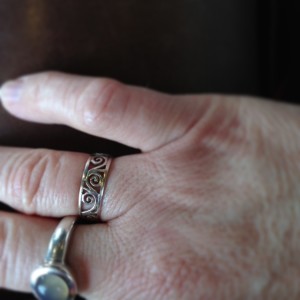 I would highly recommend Body of Work if you want to take a closer look at the path your own work is taking. If you want a meaningful companion for this exploration, I'd also recommend Pathfinder: A creative journal for finding your way. Pathfinder will on Wednesday, January 22nd. Come back then to order your copy!