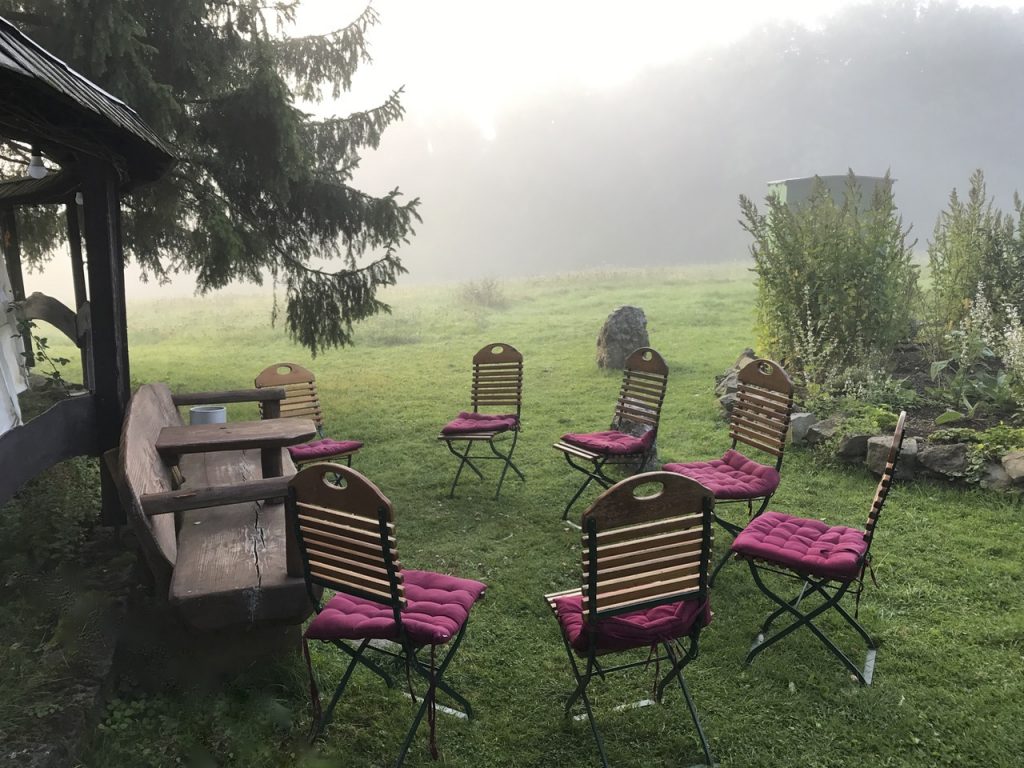 Seven years ago, sixteen women gathered at the edge of a lake in Ontario to learn The Circle Way with Christina Baldwin. I was one of those women, having longed for this opportunity for ten years, since I'd first read Calling the Circle: The First and Future Culture.
As is almost always the case when like-hearted women gather, our conversations quickly took us into deep and reverent places. It was the kind of nourishment I needed in that middle place I was in at the time – at the threshold of leaving full-time employment and launching my new business.
Punctuated throughout our circle time that weekend were the sounds of gunshots from across the lake – geese hunters, we presumed. The harshness of the sound (and what we assumed was the result) was in sharp contrast to the gentleness of our circle.
It dawned on us how symbolic this was… on one side of the lake was the softness of feminine energy, while on the other side was the aggression of masculine energy. The two were at odds and neither knew how to integrate with the other.
I went for a long walk one afternoon, and though the woods were quiet and peaceful where I walked, the ongoing gunshots reverberating across the water troubled me. Somewhere in the woods, I had the thought… "I really want to row out to an island at the centre of the lake, to meet the masculine there. I want to be a bridge-builder, a healer of this divide." At the end of that walk, before returning to the retreat centre, I was surprised to find a weathered old sign pointing back in the direction I'd come. There was one word on the sign – Lifeline. I couldn't help but think it was meant for me.
What I didn't fully understand at the time was that the healing work I wanted to do at the centre of the lake was not only about healing relationships between other people, it was about healing the relationship between the feminine and masculine within myself (and how I related to the masculine in others).
Perhaps it was because of that personal divide that, for the next several years, my work focused primarily on women. I gathered women together in retreats, created resources for them, and wrote articles for them. It felt good and right, and yet… I kept feeling like something was missing. I couldn't forget the vision of the island at the centre of the lake.
Gradually, I began to incorporate more men into my circles, but it wasn't always easy. Sometimes those men brought too much of the unhealed masculine into the space, dominating the conversation and interrupting without self-awareness. And sometimes the women silenced themselves or became awkward when the men entered the space. And sometimes my own social conditioning came into play, and I deferred to male voices instead of holding them accountable.
And yet, despite the challenge, I knew that this was important work and that I couldn't back away from it. So I worked on healing myself so that I could offer healing to others.
Last week, I flew to Germany to participate in a global gathering of practitioners of The Circle Way. I wasn't sure why I felt so strongly that I needed to be there, but I kept hearing the nudges, and so I decided to follow them.
I didn't know then that the gathering would represent some of the healing I'd wanted to find on that island in the centre of the lake.
Near the beginning of the gathering, on a beautiful piece of land in the Eifel forest region of Germany, we were invited to participate in a sweat lodge ceremony, a tradition that had been passed down to the owner of the land from his teacher, a Lakota elder. For personal reasons, I did not participate in the ceremony, choosing instead to sit at the fire and watch the fire-keeper feed hot stones into the lodges.
There was a binary nature to the ceremony that was troublesome for some in our midst (including myself). Men sat in one lodge and women in another and there was no space for those who fit within the non-binary space in between. In addition, the women in their moon time were not allowed into the lodge (in keeping with Lakota tradition) and though they were told they shouldn't enter because they are particularly powerful at that time of the month, they didn't feel very powerful, sitting at a separate fire at the edge of the ceremonial area. A man lead the ceremony (even entering the women's lodge at the beginning to offer teachings and songs) and a man served as fire-keeper.
In the sharing circle the next morning, a few people mentioned their discomfort with the ceremony and the way it divided us and excluded some. Nothing was resolved in that conversation, but some of us continued to have conversations on the sidelines.
Though the ceremony challenged us, I think it was a valuable place for us to start because it offered us a base from which to grow. When we turned away from the ceremony and toward other things, something began to shift, helping us evolve out of the patriarchy-imposed binary and into the space in between.
There were playful moments when it seemed the trickster was in our midst, messing with what had divided, excluded, and wounded most of us throughout our lives. Once, in the middle of a long afternoon of conversation, when we'd settled back into the circle after a break, a platter of cake was brought into the room by two people who'd gone to the kitchen to get us a treat. Instead of what we might have expected, it was men who brought the food and served us one-by-one. At another moment, when women gathered in a small circle to talk about their wombs and what they carried, an open-hearted man joined in. And then there were the two people who slept in tents at the edge of the property (while everyone else slept in comfortable beds) like warriors guarding the village. Those two people (myself included) were women. And then, in the only session when we weren't in circle and there was a more visible hierarchy (with people at tables and the hosts standing), all four leaders were women.
There were personal things happening as well. One of my favourite conversations, that stretched from supper until midnight, was with two men (one of whom kept getting up to serve me every time my glass was empty). We shared vulnerable and authentic parts of ourselves, and at no point did it feel that our gender differences created any awkwardness or disconnection. Each of us was able to hold space for the others in ways that crossed both gender and language barriers (for both of them, English is a second language).
By the end of our time together, it was my impression (which was confirmed by others in the group) that we had arrived at a place of much more gender fluidity, playfulness, and possibility. If a new ceremony had emerged at the end of our gathering, I'm convinced it would have looked quite different from what we began with. Our time together changed us. Together we were learning to integrate our own masculine with our own feminine and dancing with others who were doing the same.
On my flight home, I realized that my dream of an island at the centre of the lake was beginning to come true, and there were others willing to meet me there, willing to heal the wounds of the patriarchy, and willing to dance in the space in between.
Somewhere over the ocean, I started to dream of something more specific than just a mystical island. I started to imagine a gathering of people who want to dance in the space in between. It wouldn't just be about gender – it would be an intersectional gathering, where all of our parts (gender, race, sexual orientation, religion, ability, etc.) are brought forward in the dance. It would be a place where we could have both hard conversations and playful ones – where we can challenge each other with words, but then engage each other more playfully with art and dance and music. It would be a place where we would share food and be held by the land in a way that would help us imagine the community we once dreamed was possible – where the patriarchy no longer destroys our connections with each other or with ourselves.
It would be a place where the circle would remind us that there is a "leader in every chair" and that differences are not threats when we can look each other in the eyes and listen with deep attention.
I am imagining a learning village that uses Open Space Technology so that the agenda is not fixed in advance but rather there is an invitation to enter the flow of what we could co-create as a village. Anyone could bring an idea and invite others to play and/or wrestle with it. Anyone could call a circle, start a piece of collaborative art, or invite us to dance. All gifts and questions would be welcome.
Perhaps this dream will grow into a living thing in the year ahead. I am open to the possibility. And I am open to whoever wishes to step forward and help me dream it into reality.
---
P.S. If you want to meet me "in the space in between", consider joining me at one of my upcoming retreats…
1. Holding Space for Yourself, Oct. 12-15 at Welcome to the BIG House, Queensland, Australia. (Special pricing until Oct. 1)
2. Holding Space for Others, Oct. 18-22 at Welcome to the BIG House, Queensland, Australia. (Special pricing until Oct. 1)
3. Space for an Open Heart, Oct. 27-29 at Kawai Purapura, Auckland, New Zealand. 
NOTE: If you are interested in the next offering of Holding Space Coach/Facilitator Program, which starts January 2018, you may wish to put your name on the waiting list as it may sell out quickly. If you want to be notified when registration opens (next week) send an email to heather at heatherplett dot com with the following in the subject line: "Put me on the list for advance notification for the Holding Space Coach/Facilitator Program."