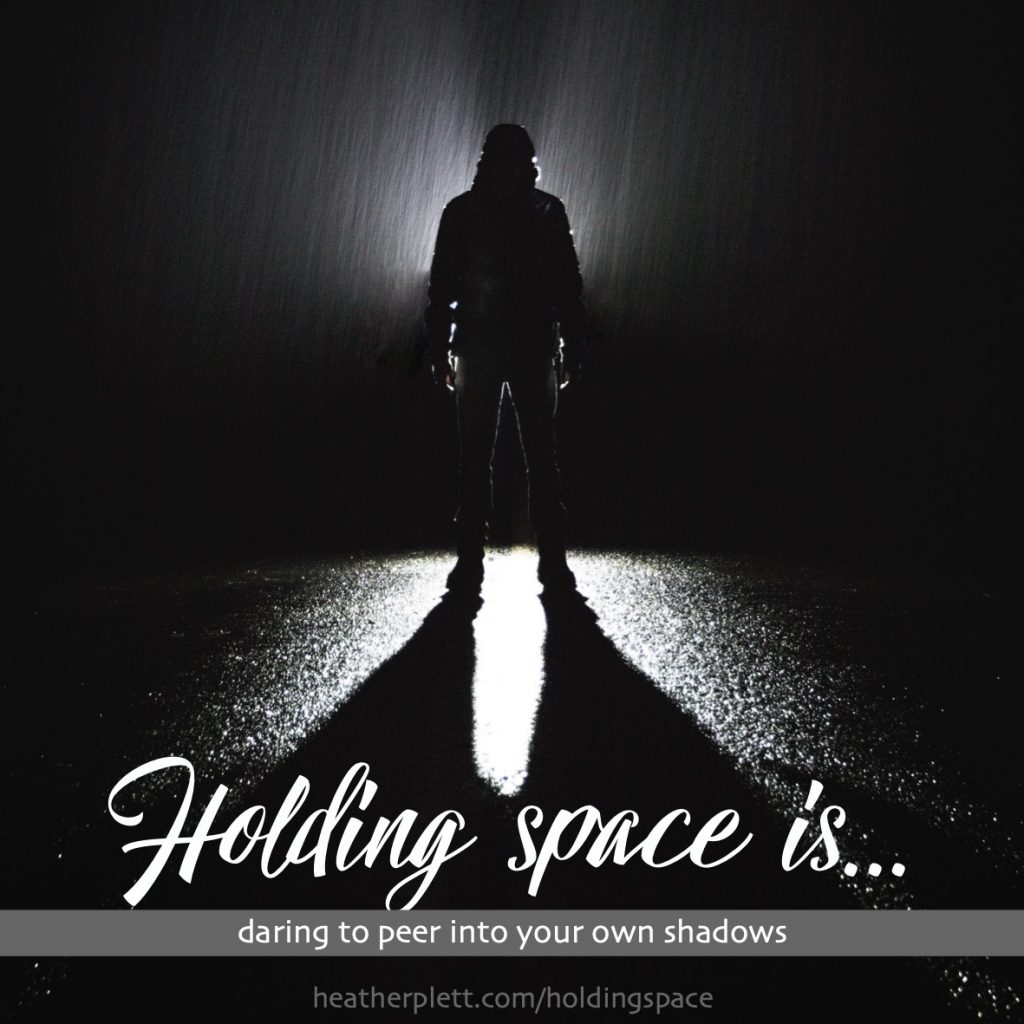 Listen to a recording of this post:
There's a labyrinth on Whidbey Island that is encircled by tall trees that cast shadows across the path. As you walk the labyrinth, you step from light into shadow and back again. It's a great metaphor for life.
A few weeks ago, I stepped into the shadow. 
Just before it happened, I said to a friend "before my business grows to the next level, I have a feeling that I need to look deeper into the fears and shadows that are coming up." Apparently, the universe heard that as a challenge, because since then, it has offered me non-stop opportunities to wrestle with the very fabric of who I am. I have more shadows than I ever knew!
It's been one thing after another:
Some of my work has been floating all over the internet unattributed (and/or plagiarized) and one of the major websites responsible for it ignores requests (from me and my readers) that they rectify it. It's triggered my frustration over the casual theft of writers'/makers'/artists' work and the related difficulty of making a living with what you create. And it made me look deeper into the discomfort I have in challenging those who do wrong.
The behaviour of someone who's been a mother-figure for me in the past brought up some of my leftover attachment wounds from my relationship with my mom. I had to wrestle with where my sense of worthiness comes from and why I sometimes feel an impulsive need to protect and soothe those who serve as mother figures.
Despite efforts to communicate them clearly and firmly, my boundaries were ignored by a few people in a few different situations, leaving me feeling unprotected and resentful. I had to lean into those feelings, be intentional about how I responded to the boundary-crossers, and remind myself that I am worthy of having those boundaries and can survive the reactivity of those who feel offended by them.
Conflict bubbled up in multiple circles that I am responsible for and I had to step in to deal with some challenging issues. It brought up some of my "keep the peace at all costs" baggage. I had to summon up the courage to be a conflict transformer and truth-teller rather than a conflict avoider. And I had to invite others to step into the discomfort with me.
An angry man in a parking lot (who'd hit me with his car) triggered some old trauma (and my "tend and befriend" trauma response and made me realize the ways in which I've been socially conditioned to be a shock absorber for other people's pain. And then some of the response to the post I wrote about it triggered an old reaction to critique – second-guessing my interpretation of my own lived experience.
A couple of people who were once important in my life but have dropped out of contact have become friends with each other, triggering some wounding over being abandoned and left out of the loop. I had to energetically release those people, bless them for the roles they've played in the past, and remind myself that rejection has never destroyed me in the past.
I've had growing awareness of religious trauma syndrome and have had to acknowledge some wounds left behind from leaving the church and choosing a faith with a less authoritarian belief system.
In the middle of all of this, I was interviewed by a writer for a major publication for an article that has the potential to bring even more readers (and potentially more criticism) to my work, triggering some of the fear of being seen in such a big way. Though the possibility is exciting, it also reminds me of how draining and disruptive it was to have a blog post go viral, and how hard I had to work at maintaining my solid sense of self in the midst of it. (P.S. I'll share it when it's published.)
When I put it all down into a list like this, I think "Wow! I really went through all of that in just two weeks! It's a wonder I'm not lying in my bed quivering!" But I'm really not a mess. At this point (though it doesn't feel like I'm completely back into the light portion of the path yet) I feel strong and clear and even more solidly committed to this work and how I show up in the world.
It never feels like the fun part of the path when the shadow comes, but I've been through enough of the loops of the labyrinth to recognize the value of it. As Mary Oliver said, "Someone I loved once gave me a box full of darkness. It took me years to understand that this too, was a gift."
Shadows help us refine our vision and see things we missed in the light. Our pupils dilate and we pick up on nuance and depth we weren't able to see in the glare of the sunshine.
Shadows invite us to slow down, be alert, and be more intentional about how we walk on the path. We have to look more carefully for the things that might trip us up.
Shadows encourage us to withdraw for awhile and go inward. We have an opportunity to spend time listening to our own voices and seeing our own truths rather than getting lost in the noise of those around us.
Shadows offer us the opportunity to strengthen ourselves and gather our resources for the times when we are invited to step back into the light.
Shadows reveal who is truly with us on the path. When we are in the shadows, we gain clarity over which friends will truly hold space for us in the darkness and which prefer to be only "friends-in-the-light".
Shadows reveal truth and help us be truth-tellers. When we can speak the truth that the shadow reveals, we cut through nonsense and spiritual bypassing like a knife through butter.
When we receive the gifts of the shadows, though, we have to be intentional about how we unwrap them. Though the initial reaction may be to reject those "gifts", protect ourselves from them, and/or project them onto someone else like weapons, we are much better served when we slow down, let our eyes adjust, and then lean into the darkness.
Here are the imperfect things I've been doing that help me receive these gifts:
Get quiet. I've been intentionally withdrawing into silence, spending long hours with my journal and endless cups of tea. And I've been listening to Let Yourself by Martyn Joseph on repeat. ("I need you brave, I want you brave, I need you strong to sing along, You are so beautiful.")
Block out unnecessary voices. I've withdrawn from social media this week, recognizing my tendency to use it as a way to numb out and noticing how I am (especially during a time like this) impacted by the noise of other people's voices.
Protect yourself. One of the other things I've noticed about social media is how much it exposes me and how I sometimes end up being a shock absorber for other people's pain. Sometimes I'm strong enough to let it bounce off me, but when I'm in a place of deep shadow work, I need to protect myself from unnecessary shock absorption.
Reach out. Though I've been off social media, my text messages and Zoom line (and a couple of coffee shops) have been burning up with the deep conversations I've been having with those who I trust to hold space for my darkness.
Care for your body. Last weekend, I had my favourite body treatment (hammam spa) and I cried my way all the way through it. I hadn't known just how much I needed to release from my body.
Walk it off. Unfortunately, we've been stuck in a deep freeze this week, and I'm a winter wimp who doesn't like to have my face bitten off by the cold, but my treadmill has seen a few miles as has my yoga mat.
"Konmari" your work and life. I've been doing some cleansing, recognizing where the energy leaks are and what no longer "sparks joy". I've cleared a few things off my website and removed myself from the networks and associations that no longer feel like the right fit. And then I processed the grief that some of that brought up.
Write your truth. My journal has been my best friend these past few weeks, and, as always, some deep truth has shown up on the pages. It's helped me clear out old stories and claim new truth.
Tend to your psychic membrane. In my teachings on holding space, there's a fairly new concept I've developed about how we each have a psychic membrane that, like a cell membrane, helps us determine what to allow in and what to protect ourselves from. I've been working on strengthening mine and paying attention to the signals it sends.
Honour your own hard work. Whenever I do work that I'm especially proud of, I reward myself in some way – buying myself a new piece of jewelry or other treat. I do that for both my external work and my internal work. I haven't done that yet (because it doesn't feel quite finished yet), but I plan to.
Laugh. Comedy shows on Netflix have helped me not to take myself too seriously.
Make messy art. I bought a large canvass and have been doing some intuitive art-making, combining elements that represent some of the shadows I've been peering into. For example, I added paper dolls that were my mother's and mine.
I look forward to stepping out of the shadows and back into the light. When I do so, it will be with a strengthened sense of self and a stronger psychic membrane to protect and nurture me.