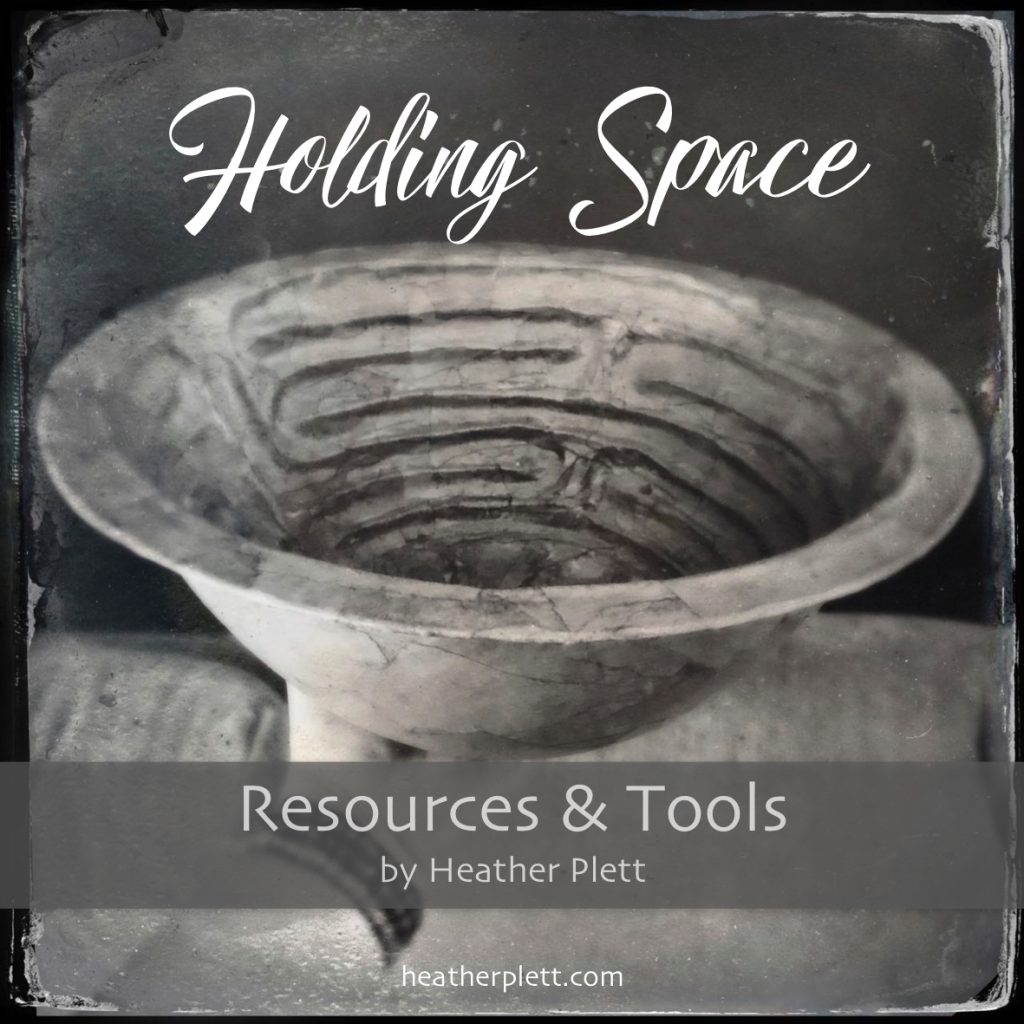 After my mom died, I wrote a post about what it means to hold space. I had no idea, when I wrote it, how many lives would be impacted by it. Since then, I continue to go deeper into this work and have written many more articles on the subject, been interviewed countless times, traveled around the world teaching about it, and developed an eight month online program teaching people how to do it well. 
Following is a list of the resources I've developed that I hope will support you in your quest to hold space for the people in your lives AND yourself. 
The original article translated into several languages: 
Portuguese
Turkish
German
Russian
Farsi
Spanish
Italian
Romanian

A handout of the original article
If you're looking for a pdf version for printing and/or passing around to others, you can download it here. You're welcome to share it, but if you want to re-publish any part of it, please contact me.
Follow-up articles I've written about holding space:
How to hold space for yourself first
What's the opposite of holding space?
Sometimes holding space feels like doing nothing
Sometimes you have to write on the walls: Some thoughts on holding space for other people's personal growth
On holding space when there is an imbalance of power and privilege
Leave space for others to fill your needs
What the circle holds
An unresolved story that I don't know how to tell
Holding liminal space (moving beyond the cliché into deeper space)
Meet me in the space of "I don't know"
Sometimes holding space means that you have to break the rules
Your discomfort won't kill you
Meet me in the space in between
What I've realized after many hours of writing about holding space
How to hold space for children
What to do when your bowl is full
Hold your tongue and offer your heart instead
Forgiveness and the death of my son
Communicating across distance and through noise
How to start a women's circle
Learning to listen
Safety: My privilege, my trap, and my right
Trauma and Trump
Places I've been interviewed and/or quoted on holding space:
Video of a talk I gave on holding space
at EAGALA Conference in Lexington, Kentucky 
Audio recording of a talk I gave on Relationships That Bridge Differences
Video produced by Uplift Connect inspired by my article
Creative resources for Holding Space
Check out my 8 month online training program for holding space: Holding Space Foundation Program.
You can also purchase my book, The Art of Holding Space: A Practice of Love, Liberation and Leadership, the companion journal and card deck at the Centre for Holding Space store.
Want more?
If you are interested in having me speak at your event, check out my speaking page. If you are interested in a retreat or workshop, check out my calendar, or contact me about creating a workshop tailored to your organization's or event's needs.
Interested in more articles like this? Add your name to my email list and you'll receive a free e-book, A Path to Connection.