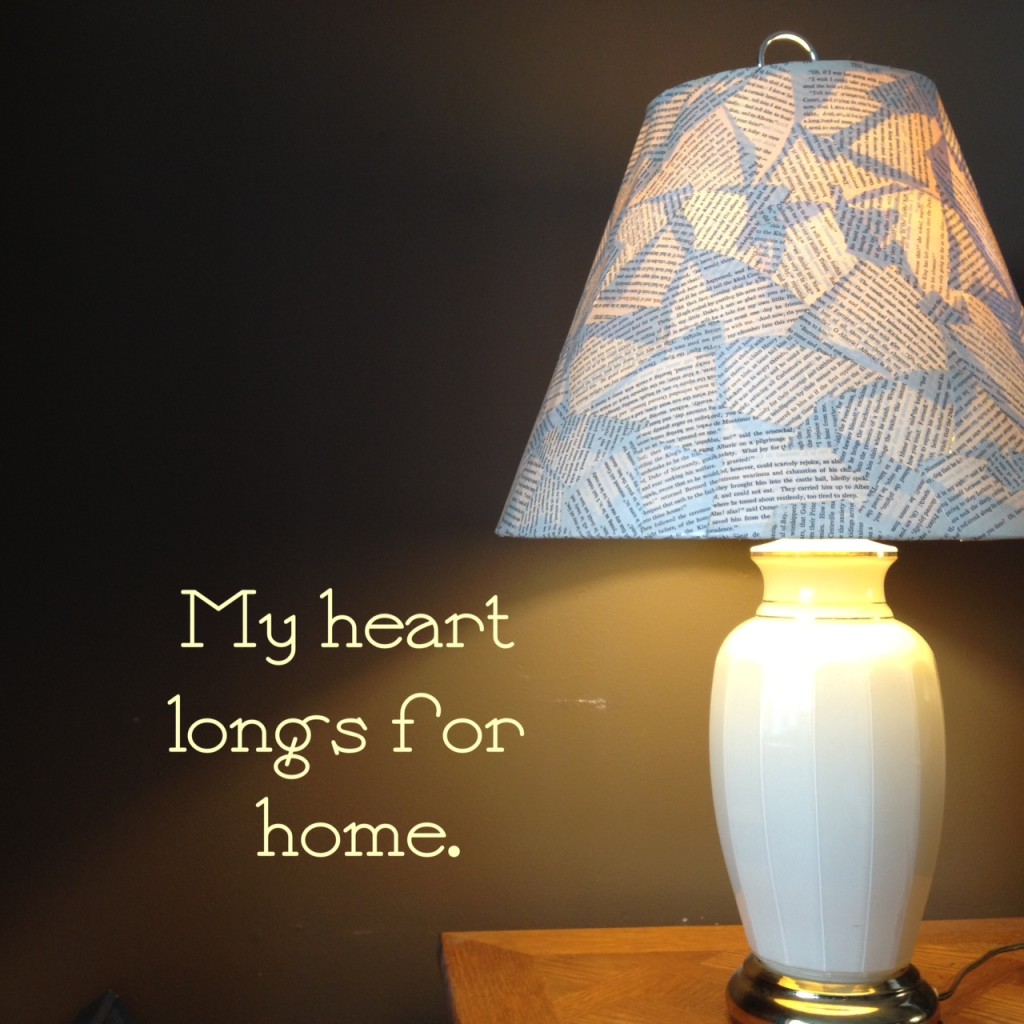 Since my kairos moment at the retreat centre a few weeks ago, when I decided that my word for 2013 would be "home", some really good things have been happening. I've spoken of a lot of sadness on this blog for the last few months (and will again – the sadness is far from over). But now it feels like time for a happy post. Here are some of the little blessings emerging out of my heart's longing for home…
I have done a lot of cleaning around our home – the bedroom, the basement, the living room, the kitchen. I've washed walls and floors, shampooed the carpet, sorted through stacks of papers, and de-cluttered many of the surfaces that tend to hold the things that don't have a place to belong.

In a moment of creative inspiration, I tore the dirty fabric off an old lampshade (that we got for a wedding gift 19 years ago) and decoupaged the pages of an old book onto it (see photo above). I absolutely love it and want more of them around the house.
In another moment of inspiration, I covered the stained and peeled linoleum in my kitchen with peel-and-stick linoleum tiles. It's not a perfect solution, but hopefully it will last until we can get around to the renovations we've been dreaming of. It sure is nice to have a kitchen floor that actually looks clean when it's washed! (I have a few more ideas to give the countertop and cabinets a bit of a boost too.)
While cleaning out an old purse to put in the give-away bag, I came across $75 worth of Superstore gift cards and $50 in cash. Bonus! That little windfall will be used to buy a few things to help this home look a little more cozy (like maybe some new curtains for the bedroom).
I had a lovely home-related dream the night before last in which a favourite teacher/mentor of mine welcomed me into her home. In the dream she lived in a large retreat/teaching space and I wasn't just being invited as a guest, but as a partner in the work. It felt like a beautiful homecoming for my work – like I'd arrived at a new place of comfort that I am in the right work with the right people. I've had a lovely sense of calm since that dream.
After years of being intrigued with The Work of Byron Katie, I've finally dug in more intentionally and am taking a look at some of my old stories to see what might happen if they are not true. It's already having a transformative impact on me, giving me freedom from some baggage in my relationships, especially my marriage.
I've had some wonderful moments of contentment and hopefulness – a nice change after months of sadness. One came yesterday as I was driving to meet my husband for lunch.