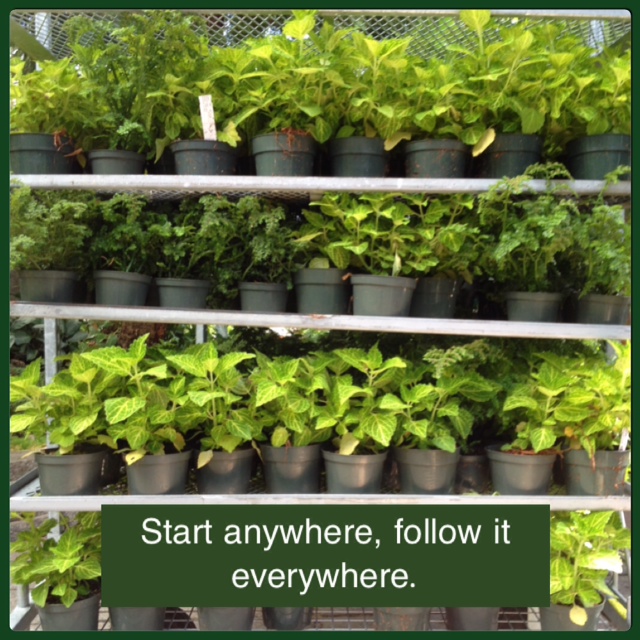 Yesterday I got an email from a woman asking me if I ever offered scholarships for my programs. She'd visited the Lead with Your Wild Heart page and said "When I clicked on your course I felt immediately that this is exactly what I need to do." The cost was a challenge for her, though, so she took a chance and asked.
As soon as I saw her email, I knew I wanted to help her get what she needed. "Tell me what you can pay," I said, "and it's yours. You can pay more in the future if it feels possible, or you can pay it forward in some way."
She sent me a beautiful note of appreciation and a little more of her story and… suddenly something shifted in me. I felt the Spirit-nudge. "I need to do this for more women," I thought. "I want to be a citizen of a world where more women step into their courage and leadership potential, and so I need to support them in getting there."
Within about half an hour (that's how quickly I can work when I trust the Spirit's nudge) I'd changed the sales page for Lead with Your Wild Heart to "pay what you can" and sent an email to my list to let them know of the change. Within minutes, sales started coming in and almost all of them included a note with a variation of "This is EXACTLY the right thing at EXACTLY the right time. I feel like you are up in my head and know what I need even before I do!"
Did I make a lot of money? No. Did I follow Spirit's leading and nurture leadership and courage in women? YES! That's good enough for me.
Then this morning something else happened. I hosted the first call for the brand new (free) Idea Incubator. Twenty-seven people came together to seed their tender ideas in the incubator, offer compost and soil for each others ideas, and marvel at the possibility of the global garden we can grow together. We started with a group circle where everyone introduced themselves and shared a brief check-in about where we're feeling the trembling in our lives, and then we broke into small groups of 4 or 5 to help each other grow these ideas. It was a tender beginning, with a few technological challenges, but it was full of energy and potential. None of us quite know what we're doing in this new space, but – in the words of Meg Wheatley – we've agreed to "start anywhere and follow it everywhere."
After the call, I had to close my computer and leave the house. I felt a physical trembling all over my body, fueled partly from the stress of hosting something brand new on technology I'm not very familiar with, but mostly from the excitement and energy that was shared by these beautiful people spread across North America and reaching across the ocean to Europe. I took my journal to the green space at the Conservatory to process what had just happened. The workers at the conservatory were planting fresh plants and I knew I'd come to the right place for my personal de-briefing (hence the photo above).
Am I making any money from the Idea Incubator? No. Did I follow Spirit's leading and create an environment where people feel nurtured and supported and where beautiful ideas can grow ? YES!
That's good enough for me!
I am simply being faithful to the call and trusting that the rest will follow. The outcome is not my responsibility. The commitment is.
p.s. You can join Idea Incubator any time you want. And you can buy Lead with Your Wild Heart with whatever you feel you can pay.