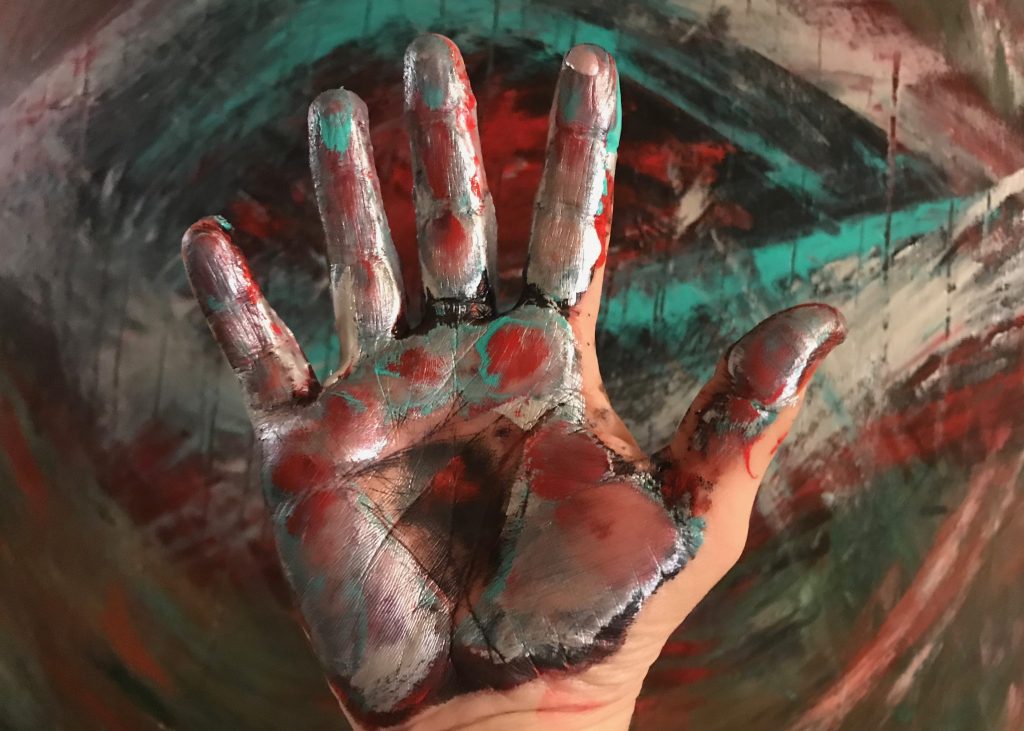 Listen to me read this…
I am a meaning maker. A word warrior. A truth teller.
To me, the written word is like a flashlight, illuminating the darkness just enough so that I can see the next place my foot should land on the path. When I read other people's words, they light the path for me. When I write my own words, I hold the flashlight for myself. And when I share those words, I turn the flashlight back and light the path for those who come after me.
Right now, I want to have words. I want to read them, write them, and share them. I want to cling to them like a lifeline.
I want to make sense of this strange world we're living in. I want to illuminate the liminal space of COVID19 — with other people's words and with my own. I want to know where to put my feet and I want to shine the light so that others will find firm footing too.
I turn to the poets and they lend me some comfort and meaning, but none of their poems fully satisfy the ache. I turn to my journal, but mostly I stare at a blank page. I turn to the stack of books on my nightstand, but none resonate with the tuning fork of this particular moment in history.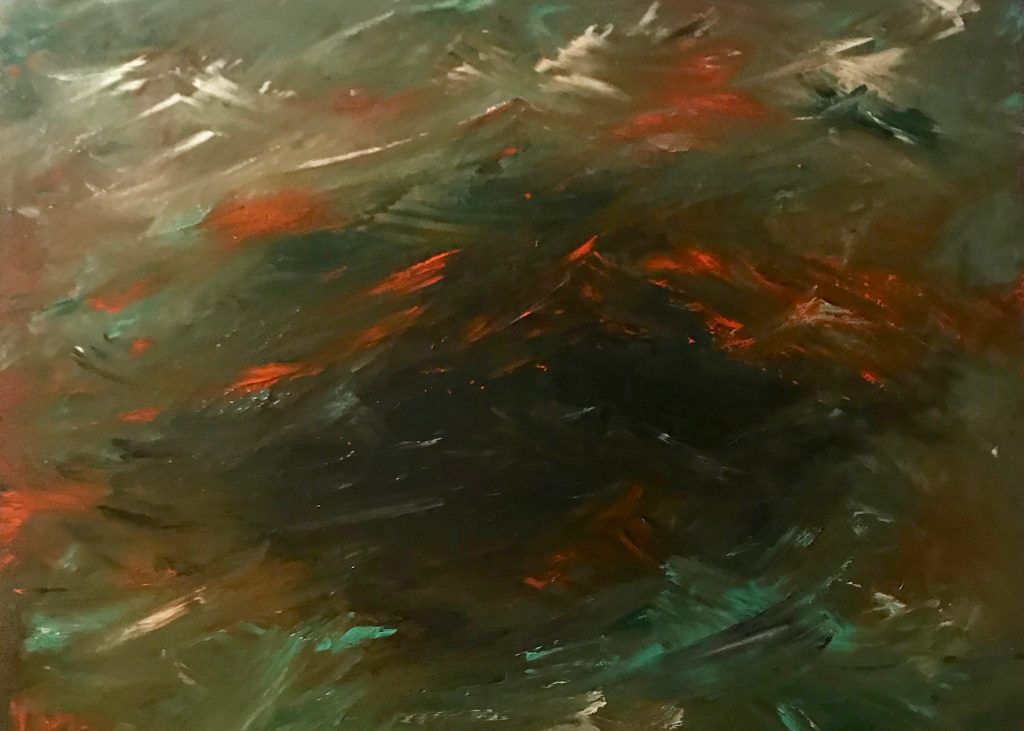 More than anything, I want to give a name to this thing that's taken up residence in the pit of my stomach.
To name it is to tame it, I tell myself, as I wrack my brain for the right words for these emotions. Fear? Existential dread? Claustrophobia? Anxiety? Grief? Agitation? Restlessness? Loneliness? Emptiness? Malaise? Distrust? Despair? Anger?
What about the spaces in between the emotions, or the spaces where they overlap? Is there a word for grief-anxiety? Or loneliness-agitation? Is there a way to capture the way they swell up in me, one on top of the other?
What about the times when the emotions settle into little more than a dull ache – like mild indigestion in the pit of my stomach? And… is that joy that's unexpectedly peaking through now and then? Or hopefulness? Peace? Ease? Restfulness? Are those things real or am I just imagining them?
What about the collective emotions? Is this thing in the pit of my stomach only mine, or am I holding a piece of something much bigger than me? How does this shadow of fear that's spread over the whole planet feel when it lands in my own gut? What about my children's emotions – do they swell up in my body the way their tiny bodies once lived in my womb?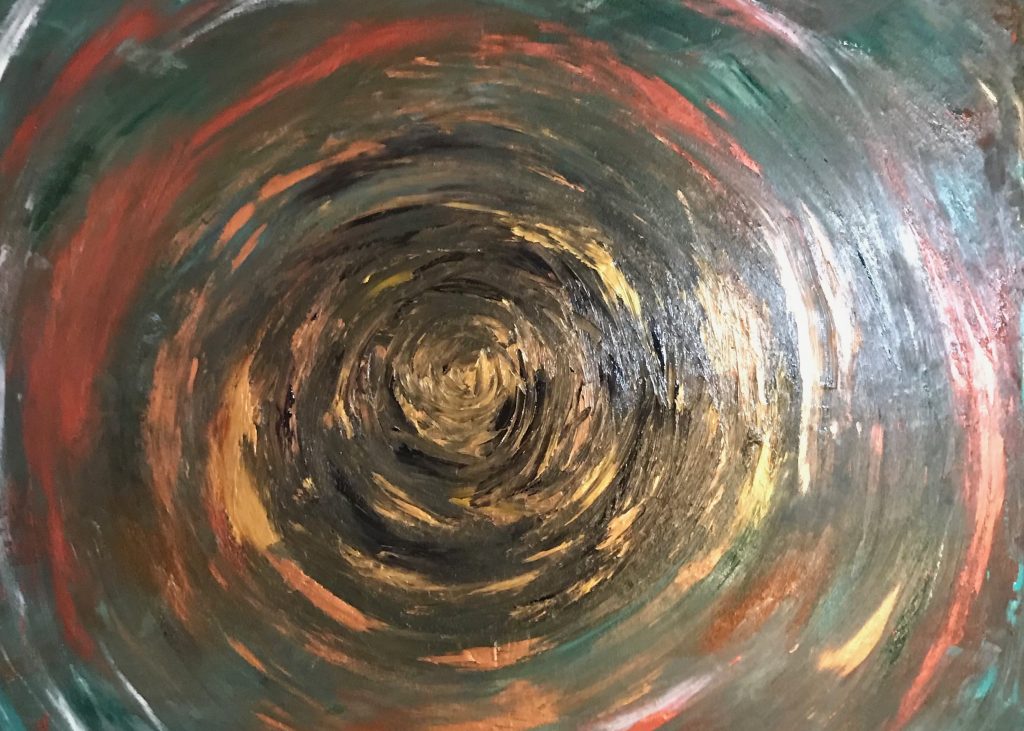 I feel the questions fill me, but I don't find any answers. I ponder, for a moment, whether we need a new name for this emotion – something to mark the newness of the place we find ourselves in. Covidaphobia? Coronanxiety? Is there something that will capture the many layers of uncertainty and loss and instability and unfairness and complexity? Is there something that speaks to the macro (the number of people who will potentially die or have their lives destroyed from this) and the micro (the small day-to-day ways that I and my family are impacted)?
No answers land. No words show up on the page. There is nothing that makes sense in this senseless landscape.
And so I go to my basement and pull out the large canvas I'd been saving to someday make something pretty with. But I don't want to make it pretty today. I want it to hold the things I can't put into words. I want it to be messy and unfinished and liminal and therapeutic.
I splash paint on the surface and, foregoing the paint brush, thrust my hand into the paint, swirling it around, spreading it to the edges of the canvas. It feels good to have my hand covered in paint.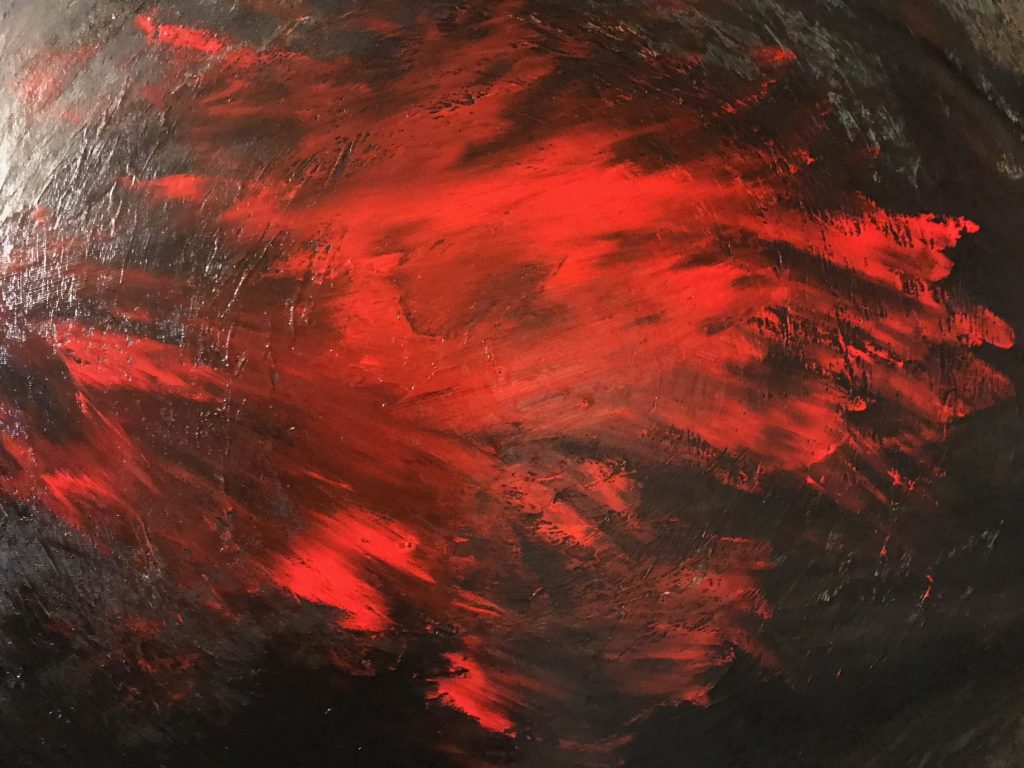 At first I have to resist the urge to make it meaningful, to make it "say" something. My old ways of making meaning bubble to the surface and I want to translate what I'm feeling into something that makes sense – something logical and with shape. Would an ocean with waves represent how this feels? Is it the heart of coronavirus I want to express on the canvas? Is it a spiral? A globe? A labyrinth? A cave?
But every time I try to make it familiar and understandable, I feel constricted and frustrated. This is something different. It's messy. It's a process. Its meaning is in the doing, not in the outcome. 
It's sometimes ugly and sometimes beautiful. It's sometimes dark and sometimes light. There are moments when I love it and moments when I hate it. There are moments when it cracks me open and the grief erupts like a volcano from my body. There are moments when it stills the churning in my body and I finally find the peace that has eluded me in many weeks. There are moments when I feel myself dancing with lightness as I paint and moments when I want to burn it all to the ground.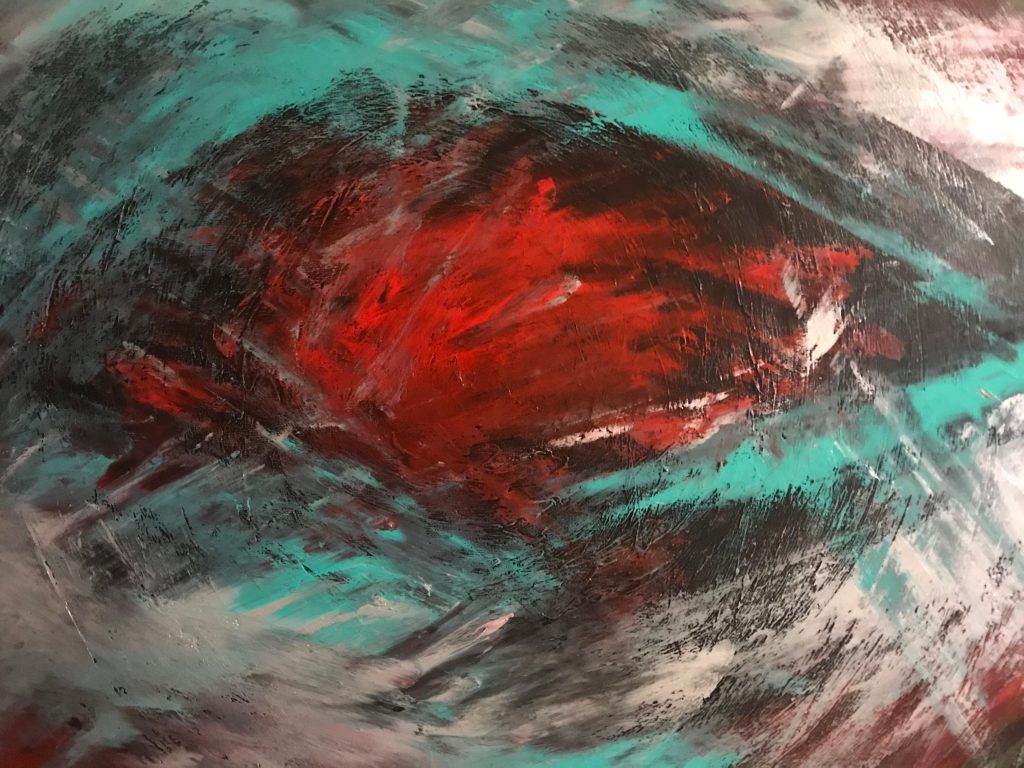 I'm tempted to stop in a moment when I like what's on the canvas. But that feels like cheating – like falling back on an old pattern – so I pour black paint on my hand and drag it through my favourite bits on the canvas. The black feels like truth. 
When my body tells me there's nothing left in me to express, I stop. And in that moment I look down and realize that what's left on my hand is the most beautiful part.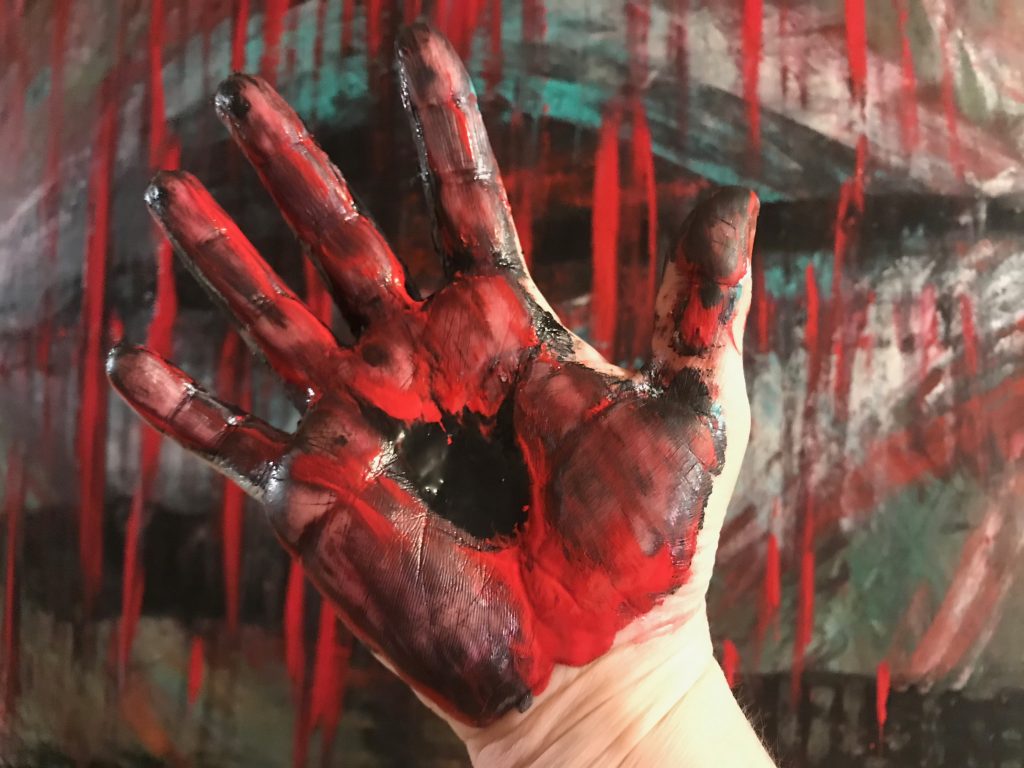 The next day, I go back to the canvas. Again, I spill more paint and drag it across the canvas. This time a shape emerges. Sometimes it looks like a giant eye, sometimes it looks like lips. Again, I drag black through it. And then silver. And then I drag my finger nails down the page until it looks like everything on the page is caught behind prison bars. And then drops of red, like blood dripping down the canvas.
The emotional waves rise and fall, but they feel easier to hold this time – less constricted. Whatever shows up in my body shows up on the canvas. I don't try to give anything names – only colours.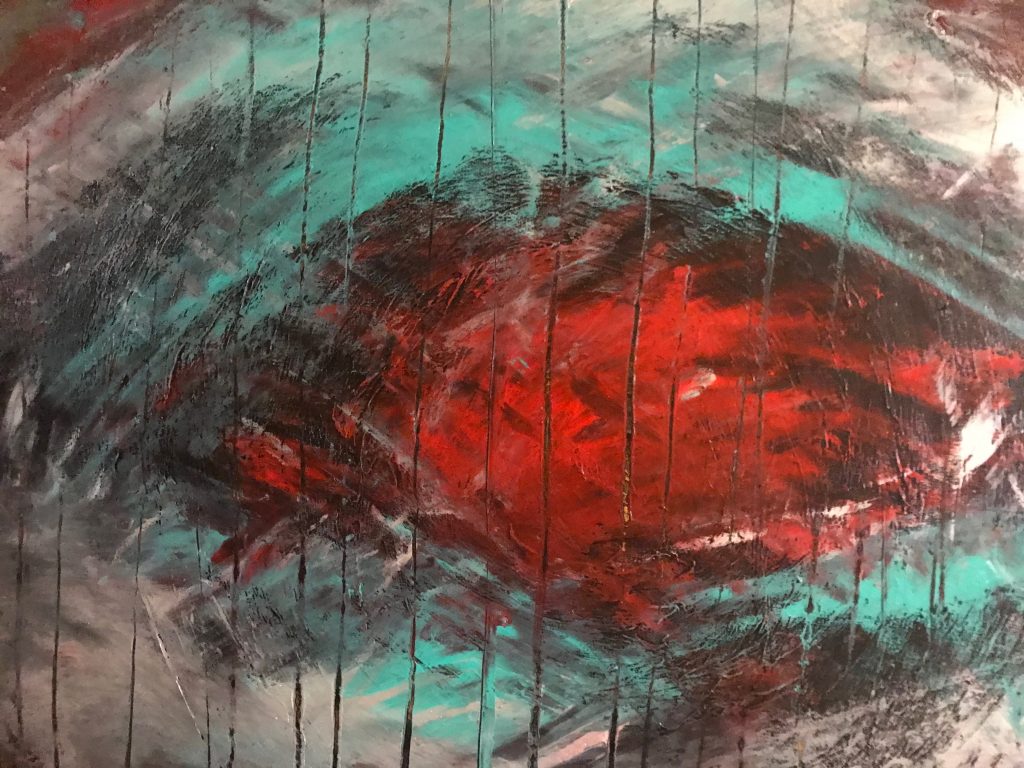 Whenever I look down at my hand, I see that it is beautiful. I resist the urge to give that meaning – instead I simply notice it. 
The canvas never makes sense. But at the same time, it makes all the sense in the world.
I will keep going back to it, again and again, adding layer upon layer as long as this liminal space keeps us in this shapeless, senseless void. I will let it tell my body things that my brain can't understand. 
I will pour my feelings out through my hand onto the canvas and I won't wrestle them into meaning.
I will simply let them be.