Every few months, I like to make a vision board. It's my feminine, right-brained version of strategic planning. Instead of filling a page with boxes and goals and strategies, I fill it with images and words plucked from magazines that I feel drawn to and that my intuition tells me have something to do with the direction my heart is heading.
I haven't made a vision board in a long time. One day in August, I sat with my mom in an oncologist's office and heard the words "cancer spreading" and "six to twelve months to live", and since then, my vision is too narrow for a vision board. The only thing I can see in my future is "fatherless, motherless daughter" and that's hard to pluck from a magazine.
Since then, my focus and energy have been limited, at best. Not only am I dealing with grief, but I'm dealing with a pretty serious lack of paying work because I just don't have what it takes to drum it up right now. I'm looking for part time work that will bring in some income while I deal with whatever the future holds.
Where's the "vision" in all that? Pay the bills, feed the kids, sit with Mom, worry about money, drive the kids to where they need to go, visit Mom again… that's about all I can muster these days.
This week, though, my friend Segun dropped off a bag of old maps, and suddenly I found myself missing my paints and scissors and Mod podge. Something about those old maps made me want to create again.
Tearing up old maps can feel surprisingly cathartic when there's no roadmap for the journey you're traveling along. I tore and I placed and I glued. I shredded roads and lined them up with wasteland. I tore up countries and provinces. I cut lakes in half. I destroyed international borders. I had no idea what was emerging, but it felt good to destroy and then to begin to create again.
After the page was full of torn map pieces, I turned to my stack of old magazines. Not a lot in them inspired me. I wasn't dreaming of parties or feasts or published books or beautiful retreats. All of that felt foreign and far away.
Suddenly I realized that instead of making a "vision board", I was making a "lack of vision board". Something about that acknowledgement felt like a release. I didn't have to find anything in the images. I didn't need it to be anything. Maybe just tearing up map pieces was enough for now. Maybe it was the journey and not the destination that I needed.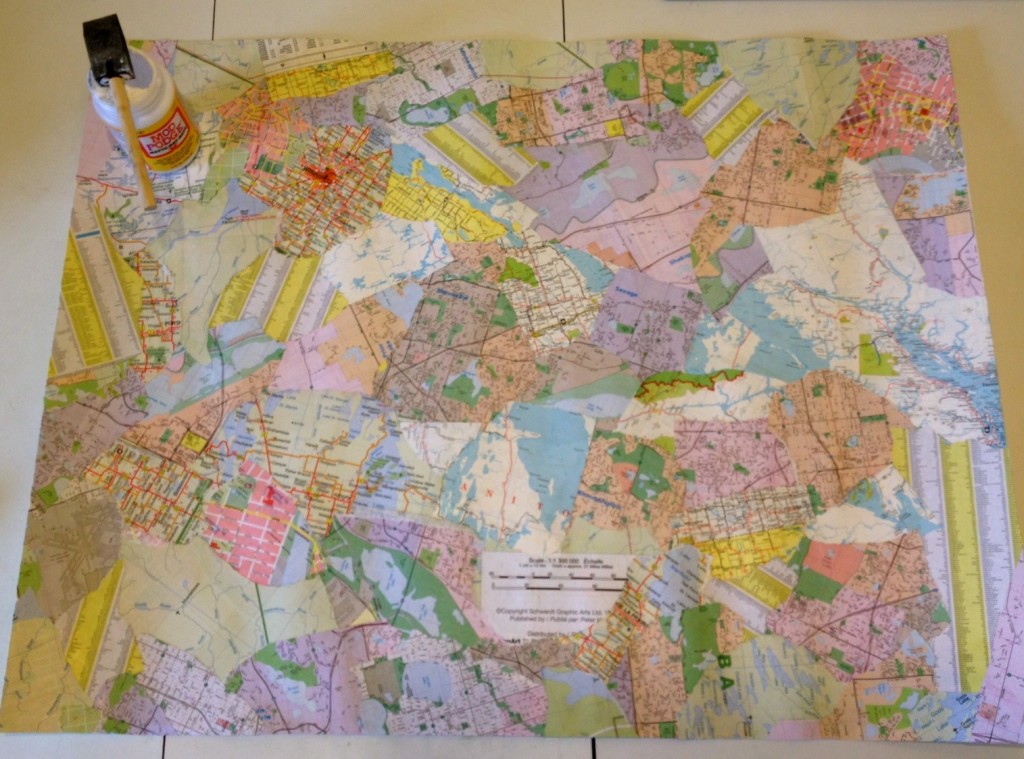 I left it alone for awhile. I made a pot of soup and sat down to stare out the window while I ate.
Eventually, I came back to it, knowing I wanted to add something more. Paint? Images? I had no idea. I was listless and unfocused, the way I spend much of my time these days.
A few images and words caught my attention. Images related to being on a journey – a man feeding his donkey, a couple in a canoe, a woman on a bicycle, the path of a turtle returning to the sea, a woman carrying her basket on her head. And then there were several images related to the wild – elephants, a butterfly, an eagle, balanced rocks in the tundra. The words were similar – bleak, restless, and a little wild. "Foreigner in their own land." "The first condition of understanding a foreign country is to smell it." "Cry of the wild." "Life-giving death."
I glued the pieces on. They were sparse on my huge paper, but I didn't feel like adding more. I didn't feel like overlapping images the way I usually do. I didn't want them to touch.
I grabbed my paint. There was too much clarity on the board – I needed it to be muddier. I started adding layers of ochre, orange, and brown – first a wash, then random brushstrokes.
Suddenly I realized that the brushstrokes weren't random at all. I was creating a series of intertwining paths connecting the images and words. It was all about a journey, but this was no clear map-driven journey. It was random and chaotic, with detours and bumps and unexpected curves. A map to nowhere and everywhere, all at once.
To the paths, I added even more detours – spirals jutting out at random intervals – the pauses along the journey where one must take a deeper spiritual journey before returning to the path.
When the paths were finished, I added the words that came to me: "Pilgrim, there is no path. The path is made by walking." (from a poem by Antonio Machado) And at the bottom, I added a note just for me. "Walk on."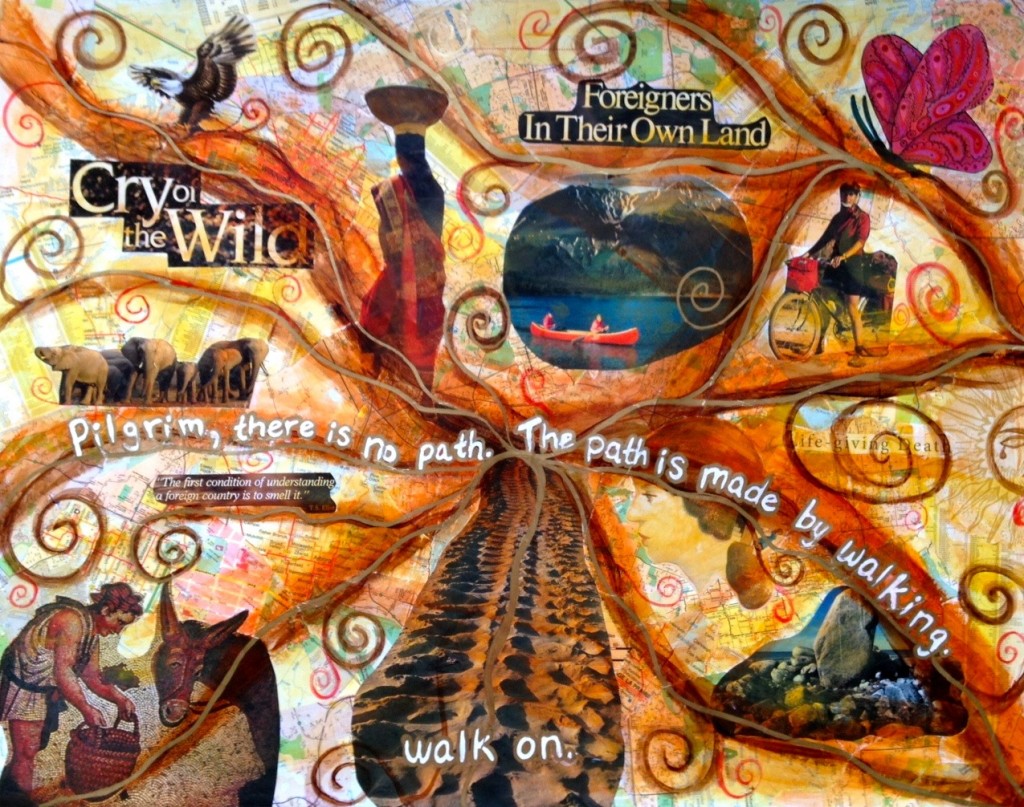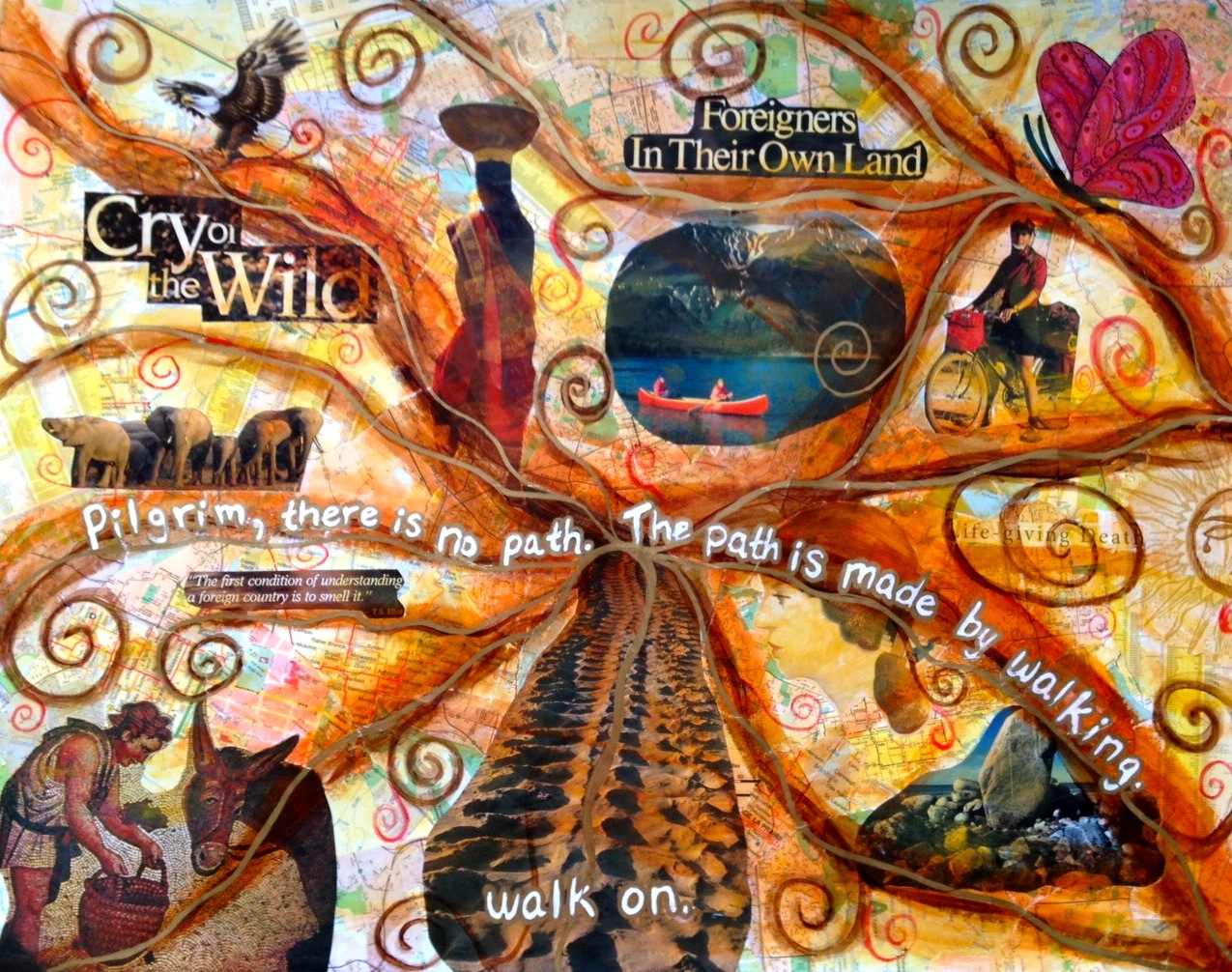 I am very fond of my lack-of-vision board. It speaks to me of surrender, trust, and pilgrimage. It tells me to stop trying to control things, to accept the detours when they show up, and to be willing to pause for nourishment and spiritual spiralling. It tells me to follow my wild heart and just keep walking. It lets me know that the detours are not mistakes. It doesn't expect me to be perfect or focused or even strong. It just lets me be who and where I am right now.
I especially like that at the top left, where the paths seem to be heading, there's a fierce beautiful eagle taking flight and heading into the light.
*  *  *  *  *  *
A Lack of Vision Board is one of the exercises you'll find in Pathfinder: A Creative Journal for Finding your Way.