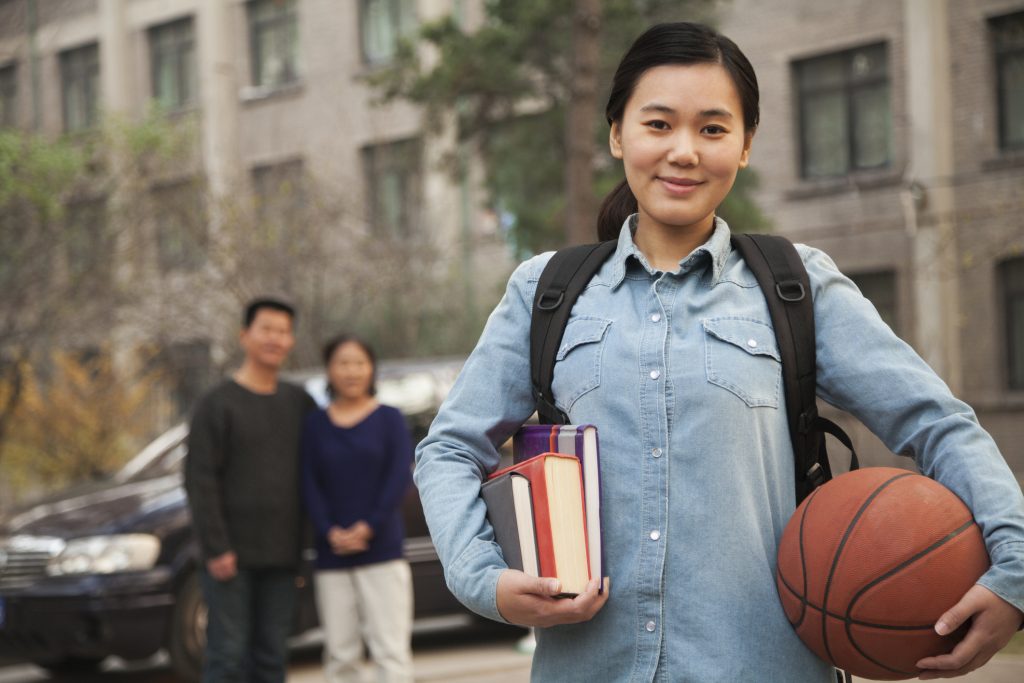 Listen to me read the post…
My social media feed is filling up with images of grinning college students settling into dorm rooms. Sometimes the parents who are posting those images are in the photos and grinning too, but beneath the grins and cheery captions… well, there's a lifetime of stories and a whole host of other stuff. I can see it in their eyes. (Let's face it, when your child moves away, it's hard to keep it from showing up in your eyes.)
"Whoa…that's three sentences… and ten thousand pounds of stuff," Michael J. Fox said in his documentary, Still, when he was reading a short passage about his relationship with his dad from his autobiography. That's what I feel when I look at those photos… just a simple photo, a simple smile, a simple caption about how their child is starting university… and ten thousand pounds of STUFF. Yes, when your child moves away, there's a lot of STUFF – emotional and otherwise.
Did they really grow up so quickly? Don't I have more time with them? Can we go back to simpler days when they needed me more? Will I become less relevant in their life? Did I teach them all the things they need to become a good adult? Will they make friends here? Will they be lonely? What if they get their heart broken and I'm not around to support them? How will I spend my time when I'm no longer caring for them in my house? What if I enjoy having them out of the house – will that make me a bad parent? What's my identity now that "parent" is taking up less space?
Oh parent… I feel you. My heart is travelling with you on this wild roller-coaster ride called parenting. Who could have known, when we first became bonded with those little people who entered our lives, just how much our hearts would become tethered to theirs? Who could have known the ways our hearts would swell with pride and devotion, the way those little people could uniquely break our hearts with their cutting words, the way we could feel such intense anger one moment and love the next, the ways we'd feel so completely unprepared, overwhelmed and uncertain about how we were raising them?
Parenting is a series of thresholds, milestones, and heartaches. It's a gradual, incremental process of letting go, punctuated with these bigger moments when the letting go feels more and more profound (and sometimes earth-shattering) – like when we first leave them with a babysitter, they start attending school, they have their first sleepover, they go away to a week of sleepover camp, they start high school, they learn to drive, and they get their first job. And there's the other stuff too – less tangible and sometimes more emotional – the first time they keep a secret from us, the first time they lie to cover something up, the first time they choose a friend over us, the first time they slam their bedroom door. Then, before we know it, they're ready for that BIG threshold – the one that involves them leaving our home, for a university dorm, their own apartment, another city… whatever. It's all an exercise in learning to let our hearts walk around outside of our bodies… and then realizing those hearts were never ours to begin with.
Sometimes when I teach about what it means to hold space, I joke that I got my PhD in holding space from being a parent. At first, you hold them close and take responsibility for meeting all their needs, and the container you hold for them is small and enclosed, protective and safe – like a bird's nest. Then gradually, you open your hands and your heart more and more and let them grow into their autonomy and agency and you practice letting them take responsibility for the consequences of their own actions. It's not easy, this letting go, especially when your child moves away, but it's necessary. Individuation, according to Jung, is the process a child must undergo to become their own person – a well-functioning adult, with their own beliefs and ideals that might be separate from those of their parents and society. We let go so that they can become themselves.
(An aside… I think there's a potential individuation process involved in parenting too, especially if there was some arrested development in our early lives and our children's growing up brings up our own long-buried childhood stuff, but that's a post for another day.)
What comes up again and again in the work I do, when people begin to learn about what it means to hold space, is that this practice is FAR more about us, the spaceholders, than it is about the people we hold space for. As parents, we have to hold space for OURSELVES during this important milestone so that we don't project all of our stuff onto our children, so that we don't pass down the woundedness and trauma we've inherited from our lineage, and so that they can be released more fully into their individuation with liberation and without shouldering guilt over abandoning us or fear that they're severing family ties or letting us down.
Two years ago, my oldest and youngest daughters moved out within two weeks and I drove each of them twenty-four hours in opposite directions to their new homes in faraway cities. Not long afterwards, my middle daughter started traveling and I was mostly an empty-nester. The pandemic had given me bonus time, with all of them staying home longer than expected, but then the world started opening and suddenly they were all leaving in quick succession, and going far away. SO quickly it all happened and suddenly… I was alone. And there I was, reeling from the emotional tailspin of it all, but doing my best to hold space for myself so that my aloneness didn't become their burden.
This summer, I've enjoyed the gift of a few months with two daughters back under the same roof, but next week I have to say good-bye again as one heads back to the west coast and the other heads in the opposite direction. I'm a little more prepared for it now, having survived the initial blow, but I know it will still be hard. I know my emotions will bounce all over the place for a while.
As I prepare for this next period of transition, I thought I'd share some reflections from my own experience and my understanding of what it means to hold space for our growing children and for ourselves. I hope these are supportive for when your child moves away.
1. Trust that you have taught your children as much as they need to know, and that they have the capacity to figure out the rest. This one surprised me when I helped my daughters set up their new homes far from where I'd be living. I worried about whether I'd taught them enough that they'd know how to function as independent adults. Some of it was about simple things (like getting stains out of clothes) and some of it was bigger (like building community in a new city). I cried about it in a hotel room on the long trip home, but then I had to let go and trust that they'd be okay. Two years later, I can see how well they adapted, and I have to admit that those fears were more about my own insecurities (i.e. Had I been a good enough mother?) then they were about them.
2. Give them the advice that matters most, and withhold the stuff they can figure out on their own. This is related to the first one, but it's also about allowing our children to have their own autonomy and make their own mistakes. They need to know that we trust them and that we don't assume they'll be helpless without us nearby. When we try to dump too much advice on them, we run the risk of hijacking space while making them doubt their own capacity to make good choices independently. In those early days for each of my daughters as they set up their apartments and learned to navigate new cities, I had to learn to (mostly) keep my mouth shut when they chose sheets and towels, and then figured out how to navigate public transit. There was some discernment in recognizing when to stay silent and when to step in and let them know I still had their backs and I didn't always get it right, but I tried.
3. Be mindful of what this separation might be triggering in you, and work to hold and heal it without making it your child's burden. Are you feeling separation anxiety, or having old abandonment trauma triggered? Are you afraid of becoming irrelevant in your children's lives? Are you afraid of losing your sense of purpose when you're not needed as much? Are you letting your mind cycle through irrational fear of what could happen to them while you're far away? Maybe there's codependency in your relationship with your child and you've been overly enmeshed in their life? These are all very real things, and you don't need to bury them and pretend you're not feeling them, but it's your responsibility to hold these things (and/or find peers or professionals to help you hold and heal them) not your children's. Breathe deeply, dear parent, and release them with a blessing so that they don't have to take responsibility for (or inherit) your pain.
4. Recognize that there is grief in this and find healthy ways to process your grief. I know it hurts – that's natural. You're grieving the end of a really important era of your life. You're grieving the loss of that little innocent child you cherished. You're grieving the way your role in your child's life is changing. You're grieving all of those meals you won't eat together, all those movies you can't watch, all those car rides, and all that laughter you'll no longer hear from the living room. It's not a death, exactly, but it can feel that way. Let yourself cry, let yourself grieve, and find friends who will hold space while you release all of those big feelings. Pour it onto your journal page or go sit by a river and let the natural world hold space for your tears. Grief is a natural part of relationships. Grief is a part of what it means to love. Go ahead and feel it. (This too shall pass.)
5. Recognize that there is also freedom in this (and let go of any guilt you feel over enjoying that freedom). There is never just one emotion involved in a major milestone like this. There might be some relief mixed in with the grief, and maybe even some joy (though those might not be the most immediate emotions to show up). You've done the heavy lifting of parenting a child into adulthood and now they're not going to need you as much. When your child moves away, they're going to find other people to lean on and your burdens will likely become lighter. You won't need to cook as many meals or give as many rides or clean up as many stray socks. That can feel like freedom. Your life is about to open up in ways that might not have been possible when your children were more dependent on you. Feeling guilty over enjoying it isn't going to serve anyone, so why not enjoy it? In the long run, your kids are likely going to enjoy their own freedom more (and feel less guilty about leaving you behind) if they see you enjoying yours. It's a healthier way of nurturing a secure (and evolving) attachment bond between you.
6. Lean into liminality. There is liminal space involved in any major transition in our lives and this one is no exception. We have to let go of the old story of who we were and how we spent our days and it will take some time for the new story to emerge. There's an identity shift when you lose some of the duties and expectations that once defined you as a parent and you might even find yourself in a full-fledged identity crisis. Lean into it, dear parent (while getting support if the crisis is significant). Things are going to be different. There's going to be a new normal. You will eventually adjust to a new way of filling your days, a new way of being in communication with your child, a new way of welcoming them home for the holidays, and perhaps new hobbies, new friendships, and new ways of making meaning of your life. But you don't have to figure any of that stuff out right away. Let yourself feel wobbly for awhile. Let yourself feel all the complicated back-and-forth emotions. Be tender with yourself when old wounds get triggered, when you feel lonely, when you're full of self-doubt, or when you're uncertain what your purpose in life should be. This is liminality, this is normal.
7. Consider planning a "gap year" for yourself. When we think of gap years, we picture high school graduates going off into the world to find themselves before entering college. But what about a gap year for new empty-nesters? When my daughters all moved out, I sold our family home (because none of them planned to move back to Winnipeg and I didn't intend to stay in the city either) and set off on a year-long adventure. Because my work affords me the privilege of working from anywhere there's Wi-Fi (plus I teach internationally), I had the privilege of traveling all over Europe and Central America. Now that I'm at the tail end of that year, I am immensely grateful that I had the opportunity! It wasn't always easy, and sometimes I felt lonely, but it was a profoundly meaningful (and fun) way to explore who I am, where I want to live, and how I want to live in this next phase of my life. I got to spend the year being intentional about making choices rooted in joy, tenderness, and liberation – choices for ME and nobody else – and I feel grounded and have a new sense of confidence and self-love now. Your gap year might look nothing like mine (maybe you can't leave your home or have no interest in travel), but there might be some way for you to experience a similar period of exploration, expansion, and joy-seeking as you figure out how you want to live, love, and make meaning. (Consider joining our Full-Bodied Life community for this time of exploration.)
8. Explore (and enjoy) your expanding identity and possibilities. Related to the last point, you have an opportunity, in this transition period, to dive into more intentional self-exploration. Maybe there are lifestyle changes you want to make. Maybe there are relationships that need to shift or new boundaries you need to adopt. Maybe it's time to dive into that therapy you've been putting off. Maybe you want to travel more. Maybe you want to take up new hobbies or take a course. Maybe it's time to sign up for that master's degree program you always dreamed you'd get but put off when the children came. This is a moment when you get to let go of some of that old programming about what's selfish or a waste of time or what you're not worthy of. This is a time when you get to choose YOURSELF. Be playful with your exploration and HAVE FUN!
One day, dear parent, you will wake up in the morning and realize that something has shifted and that you've now become accustomed to this new normal. Despite how monumental they feel when they happen, transitions don't last forever. You can weather this storm, just as you have weathered storms in the past. You're not finished growing and evolving, and while growth can sometimes hurt, it can also lead us into more expansive lives. Go ahead – live a more expansive life!
P.S. If you want to learn more about how to hold space for yourself, now would be a great time to sign up for our How to Hold Space Foundation Program. It starts in October 2023, and if you sign up before September 1, you can still get last year's prices.