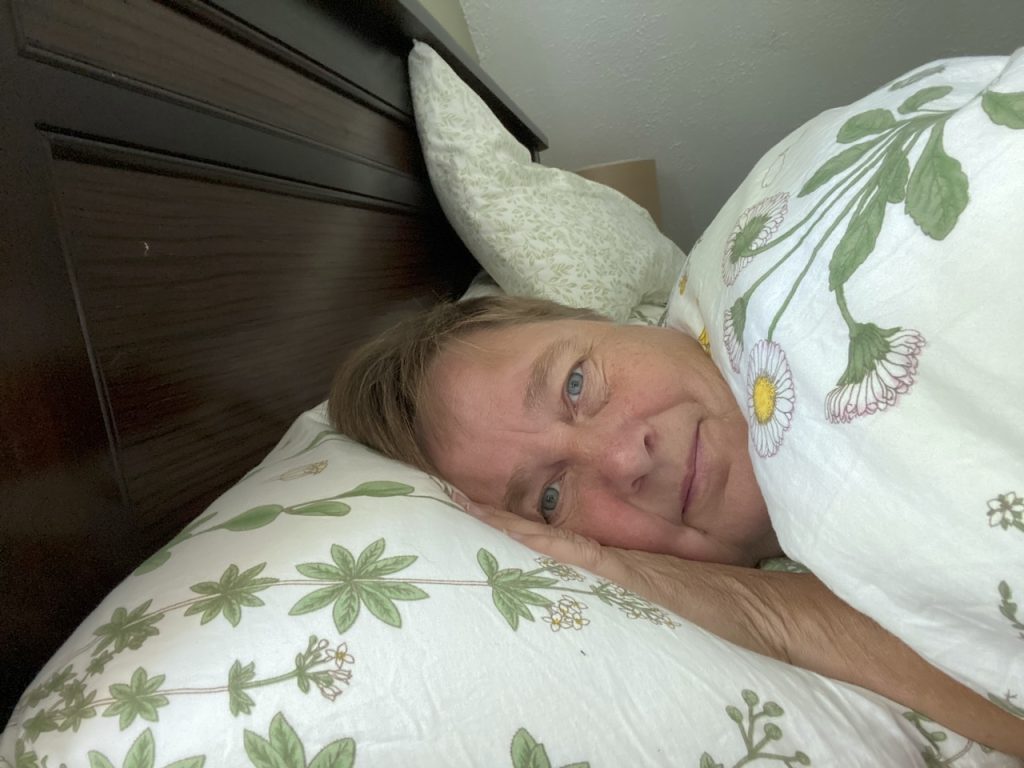 I've been sick this week. Congestion, fever, a nose like a leaky faucet. This morning, I was just going to carry on with my day as though my body wasn't begging to stay in bed, but then the fever finally convinced me a day under the covers was justified. One of the dangers of working from home, though, is that I can take my computer to bed and the inner drill sergeant still expects me to get stuff done.
I can chalk it up to the work ethic I was raised with. My dad was known to push through every sickness and more than once, he passed out in the barn when he was too sick to stand (and then got up and went back to work). My mom came home from the hospital, where she'd just had a radical hysterectomy, and re-washed the floor that sixteen-year-old me had washed the day before (but had used too much cleaner so it was sticky).
Yes, even after all of these years, there is still a voice in my head that becomes hyper-critical whenever there is evidence of laziness. Perhaps it's still sixteen-year-old me reminding me that I'm not living up to the expectations of the hard-working folks who raised me.
There are not a lot of things pressing that I must do today, so a rest day is not unreasonable, but here I am writing this blog post because I'd told myself I'd write one today and whenever I try to rest, my brain spins in circles and makes it nearly impossible. Here's what I'm thinking now… maybe if I get this post out of my brain, it will allow me to nap. (Fingers crossed.)
It's ironic to be writing this, so soon after I wrote a post about why Krista needed to rest, but isn't it always easier to tell other people what they need than it is to meet those needs for ourselves? (I'll let her get revenge when she comes back to work.)
I've been thinking, though, about the bigger picture about how we treat our bodies and why we need to be more tender with our own bodies and each others' bodies. As I mentioned in the earlier post, grind culture is abusive and we shouldn't contribute to that abuse on capitalism's behalf. Let's face it – capitalism is never going to be kind to us, even if we break our bodies on its behalf, so why make such a huge sacrifice?
The other thing I mentioned in that post is that when we rest, we send a message to people that we value them whether or not they make measurable contributions to a capitalist system. When we are cruel to our bodies because they don't perform as well as we expect them to, we are upholding a values system that places bodies in a hierarchy, with healthy, productive, physically fit bodies above those that are chronically ill or disabled. We contribute to the marginalization of other people by not valuing our own bodies when they are sick, weak, or tired. (And then we succumb to internalized oppression when we're hard on our own bodies for being sick.)
This isn't just about rest, it's about all of the ways that we treat our bodies. It's about the ways we punish our bodies with restrictive diets to try to lose pounds so that we can be seen as acceptable and attractive. It's about harsh exercise regimes that make us feel like our bodies are more worthy. It's about supplements and cleanses and… so much more.
You don't have to spend much time on social media to realize just how much we are inundated with messages about how we should treat our bodies to make them conform to a certain standard. Influencers tout the latest exercise trend or body-enhancing supplement, ads tell us which bathing suit to wear so that we'll look slimmer, and movies remind us that slim, attractive, fit people will find love before we will.
Wellness is a huge industry and, sadly, much of it promotes healthism. Healthism, defined in the 1980s by Robert Crawford, is "the preoccupation with personal health as a primary focus for the definition and achievement of well-being; a goal which is to be attained primarily through the modification of lifestyles". When we believe the wellness influencers who tell us that our health is within our own control, then we make health a moral issue and we treat those who have attained good health as superior to those who haven't. Those who are disabled, fat, chronically ill, immuno-compromised, aging, or simply out of shape can easily be blamed for their status in life because they "just haven't done enough to take control of their own health".
Healthism "ignores the impact of poverty, oppression, war, violence, luck, historical atrocities, abuse and the environment from traffic, pollution to clean water and nuclear contamination and so on. It protects the status quo, leads to victim blaming and privilege, increases health inequities and fosters internalized oppression." (Source: https://newdiscourses.com/tftw-healthism/)
A healthy lifestyle is not a bad thing, but when you begin to define health as only one thing, then it becomes problematic. What is healthy for you might not be healthy for someone else. What is the right size for your body may not be the right size for another body. Many health experts are now revealing, for example, that fatness is not nearly as unhealthy as it was once believed to be. Many of the health risks and diseases once associated with fatness have now been linked to other factors. (Listen to the very informative podcast Maintenance Phase for more on this.)
It turns out, in fact, that our culture's phobia of fatness is not about the health risks at all, it's about white supremacy. In the book Fearing The Black Body: The Racial Origins of Fat Phobia, Sabrina Strings does a thorough excavation of history to find out why western culture became so afraid of fatness, and it turns out it's largely because elevating the status of white bodies meant denigrating Black bodies. According to Strings, "…the current anti-fat bias in the United States and in much of the West was not born in the medical field. Racial scientific literature since at least the eighteenth century has claimed that fatness was 'savage' and 'black'." She goes on to say that "…racial discourse was deployed by elite Europeans and white Americans to create social distinctions between themselves and fat racial Others. Black people, as well as so-called degraded or hybrid whites (e.g., Celtic Irish, southern Italians, Russians), were primary targets of these arguments."
Recently, I heard someone on a podcast talk about the rise of "body fascism" and I was intrigued, so I went digging to find out more. Collins Dictionary defines it as "intolerance of those whose bodies do not conform to a particular view of what is desirable." Taken to an extreme, though, it's not just about intolerance, it's about control, oppression, marginalization, and violence. When a culture becomes too consumed with the elevation of a certain body type, as Strings points out was the case within the western world's obsession with whiteness and thinness, then that culture will naturally vilify any body that does not fit the ideal. It will become harder for those who don't fit the ideal to access social programs, to be treated fairly, and to be seen as worthy.
It doesn't seem like much of a stretch to see body fascism as the next dangerous step in the progression from healthism. When you assign personal responsibility to each person to reach a certain standard of health, and you devalue those who are unable to attain that standard, then you've created the conditions where it's socially acceptable to marginalize people. Consider, for example, the Aryan race that Hitler was determined to create and uplift, while extinguishing those who didn't fit his standards – that's body fascism to the extreme. 
When I consider the concerns currently being raised, especially in Hollywood, with the way that Artificial Intelligence can now be used to recreate video images of bodies that don't even need to be present (or consenting), I can't help but wonder whether this is another step toward body fascism. For one thing, if they can make movies without having to deal with the fallibility and imperfections of real bodies, what's to stop movie producers from even more significantly elevating a certain body type while denigrating others? For another thing, why pay real bodies, when they can simply create images of bodies that will do their bidding without the annoyance of contracts or the need for fair treatment?
What does all of this have to do with me being sick? Well, it all comes down to the way that I choose to treat my own body. Do I view it as an unworthy body when it can't perform the way it's expected to perform? Do I punish my body for failing? Or do I cherish it, find a way to be tender with it, claim its inherent value, and divest myself of the systems that teach me to abuse it?
After all of that… I'm going to answer my own questions by turning off this computer, crawling back under the covers, and having a nap. Not because I've earned it, but because this body is worthy of it.
***
p.s. If you're on a quest for a more tender relationship with your body, join us for A Full-Bodied Life. Sign up to study alone, or join the community for meaningful conversations.