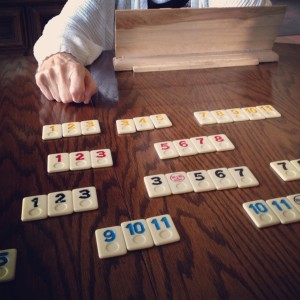 I sit across from her, waiting for her to take her next move. Neither of us has any capacity for strategy today, and so we play slowly, absent-mindedly, unconcerned about winners, losers, or points.
We've always played games together. It's how we've passed many a pleasant Sunday afternoon. When we were young, she'd haul out Dutch Blitz or Pit – noisy games that would fill our house with laughter. Now it's mostly Rummicube or Dominoes – quieter, more subdued games.
But today, I don't want to play games. I want to stomp my foot on the floor like a toddler and say "I want to play outside instead!" Table games feel too slow, too quiet, too much like what people do when they're getting old and tired.
I want to jump up from the table and say "Mom, let's go for a drive! Maybe we can stop for ice cream, or find an old abandoned house to explore. Remember when we used to explore old abandoned houses? Let's go do that!"
"Or we could plan a trip! Don't you want to go to Alberta one more time and hike in the Rockies with me? Or at least we could take the kids to the States and play in the hotel room pool for hours on end. Remember that time you came on that business trip with me and you looked after the girls while I worked? Remember how they couldn't get enough of the waterslide and you took them up again and again so they could woosh down, safely held in your arms? Let's do that again. Please?!"
No, playing games is not enough. It's too quiet, too solemn, too tired. It only shows a shadow of the fun-loving energy that filled her life and ours. It leaves out the best of her – the parts I adore most because I see them in myself. The adventure-junkie, the explorer, the life-lover, the risk-taker. The mom who would rather have water fights with the kids than sit with the grown-ups at Sunday School picnics. The woman who prided herself in being the only Grandma who climbed trees with her grandchildren. The same one who came home from seniors' camp every year with a prize for being the fastest one (or the only one) up the climbing wall.
But this is all I have now. These games. Her wrinkled hand on the table. The love shining in her smile. The soft grey hair that grew in new directions after the chemo. The mother-heart that still wants to make sure I have something to eat before I go home, even if it has to be bought cookies because she can't bake anymore. The concern that puts my weariness ahead of her own. The twinkle in her eye as she laughs at me for taking silly pictures. The hugs when I have to say good-bye.
This is what I have. Despite my angry fist waving into the sky as I drive home, this is what's left, and there's nothing I can do to change it.
All I can do is show up again next week and smile and nod when she says "do you want to play a game?" Because games are better than nothing.