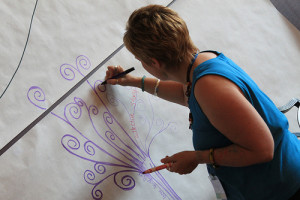 I'm not very good at being an expert.
As I've been building this business around writing, coaching, and teaching, I continue to have some discomfort around people's expectation that I become The Expert. I get emails from people who want advice on how to be a better leader/teacher/artist. My students ask me for advice on how to be a better writer/communicator/speaker. Underneath their questions, I hear the unspoken words "you're The Expert and I'm the amateur – please give me the formula for how to be successful in this."
Each time I hear the unspoken words, I chafe a little. I don't want to be The Expert. I don't want to tell them how to do it. I don't mind sharing what I've learned, or telling them a story from my own experience (that's why I teach, after all), but mostly I want to help them find their own wisdom. And I want to tell them that "you'll only get better if you keep practicing." And "why don't you find a community of people who are doing this work who can support you in your quest for understanding?"
People get tired of hearing those answers from me. They simply want The Answer. They want to be handed the key that will open the door into The Land of Success. And then, when The Land of Success doesn't look quite like they expected, they want to be able to say "it's not MY fault. I was simply following the advice of The Expert." That's the way our culture has trained us to think – experts have the answer, banks control the money, teachers have the wisdom, lawyers and judges and police officers control justice, doctors know about health, etc.
It used to be the same when I was in a leadership position that attached the word "Director" to my name. Surely someone who's a Director should be comfortable with being The Expert and The Boss, right? Wrong. Even back then, I would answer my employees questions with "What do YOU think is the right course of action?" and "Where do YOU think we should look for better solutions to these challenges?" and "What do YOU think our vision should be?" Occasionally my employees got rather upset with me. One of them, who loved to refer to me as The Boss (especially when he knew it made me uncomfortable) would remind me on an annual basis "You're getting paid the big bucks – it's YOUR job to tell us what the vision is and it's our job to carry out that vision."
Umpteen leadership books, coaches, and motivational speakers told me exactly what he'd said. "Leaders are supposed to hold the vision."  "You shouldn't be afraid to call yourself The Expert. You've earned this – claim it."  And so I began to doubt my own self-confidence. Maybe I SHOULD be The Director who spells out The Vision for my team. Maybe I SHOULD be The Expert who tells her students exactly how things should be done. Maybe I shouldn't shy away from being seen as The One Who Holds The Answers/Vision/Knowledge/Truth.
And so I tried on that hat a few times. I tried to act more confident, show off my knowledge more, and let people refer to me as The Expert. Own it, claim it, wear the hat – that's what the motivational speakers said. But the hat didn't fit. And it made my head itchy.
So I went back to asking questions, sharing stories, and helping people find their own wisdom. THAT hat fit me perfectly.
That's why, when I discovered The Circle Way a dozen years ago, and then The Art of Hosting three years ago, I knew I had found my home.
In a circle, there are no experts – instead there are stories, questions, tears, longings, dreams – and a bunch of equal people who trust their own wisdom and each others'.
As a host, there is no need to be an Expert or The Keeper Of The Truth – instead there is the need to create a container where people can experience safety and trust, and where ideas and questions are more valuable than Visions. There is the need to help people find their own wisdom. And there is the need to be attuned to the energy in the room and the place where the group wants to go.
The more I learned, the more I became convinced that this is the kind of leaders and teachers we need in the world. The way I'd always felt compelled to lead was not because of my lack of confidence, it was because of my intuitive sense that something different was needed. Finally learning to trust that intuitive sense was one of the best things I've ever done.
That's why I am delighted that, after several years of dreaming of it, I'm helping to bring The Art of Hosting and Harvesting Conversations That Matter to my home province. We're doing a one-day "taster" workshop in July, and then we'll host a three-day version in October.
Join us! There will be a comfortable place in the circle for you!