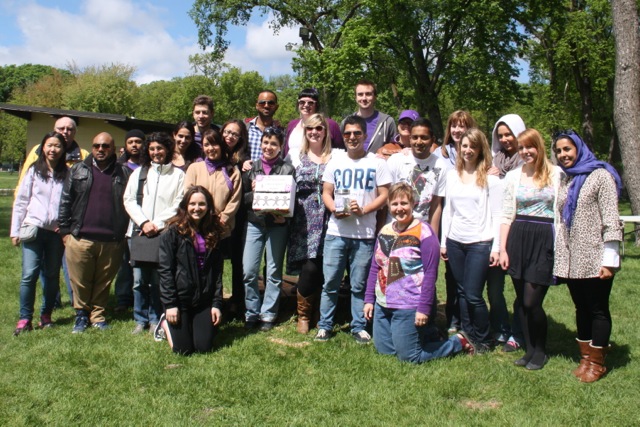 Standing in the park on Saturday, surrounded by my students after the Stand Up Super Games, I got a little choked up. I was immensely proud of this great group of students who'd pulled together, despite some of the rough spots they'd been through, to create a great event for a good cause.
Yes, the students had initiated the event because their assignment in the PR class I teach is to create some kind of PR campaign, but the energy they put into organizing it and fundraising for Osborne House showed that it had become so much more than an assignment; it had become a cause. Most of them showed up in that park not just because they wanted to pass the course, but because they cared for the women taking shelter at Osborne House due to domestic violence.
In showing up for a cause that they care about, my students were demonstrating that they are citizens of the world and they are doing their part in trying to make it better.
In his book, The Abundant Community, Peter Block talks about the difference between citizens and consumers.
"A citizen is one who is a participant in a democracy, regardless of their legal status. It is one who chooses to create the life, the neighbourhood, the world from their own gifts and the gifts of others. A consumer is one who has surrendered to others the power to provide what is essential for a full and satisfied life. This act of surrender goes by many names: client, patient, student, audience, fan, shopper."
Sadly, there is a tendency in our culture to forget what it means to be citizens and to focus instead on our rights and entitlement as consumers. A recent news story about a man who refuses to mow the lawn on the boulevard in front of his home demonstrates that tendency. He believes it is "the city's" responsibility to mow that piece of grass, forgetting that "the city" is each and every one of us who live here and that we all have responsibility to care for the place in which we live.
This man is not alone in his sense of entitlement and lack of commitment to the world around him. How often have you heard people complaining about the government, when they do very little to lobby the government for change and often don't even vote? How often have we ignored the fact that our neighbours may be struggling with poverty or oppression because it's "not our problem"? How many times do we ignore the damage being done to our earth because we assume we deserve the creature comforts that are produced from the earth's limited resources?
As a friend living in Haiti reminded me on Facebook this morning when I ranted about this issue, this is the "tragedy of the full belly". When we have too much, we expect too much. When we become self-reliant, we assume we don't need other people and that they don't need us. We stop contributing to our communities because we can get along just fine without them. And when we stop being community-minded, it becomes less and less important how our actions impact the people around us.
That's why I got emotional when I was standing with my students in the park. In showing up for this campaign, they demonstrated that they haven't forgotten about the need to contribute to their community. They're willing to step out of their own comfort zones, forget about their own entitlements, and serve a cause that is bigger than them. This is what we need to foster more of in our schools and work places. This is leadership.
Meg Wheatley defines a leader as "anyone who is willing to show up and help". Leaders, in other words, are those people who remember their citizenship and are willing to be part of a larger community. The students who contributed to the Stand Up Winnipeg campaign are willing to stand up and be leaders.
The more I do this work, the more I feel passionate about the need for us to stop being so focused on ourselves and our entitlements and start serving as citizens and stewards of the world. That's why I'm so excited about the three upcoming events I'll be co-hosting this summer.
On July 6, I'll be in Ontario co-hosting Ignite: A day of retreat for women sparking change. On July 24, I'll be in Winnipeg co-hosting The Art of Hosting and Harvesting Conversations that Matter. And then on August 1-4, I'll be in Asheville, North Carolina, co-hosting Engage! A retreat for women with love in their hearts and fire in their veins.
All of these events are designed for people, like my students, who want to stand up and be counted, people who are willing to be citizens of the world, people who understand that communities thrive when each person shows up and makes a contribution.
These events are not about the old understanding of the leader as a hero, they are about a new understanding of the leader as a host. A host shows up and makes people feel comfortable. S/he engages people in meaningful conversation. S/he makes sure there is good food to eat. S/he is a steward of the place in which she lives. S/he builds community, not from the front of the room but from a place in the circle.
STAND UP now, and let's make the world a better place.