I make mandalas, write in my journal, paint, do a bit of yoga, and sometimes meditate. All of these things ground and centre me, but my primary spiritual practice is walking in the woods.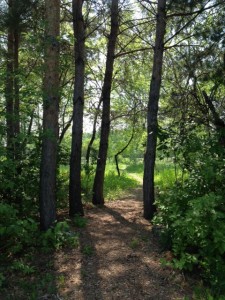 I feel closer to God when I'm in the woods than anywhere else I can think of. Yes, God shows up anywhere (and one of my most meaningful God-experiences was during a three week hospital confinement when I lost my son Matthew), but I have the easiest time quieting my mind and opening my heart when I surround myself with the stillness and beauty that the woods offer me. Add to that the body engagement of walking, and I feel like I'm Eve in the Garden of Eden, walking with God at my side.
For three weeks now, I feel like I've been banished from the Garden. This broken foot means that I can't walk and I can't even drive myself to a place where I can sit at the edge of the woods.
It's been agonizing. I know it sounds like an over-dramatization, and I know that there are people in the world with much bigger problems than mine, but it's been really, really hard. Harder than I would have imagined. I am just not good at sitting still.
It's been especially hard because all of this long hard winter, while I watched my Mom die and my husband come near to death with a heart attack, I kept telling myself "at least it will be Spring soon and I will be able to find some healing in the woods. I will sit on my familiar stone bench and pour out my grief to the birch trees. I will stand on the riverbank and the Dancing Goddess Tree will offer her strength. I will follow the deer into the woods and they will whisper 'everything is going to be alright'."
When I first heard the doctor say "broken", my thought was "does God hate me? WHY?! Why does another shitty thing have to happen just when I felt like I was on the road to healing?"
And then for the next three weeks, I wallowed in the misery of my exile. I tried to turn to my other spiritual practices – I made one pathetic mandala, I wrote a page or two in my journal, and I got halfway through a collage – but nothing worked. Everything just served to make me feel more restless than before. God felt a million miles away, and my wild heart felt frantic, like a caged animal.
On Thursday, the doctor finally said I was free of crutches and could walk reasonable distances on my boot. On Sunday I practically begged my husband, "please drive me to the gate at Henteleff Park, drop me off, and I'll text you when I'm ready to come home."
The park gate felt like the door to my cage. Not too many steps down the path and I felt like I had finally come back home. Out of Exile. Back to the Garden of Eden. Back to a place where God walked with me.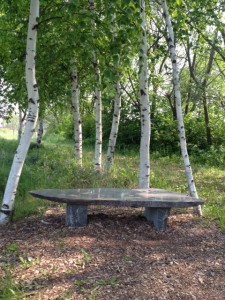 I limped as far as my favourite stone bench in the middle of the birch trees, and I laid down on my back, staring up at the fluttering leaves. The breeze on my face was God's kiss. The birds sang God's love song. "Welcome back to the Garden," they sang. I started to cry.
I don't know if there is a "why" for the breaking of the foot. I don't really believe that "everything happens for a reason and that the universe conspired to break my foot to teach me an important lesson." I can't get my head around that kind of fatalism. I do, however, believe that we are meant to work our way through difficult times and then find meaning in the darkness that helps us better understand and appreciate the light. For me, at that moment, lying on my back on a stone bench, feeling like a refugee who'd returned home after a time in exile, I found some profound meaning that was much bigger than a three week period of restlessness.
More than simply a moment in the woods, it suddenly became for me a metaphor for my life. Since that three week period in the hospital more than a dozen years ago, when God showed up in a series of strange and mystical encounters (and during which time I eventually lost my son Matthew), I have been working my way back from exile. In the hospital, after a night of wrestling with God, I woke up to how far away from my authentic Self – my wild heart – I'd become. Like the last three weeks of my life when I couldn't walk in the woods, I'd been living like a caged tiger, exiled from my home in the wilderness.
There was a void in my life, and I knew it, but instead of trying to break free of the cage by seeking out spiritual practices  and meaningful work, I was attempting to fill it with money, a prestigious career, material possessions, food, etc. In the hospital, when all of those things were suddenly unavailable to me, I finally recognized the futility of my search. I suddenly knew that to fill the void, I would need to find the path back to my own wild heart, back to Spirit, and back to a more authentic life. Right then and there, in the hospital waiting for my son to make his appearance, I started that journey and have been on the path (with a few detours now and then) ever since.
A few years ago, when I was beginning to understand the meaning of all that, I read the following quote from Peter Block and knew instantly that he was talking about me.
"Leadership is about rearranging the chairs, getting the questions right, putting citizens in front of each other and then knowing what's worth focusing on. The leadership I'm longing for is the leadership that says my number one job is to bring people together out of exile, out of isolation, and into connection." – Peter Block
My experience in the hospital and in the years following, in which I gradually returned from exile by quitting my government job, traveling the world working for the cause of justice in non-profit work, and then quitting that job to teach, write, and host conversations, have been preparing me for the work of bringing people together "out of exile, out of isolation, and into connection."
Coming out of exile means a returning to that which is authentic in all of us. It's about living wholeheartedly, in tune with each other and the earth. It's about being in community and extending love and compassion to each other and to ourselves. It requires of us that we turn away from the destructive, disconnected, disenfranchised lives of independence, competition, and over-consumption. It's a return to simplicity, a return to our hearts, a return to our bodies, a return to each other, and a return to the wild.
This is the work I do now, and this is what I invite you to in my coaching, writing, teaching, and workshops – a return from exile. I know what it's like to feel trapped and separated from the one thing that will make you feel whole. I know what it's like to long for a more authentic way of living. I know what it's like to feel like you've gone so far from home you can never return.
I also know what it's like to return to the wild and finally feel alive again.
If you're ready to come back from exile, let me help you. After a busy few months, I am finally accepting new coaching clients. Perhaps you'll be one of them? Contact me and we can start with an exploratory conversation.
And if you want to be in that circle of chairs that Peter Block talks about, learning more about the kind of leadership that brings people out of exile, join me and my colleagues at a one-day Art of Hosting workshop.
p.s. For the past couple of years, I've been working on a memoir about how my time with Matthew changed my life. In recent months, I've been stuck, knowing that something was missing. Laying on the bench in the park on Sunday, I think I finally found the thread that will tie the book together.