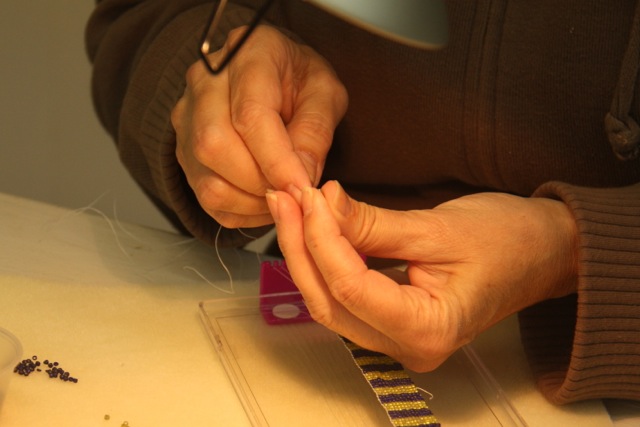 There's a delight that fills you when you dream up a new idea – a piece of art, a script for a play, a dance routine, a poem, a delicious meal, a kid's birthday party, a course… anything. The delight grows as you entertain the idea and begin to give it shape. You fashion it in your mind, you play with the details, you start gathering the pieces that you need to build it. You lie awake at night dreaming of what it will be when it grows up. You fantasize about how happy it will make you feel.
There's a little skip in your step as you grow it from a seed of an idea to a real thing. You love it dearly and you know that it will be beautiful. It's your baby, your work of art – you will love it no matter what.
You sweat over it, cry over it, pray over it, fill it with your longing, sadness, and deep love. You pour everything you have into this creation. It gives you life and joy, but it also asks a lot of you. In between the laughter and the delight, you sacrifice, you bleed, and you ache.
When it's complete, you gaze on it with delight and so much love for just a moment… and then… the ego shows up uninvited, fear pokes its nose around the corner…and… you start to second guess what you have created.
"Is it good enough? I'm really not an artist. I can't trust my own opinion."
"Is it really worth anything? Maybe it's useless and I'm fooling myself."
"What if people hate it? What if nobody buys it? What if it just sits here on my shelf and gathers dust and I grow to hate it and I never create another thing as long as I live?"
"What if I am a fraud?"
You do this horrible dance – going back and forth about whether or not it's actually worth sharing this creation of yours with the world. One moment, you're determined to barrel through and ignore the voices of fear and ego, and the next moment you're hugging your pillow in the corner, certain that the only course of action should be to destroy the thing you've created before you expose yourself to certain shame.
One day, though, you finally work up the courage to share it. You clench your teeth as you do so, holding the fear tightly at the back of your throat. Part of you wants to dance with delight at this moment of triumph, and part of you wants to weep with the agony of the release.
Lots of people ignore what you've put into the world. Some people turn their noses up at it. At first, that's all you notice and you're convinced that those are the only kinds of reactions you'll get. You consider yanking it off the shelf and taking a hammer to it in your backyard. This agony isn't worth it. You shouldn't have taken the risk.
But then… in the corner, you see someone crying, and you recognize those tears. Those were the same tears that coursed down your eyes as you poured all of your love into the thing you created. Those are the tears of a person who's letting her heart crack open just a little. They're the tears of someone watching their own story unfold, and realizing – perhaps for the first time – that their story has found a safe place to exist.
The person approaches you. Her eyes tell the story even before she whispers "Thank you for this beautiful gift. Thank you for seeing me. Thank you for creating something that makes me feel a little more whole. Thank you for cracking me open."
And suddenly all of those other people – those who turned up their noses or paid no attention – don't really matter, because you know you didn't create it for them. You created this thing for the woman standing in front of you, and you created it for yourself. Because both of you needed this little bit of healing that the creation offered. Both of you needed a place where your story feels safe.
You know, in that moment, that you will continue to create. You'll take all of that pain again and again, you'll fight with your ego, you'll risk the failure – you'll do it all as often as it is required, because you KNOW that you were put on this earth to create and to give and to love.
This isn't just YOUR story. It's my story, and to be specific, it's the story of Mandala Discovery. I have been in love with this program since it began to grow as the seed of an idea a couple of years ago. I knew that I held something magic in my hands, and so I kept pouring my love into it, even when that felt hard to do. I put it out into the world in one form last year, and then – when not very many people paid attention – I let it sit on a shelf for awhile, not sure that it was worthy.
But something kept telling me that the magic I'd seen in it – back when it was only the seed of an idea – was true and good and that I shouldn't abandon it. Something told me that people needed this little gift that would give them a safe place for their stories to unfold. And so I took it down off the shelf and started polishing again.
When it was ready, I put it out into the world again, and people showed up. Not only did they show up, but they honoured the gift in the most beautiful ways imaginable. They honoured it by creating their own mandalas and sharing them and then telling the stories of how their mandala journals are changing them. They let their hearts crack open and then they stood in front of each other and said "Here. Look deeply into my heart. It may be wounded, but there is a lot of love here."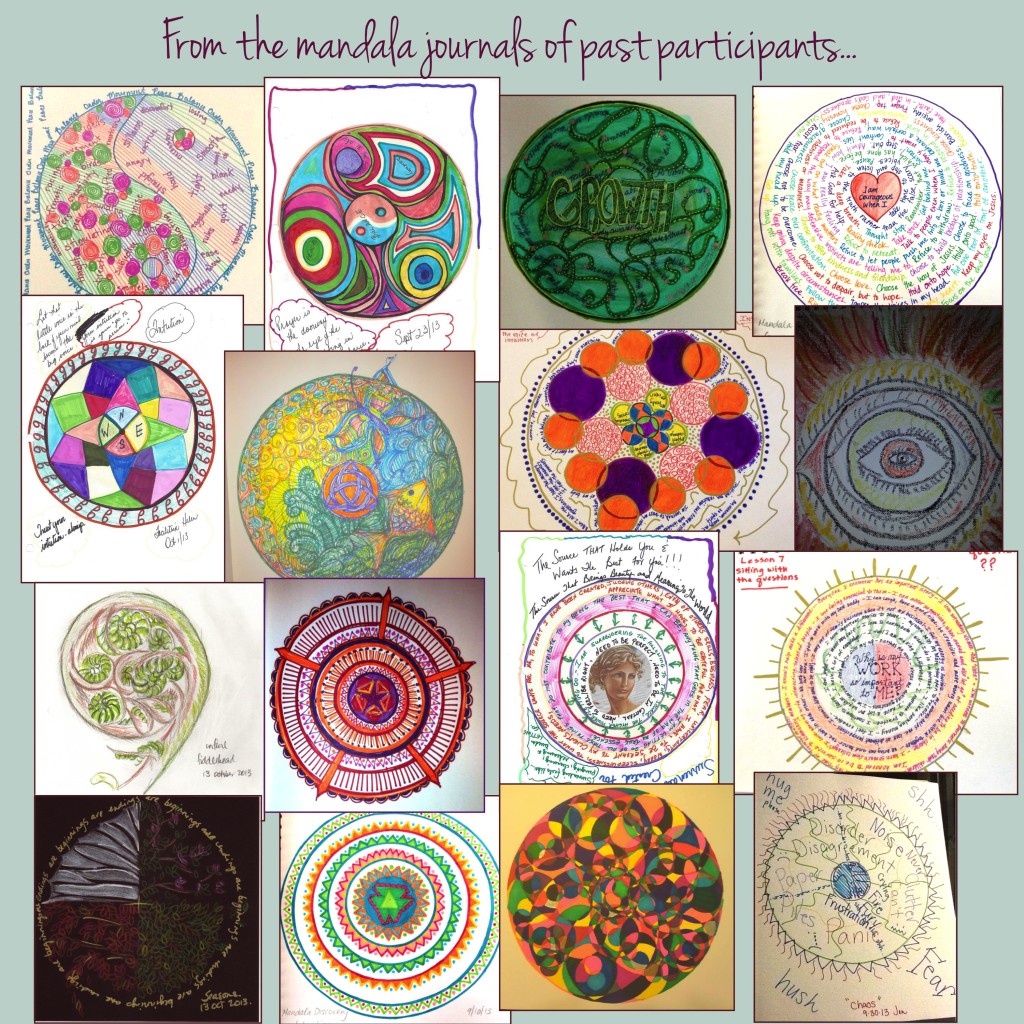 The stories that were shared floored me and made me realize that this gift was not mine – instead I was simply serving as a catalyst, a vessel, the pot in the hands of the Potter, creating what had been breathed through me and then offering it to those who most needed it.
One woman shared how the mandalas have become part of her own recovery and how she will use them in a drug and alcohol recovery program on a First Nations Reserve. Another woman told the story of how she'd used one of the prompts with a group of second grade students who hardly knew any English, but were able to articulate something through the mandalas where words had failed them. Others shared how they had found themselves opening up to new truths about themselves. One woman plastered her walls with her mandalas – a road map back to herself.
I was reminded once again that when we let our egos get in our way, when we keep ourselves from doing that which is closest to our hearts, when we cower in fear of failure and rejection, we not only cheat ourselves, we cheat the world out of what it needs for healing. We cheat people out of what makes them feel less alone. We isolate ourselves and we isolate others.
I would like to get Mandala Discovery into the hands of more people who need it, not because my ego says "it must be big to mean something", but because I know that it has transformative value.  I would be honoured and pleased if you would help me do that.
Please share a link to Mandala Discovery (and/or this post) with your friends, followers, fans, family, and either use the hashtag #mandaladiscovery on social media so that I know that you have done so, or leave a note at the end of this post letting me know that you have.
Two people will be selected from those who've shared to win one of the following:
1. A free one-on-one coaching session with me.
2. Free registration for the November offering of Mandala Discovery.
From the bottom of my heart, thank you for honouring this gift.