I am carrying a huge basket of stories that I gathered on my trip. Each day I added new stories emerging from the deep conversations I had with people in my travels through Reno, Lake Tahoe, Oakland, San Francisco, Atlanta, Asheville, and finally Lake Lanier. I want to share all of those stories with you, but some of them need to ripen in the basket a little longer before they'll be ready to be harvested.
First of all, let me tell you that this trip was all about love. Here's what I posted on Facebook when I first got home…
After all of my travels in five states, after all of the deep and soulful conversations, after the early morning sunrises over the lake, after the sharing circles, after the ziplining, after the skinny-dipping, after the wandering in the woods, after the cracking open of many hearts, after my talk about the courage to lead differently, after bountiful feasts from the hands of many farmers, after the laughter, after the tears, after the deep body hugs and the tenderhearted kisses… after it all fades into memory, my learning can be boiled down to the words on the mug I brought home… Love more. Love fiercely and deeply. Love courageously. Love ridiculously. Love the sky and the earth and the dogs and the caterpillars. Love the wine and the music. Love the brave hearts and the fearful hearts. Love the ones that are easy to love and those who are more difficult. Love with wild abandon. Love until your heart cracks wide open and we all see the fleshy softness inside. Love more and let yourself be loved. Don't be afraid of love.
It might sound rather pie-in-the-sky, but it's the ground on which I stand. Love is what let me go on this journey when so many of you supported this dream. Love is what let me connect with beautiful people all along the way. Love is what inspired me to share from my heart on stage. Love is what gave me the courage to believe I had something to share. It's all about love.
Almost as soon as I got home from my journey, reality smacked me across the face. There's a huge crack in our basement wall that will probably cost us thousands to fix, my aunt died of brain cancer while I was away and her funeral was yesterday, I'm dealing with a nasty bug bite that I got in Atlanta that seems to be infected and I spent yesterday evening in urgent care, and there's a little heartbreak in my relationship with one of my daughters. Any of those things individually could have sent me into a tailspin of despair, but they didn't. I'm okay. I'm more than okay. I am feeling strong and courageous, and – more than anything – loved.
LOVE has made me resilient. LOVE has given me courage. LOVE has given me hope.
At Patti Digh's Design Your Life Camp at Lake Lanier last week, Maya Stein and Amy Tingle did something so breathtakingly beautiful and full of love, I found my heart breaking wide open. First of all, they'd brought their vintage trailer MAUDE (Mobile Art Unit Designed for Everyone) along to camp and they were inviting everyone to visit to make art tags to hang in a tree. Secondly, they each had vintage typewriters, and if you offered them a single word, they would each write a spontaneous poem on an index card made especially for you. They did both of these things with beauty, grace and generosity, not asking to be paid or flaunting their brand in anyone's face – simply offering this gift to anyone who would receive it.
The first time I saw them with their typewriters, I felt a little overwhelmed – not sure I could step forward and feel worthy enough of the gift. I was intrigued, but it felt somehow vulnerable and tender to give them a word and then simply receive. I had already received so much on this journey (and even before the journey in order to make it possible) that the gremlins were saying "You've received enough. You had the AUDACITY to ask people to help pay for this trip. How DARE you think that you are worthy of another gift?"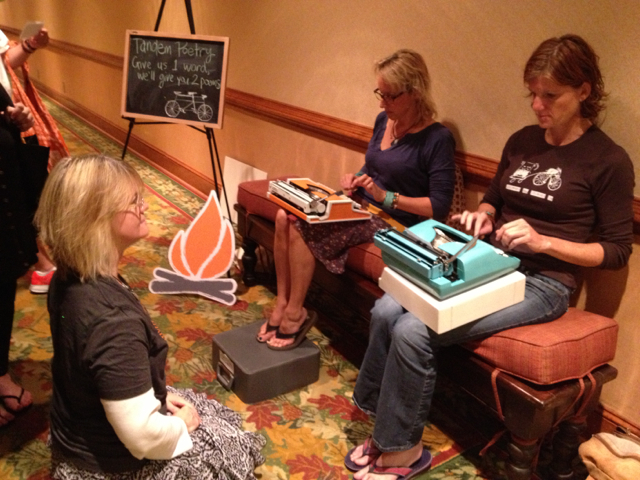 When I came out of the session the next evening, though, and saw them with their typewriters again, I knew I just had to do it. I knew I was worthy. I knew, deep down in my bones, that I wanted this gift and was ready to receive it.
I stood in line and waited… and agonized over what word was the right one. I wrote one word down, but then it didn't feel right, so I scratched it out. Just before I got to the front of the line, I knew what my word was. Resilient.
Resilient is how I feel these past couple of months as I emerge into my work in a bigger way after the hard, hard year of losing Mom, watching my husband have a heart attack, breaking my foot, and then finding out my brother has stage 4 cancer. Resilient is what I've been in the past, after losing dad very suddenly, having a stillborn son, and watching the man I love wrestle with depression so powerful he attempted suicide twice. Resilience is one of my strengths and it's one of the gifts I give to my clients in this work of being real and courageous and hopeful in this broken world.
And so I stood there, tenderly and anxiously, waiting to see what they'd do with the word resilient.
What emerged floored me and broke me open.
Here's what Amy wrote: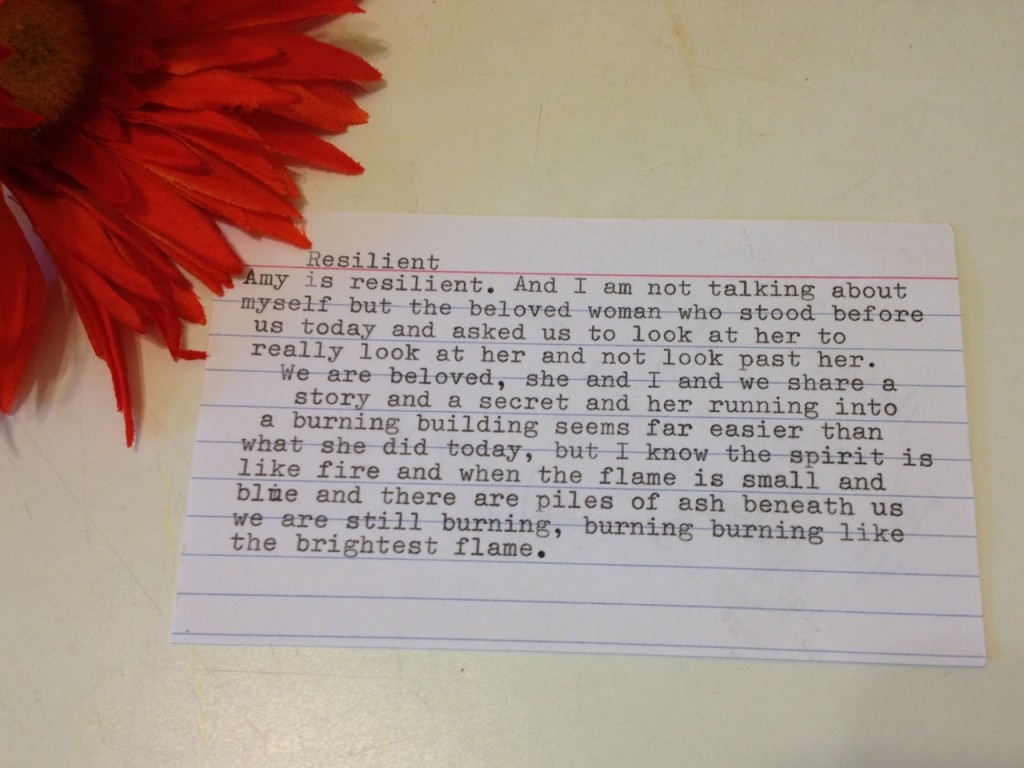 The Amy she mentioned is Amy Dier, who had just shared a very personal story from the stage about learning to love and trust herself and allow herself to be seen. She was a former police officer who'd gone into law enforcement partly because she'd been raped when she was a teenager. She said she'd only shared the story of her rape with 8 people before saying it aloud in this room full of 150 people. After sharing the story, she invited us all to stand in a circle and she walked around the circle, looking into our eyes, and saying to each of us one at a time "I see you."
What Amy the poet had no way of knowing was that Amy Dier and I do indeed share a story or two – the story of surviving rape, as well as the story of learning to believe we are worthy of being seen.
The second poem, from Maya, was the perfect addition, in a way that neither poet could possibly have known.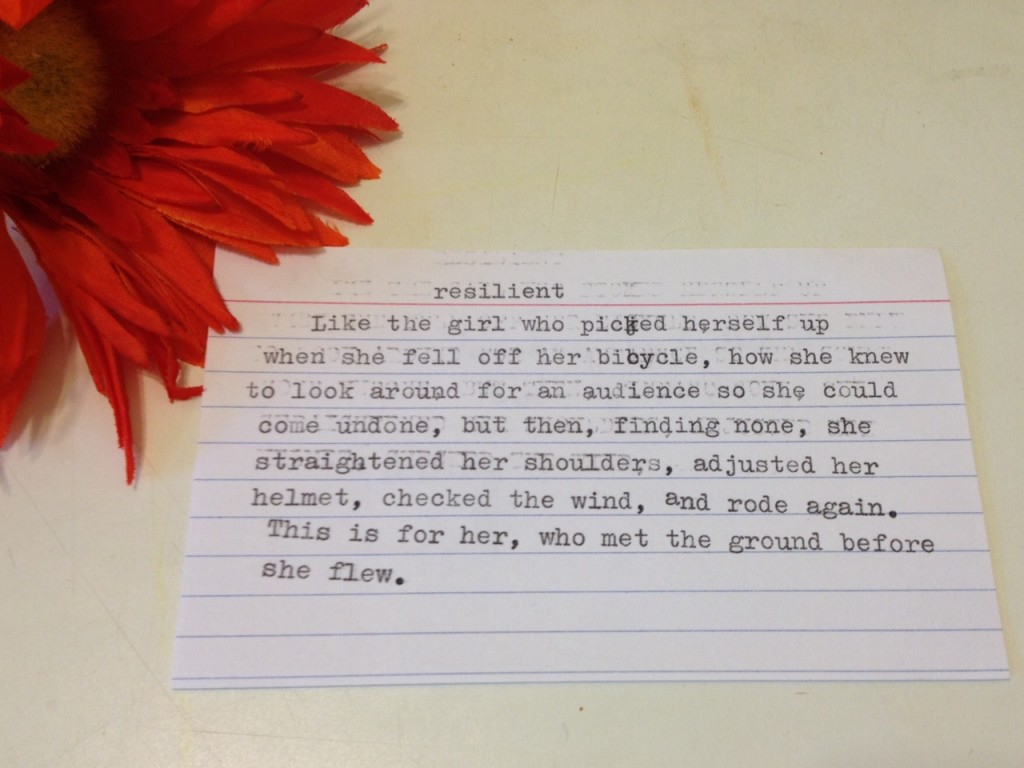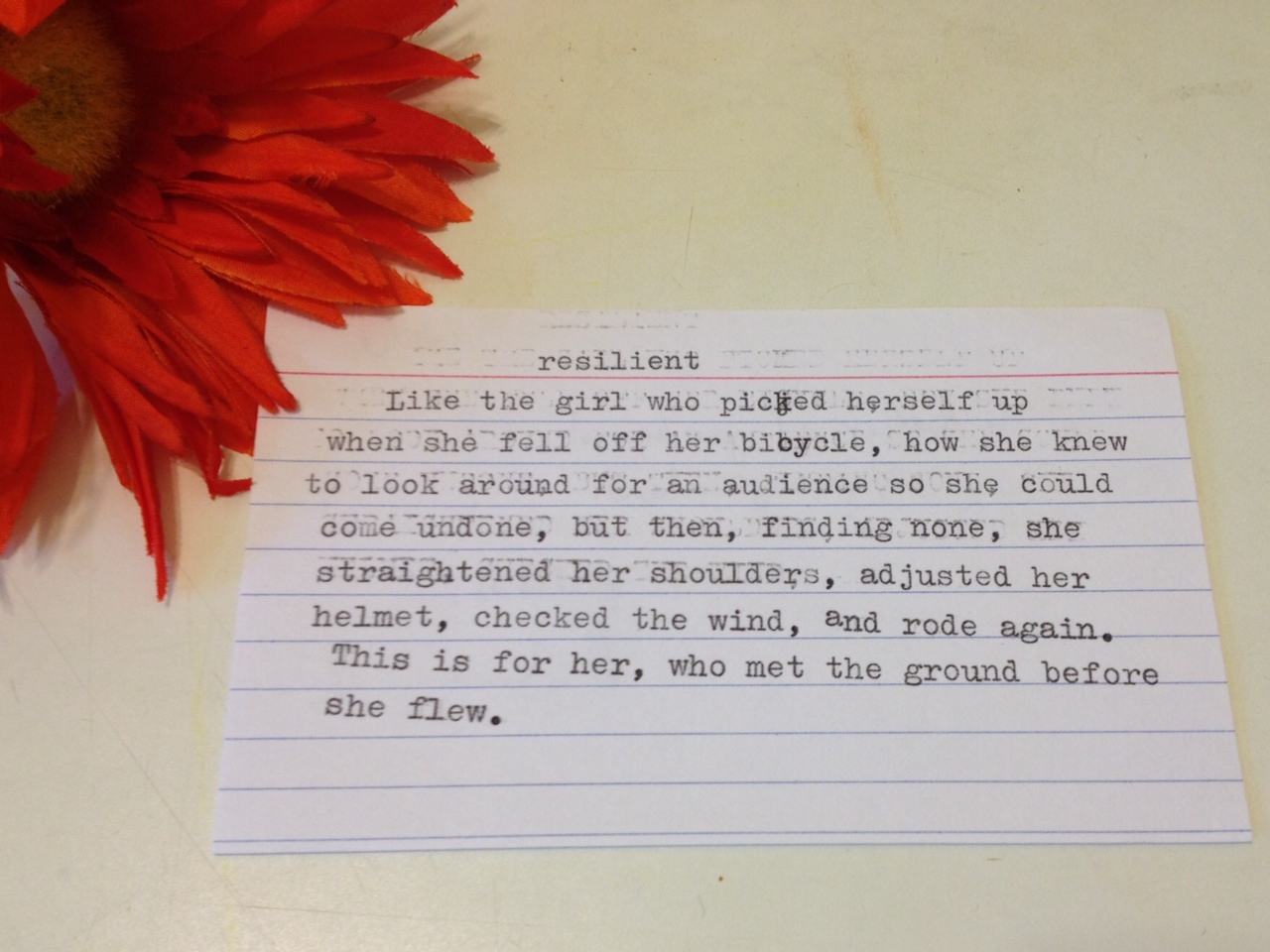 The day after I was raped by a man who climbed through my bedroom window, I was supposed to take part in a triathlon relay race. I was going to ride 40 kilometres on my bicycle, while others did the running and swimming legs. This felt like a courageous and fierce act for me at the time, given the fact that I'd never believed I was athletic enough to be in any competition of that sort.
I never completed that bicycle ride. My body was too sore after the abuse it took at the hands of the rapist. Plus I felt a strong urge to drive home to the farm to be with my Mom and Dad.
But that doesn't mean I didn't get back on the bicycle, again and again and again. My whole life has been an act of getting back on that bicycle, each time I fall down. Through all of the deaths, disappointment, and tragedy in my life, I keep getting back on my bicycle – both literally and figuratively. (Ironically, I was actually on my way into the garage to go for a bike ride with my daughter when I broke my foot in Spring. Another metaphor, perhaps?)
And that brings me back to love. I get back on my bicycle because of love. I stay in a marriage that has been challenging because of love. I keep showing up for funerals because of love. I drive across the country to be with my brother after cancer surgery because of love. I sit beside my mother and watch her die because of love. I show up for my teenagers even when they're snarly because of love. I travel across the country and sit in circle with myriads of beautiful people because of love. I coach my clients and host retreats because of love.
I do what I do because I have been given a lot of love and because I have a lot of love to give.
I pour love into everything I do. And love is what sustains me and gives me courage for this work. Because love is worth it. Love has made me who I am, and that is a beautiful thing.
The next time you need courage or resilience, remember that it starts with love. Give love and receive it and you will be able to get back on that bicycle, no matter how many times you fall.
Go ahead, love more.