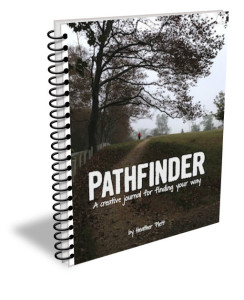 I am excited to be able to introduce you to my new baby!
After months of dreaming, gestating, and creating, I'm ready to birth Pathfinder: A creative journal for finding your way.
This journal is a culmination of a whole lot of the work that I've done in the last three years (and more). It brings together a lot of ideas that I've developed for workshops, coaching sessions, creative writing classes, and blog posts.
One of the commonalities that I notice again and again in the people who come to my workshops or who hire me as a coach is a desire to find a more clear path toward an authentic, wholehearted, and purposeful life. Many of the people who are drawn to my work find themselves searching for more in life – more joy, more ways to use their gifts, more authenticity, more vibrancy, more community, and more spirituality.
I love working with these people. They are all truth-seekers who are already striving to make a difference in the world, and simply need a little guidance and support to help them step even closer to their true calling. Coming alongside them and helping them find this path is one of my greatest joys in life.
I want this kind of support to be available to even more people – people who can't afford coaching, don't have access to workshops or classes, or want to do some personal work on their own before they're ready to be vulnerable among other people. For that reason I have created Pathfinder: A creative journal for finding your way.
Pathfinder is 118 pages of juicy content, thought-provoking journal prompts, and inspirational creative exercises.
Pathfinder is meant for anyone who needs more clarity in the direction their life is moving. Whether you are profoundly lost and feel like you're floundering in the woods, or you simply feel a restlessness for a deeper purpose, you'll find value in working through this journal.
In one of the exercises in the journal, you'll explore what your core values are. I have pretty strong core values around and fairness and equality, and so I've decided to make Pathfinder as affordable as possible. Having worked with incredible people all over the world who are making a difference while living on the edges of the financial economy, I really wanted to create something that was accessible to as many people as possible. Much of what is created in the personal development world is accessible only to those with privilege, and that doesn't fit with the way I want to work in the world.
For only $22, you'll get access to a lot of the wisdom I have shared with clients who have paid hundreds of dollars for workshops, retreats, and coaching sessions.
You'll also have the option of purchasing the journal along with a coaching session for only $85.
I sincerely hope that this will be a meaningful resource for you in your search for your unique path. It is the work of my heart and I would be delighted to know that it touched yours.
You can purchase Pathfinder at this link.
I would be deeply grateful if you would share this with anyone else who might be seeking their path. If you'd like to buy it as a gift for someone, there's an option to do that on the sales page.