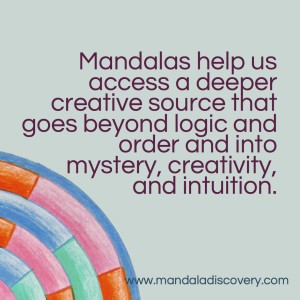 In my Writing for PR class, I teach students that they should always focus on the benefits to the reader/client. "What's in it for them?" is a common question in the class.  And yet… I don't often follow my own advice. Why? Mmmm… I'm not sure. I'm stubborn, perhaps? I prefer writing stories to writing lists? I like breaking rules?
Whatever the case, I thought it might be fun to give you ten benefits you might receive if you sign up for the next Mandala Discovery class, which starts June 1.
Mandala-making helps you deal with stress. It's a calming, meditative process that helps to silence the gremlins in your mind.
It's a good excuse to buy yourself a new set of Sharpies.
Because of its use of both colour and words, lines and blank space, order and chaos, this unique mandala journaling process helps you access both your right brain and left brain.
Everybody needs some play time. Why should your kids have all the fun?
The prompts that come with each mandala process have lots of great content and wisdom in them. It's much more than just instructions on how to make a mandala – it's a daily guide for how to process your own life.
You can do it with a friend, your grade 4 students, or even your grandmother. Others have.
It's been known to help people through both grief and recovery programs.
You'll learn new things about yourself. Even the resistance (when you just don't want to follow the instructions) can become your teacher.
The process has been known to help past participants find greater direction and deeper spirituality in their lives.
You get to be messy and it doesn't matter, because IT'S ABOUT THE PROCESS NOT THE PRODUCT!
But you don't have to take my word for it. Here's what one participant said: "30 Days of Mandala Journaling was such an uplifting and spiritual experience for me. Creating mandalas to the prompts Heather provided each day opened up my mind to see what sometimes was hiding deep within and other times right on the surface just waiting to be noticed. And it was FUN drawing and coloring! I look at my mandala journal often." There are lots more testimonials on the sales page.
Are you ready to join us? You have until Saturday, May 31st to register.