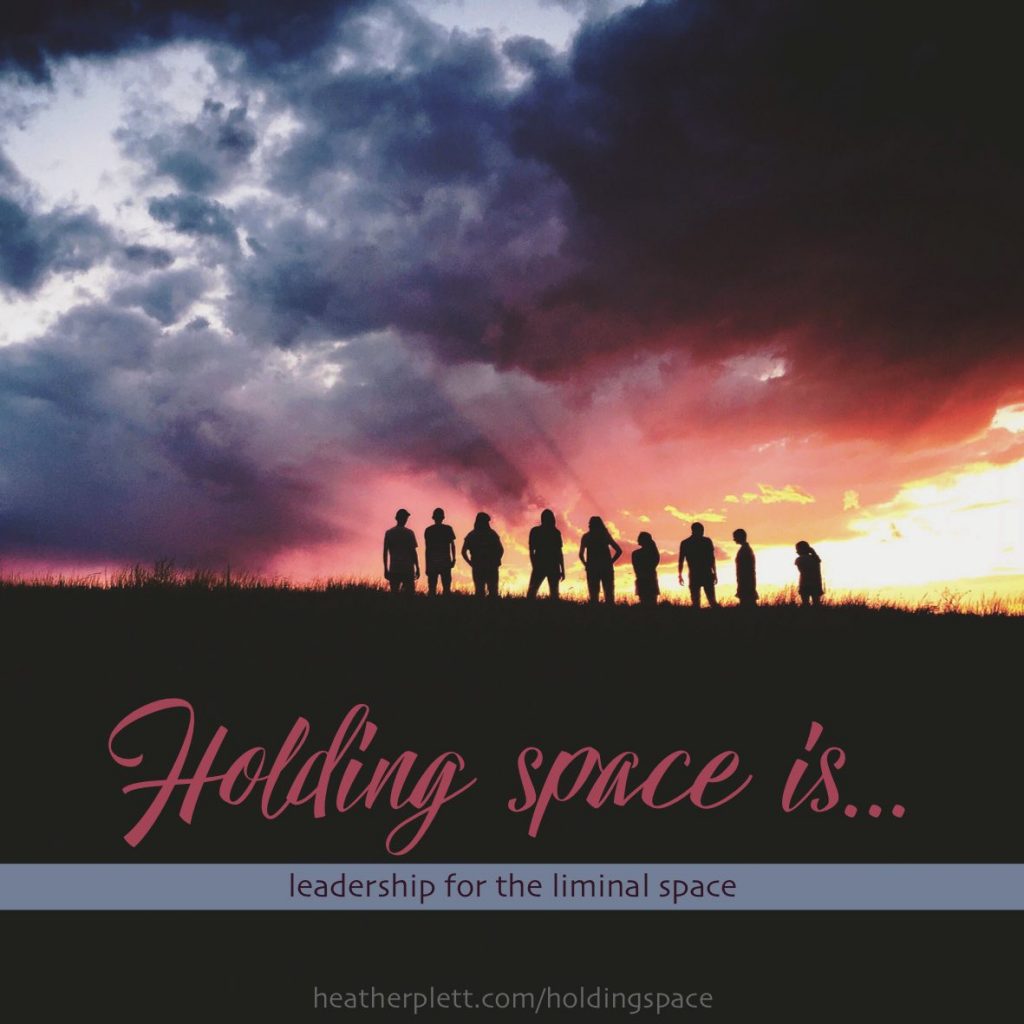 "I don't think of myself as a leader." I hear that statement often from my clients and I understand it – I used to say the same thing myself. It wasn't until a special mentor/boss took me aside and told me that she saw leadership ability in me and then offered me my first leadership position that I first started to recognize that I had capacity to lead.
One of the reasons that the people I work with don't see themselves as leaders is because they equate leadership with authoritarianism. In their experience, a leader is in control, has more knowledge than those they lead, provides solutions to all of the problems, and makes all of the tough decisions. In an authoritarian model, the leader has "power over" their subordinates and is expected to be the authority on all things. While that form of leadership may be desirable for some people (especially those who feel fearful about their safety) and may be necessary in some situations (when children are small and need to be kept safe, or when a country is at war), it can easily become destructive and disempowering.
Anyone who's attracted to what I teach about holding space is not inclined to seek out or emulate that kind of authoritative power and has likely witnessed its destruction, and so they steer clear of the mantle of leadership.
Instead of steering clear of it though, I'd like us to consider an alternative model that fits us better and that I believe is badly needed in the world today. I'd like to invite us to consider what it means for a leader to have "power with".
Whenever I talk about leadership, I usually end up back at the place where I started, twenty years ago, when I first started to explore what it meant to be a leader. The first three books that really landed for me and helped me define the kind of leader I wanted to be were Turning to One Another: Simple Conversations to Restore Hope to the Future, by Meg Wheatley; The Authentic Leader: It's about Presence, not Position, by David Irvine; and Calling the Circle: The First and Future Council, by Christina Baldwin. I read a lot of other leadership books (and some of them are listed on my Books & Resourcespage), but these three helped me ground myself in the leadership model that felt most authentic and intuitive for me rather than the one that I saw reflected in the world around me.
These books made leadership feel possible because they were about leading from a place of humility and authenticity rather than authority and control. I didn't have to be invincible or unflappable to be a leader – I could bring my flaws, my insecurity, and my humanity into the role. I could step into it with curiosity and openness and I could rely on those I lead to bring their skills to the table where mine were lacking.
These three books taught me that a leader:
is a host rather than a hero
collaborates rather than controls
claims and shares power but doesn't abuse it
has authority and influence but doesn't need to be authoritarian
gathers people for meaningful conversations and practices genuine listening
shows up authentically and with appropriate vulnerability
admits what she doesn't know and allows others to fill in the gaps
co-creates an environment where ALL can shine
invites people to contribute with their unique strengths and abilities
isn't afraid to apologize and/or admit she is wrong
balances innovation and progress with stability and contemplation
knows how to hold space for complexity, growth, change, etc.
Meg Wheatley says that "a leader is anyone willing to help, anyone who sees something that needs to change and takes the first steps to influence that situation."  In other words, we don't need to wait until we've been given leadership positions in order to lead – we simply have to notice the need and step in to offer what we can to help fill it.
If we alter our definition of leadership to this more collaborative model, what are the most essential competencies and qualities that a leader needs to foster? Here are some of my thoughts (in no particular order):
Humility. It takes humility and a willingness to give up the need to be right in order to be a collaborative leader. Effective leaders share the spotlight (or step out of it entirely) and share the credit (or give it to whoever earned it). Their humility is not self-deprecating, nor does it mask insecurity, but rather it is honest, authentic, openhearted, and courageous. Humility welcomes the brilliance of others and doesn't need to outshine it.
Generosity. Collaborative leaders are generous in their support of other people, generous in offering up their time to others, and generous in how they encourage and inspire people. They don't see everything they do as transactional (ie. "I'll do X for you if you do Y for me.") but instead invite people to function in a "gift economy", offering up their best toward the common good.

Self-awareness.

 Self-aware leaders recognize and admit their weakness, take responsibility for their mistakes, and don't project their baggage and unhealed wounds onto other people. They also know their strengths and capacities and aren't afraid to step into their own power. While they embrace community and collaboration, they don't approach people from a place of neediness, seeking out other people's affirmation and validation.

Self-regulation.

 When effective leaders are overwhelmed, stressed out, or triggered, they practice self-regulation (and/or have support systems that help them co-regulate) in order to calm and control their emotions rather than dumping them on other people. They've done enough personal growth work that they recognize how much instability can be created by their dis-regulated emotional outbursts, and so they work to create a more stable and safe environment for everyone.

Self-forgiveness.

 While self-awareness, self-regulation, and generosity are important qualities, leaders are still human and they'll mess up occasionally, and do selfish things or react to triggers in unhealthy ways. When they do, they take responsibility for it, make any necessary restitutions, learn what they need to from the experience, and then practice self-forgiveness and self-care.
Courage. Courage is defined by Google as "the ability to do something that frightens one" and "strength in the face of pain or grief". I like the combination of these two definitions because it's not about the absence of fear, but rather the ability and strength to act in spite of it. Effective leaders might be quaking in their boots, but still step forward and do and/or say what's right. Courage is contagious – when we are in the company of those who practice it, we are more inclined to find the capacity in ourselves.
Power. When I first turned away from authoritarian leadership and chose a different model, I thought power was a dirty word, but I've changed my mind since. Power is only dirty if it is abused and if it exists apart from love. As Martin Luther King said, "Power without love is reckless and abusive, and love without power is sentimental and anemic." Effective leaders aren't afraid of power – they claim it, share it, and use it with love.

Resilience.

 An effective leader can survive struggle and opposition and can find their way back to strength. It's not that they are never beaten down – they are – but they get up the next day (or the next week, or month) and do what needs to be done to get back on track. If one path doesn't work, they adapt and find an alternative. If one attempt fails, they try something else. Repeatedly, they return to their sense of purpose and meaning and they persevere.
Meaning-making. When I first started learning about leadership, I kept hearing about how a leader had to have a sense of vision, and while I agree to a certain point, it always felt like there was something missing from that model. A vision might inspire us for the future, but what about the present? Instead, I now focus on meaning-making. An effective leader strives to make meaning out of the current moment even when the vision is blurred and the future looks dim. Even when there is only struggle and no hope, a leader looks for meaning and purpose.
The ability to hold space. This may be the competency that is the most counter-cultural when compared to an authoritarian leadership model. An effective leader is willing and able to be present for others while they make the journey through liminal space. They don't impose their own desired outcome and they don't rush the process. They practice mindfulness and presence, while not backing away from complexity and confusion.
This is only a partial list, and I can think of others (like the ability to build strength in diversity, for example), but this is, at least, a start in exploring what kind of leadership we need for times like these. I wonder how the world might change if we seek to be, to follow, and to elect leaders like these.