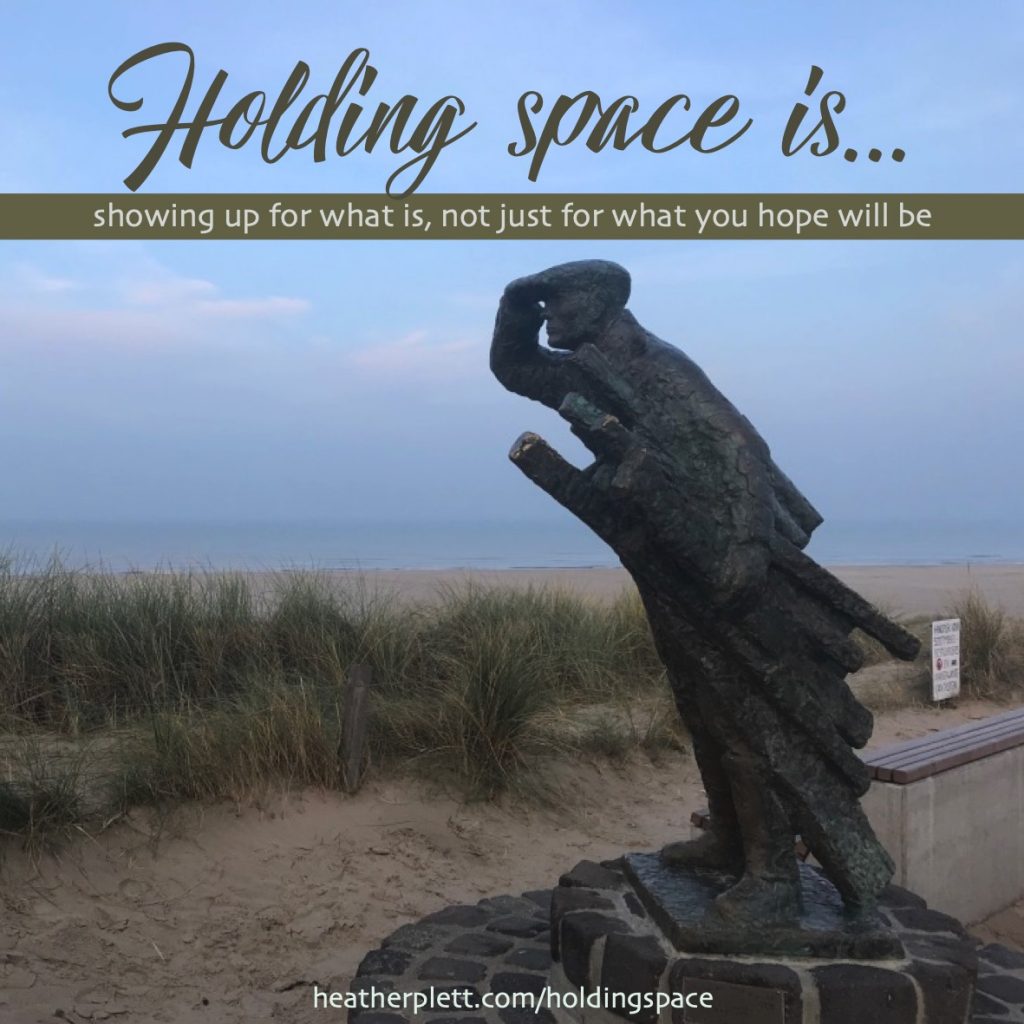 "Of all the losses experienced in personal relationships, ambiguous loss is the most devastating because it remains unclear, indeterminate." – Pauline Boss
When I teach about holding space, I almost always start by teaching about liminal space. It helps participants to have a more clear understanding of the depths and complexity of the space they're holding and the space they must journey through themselves.
Liminal space is the space between stories. It's a term that emerges out of an anthropological study of rituals that mark a person's transition from one part of their lives to another. The "limen" is the empty space between who they once were and who they are becoming – like a vision quest for a young person going through a coming-of-age ceremony, for example.
To illustrate the liminal space, I talk about the cocoon phase of a butterfly transformation – it's the empty space in the middle in which the contents of a cocoon looks like neither the caterpillar nor the butterfly. It's a space of surrender, ambiguity, and usually a sense of lostness.
The more I teach it, though, the more I realize the limitations of this metaphor, largely because of the linear, goal-oriented transformation that it points toward. The intent of the cocoon is always to produce a butterfly. A butterfly is always the sign that the liminal space journey has been a "success". There is always (unless the cocoon is destroyed) one direction with one outcome in this transformation.
But what about when the liminal space journey does not result in a lighter, more beautiful creature that can fly? And what about when the liminal space emptiness becomes the pattern for the rest of a person's life?
Does EVERY liminal space bring a new story of freedom, flight, and beauty?
The answer is no. Life is never that simple. When a person is aging with dementia, for example, there is diminishing capacity and less and less freedom. And when a family member has gone missing or has gone to jail or become addicted to drugs there is no resolution and rarely a happy ending. And when a refugee leaves a beloved homeland and can never return, they live with a lifelong yearning for what cannot be reclaimed. And when a person must learn to function in a wheelchair they know they'll be in for the rest of their life, there is loss of mobility, autonomy and access to the things they love to do. None of these things offer a simple, linear destination.
Life is always more complex than a simple metaphor can reflect, so we take from it whatever it can offer and then look beyond it to find more complex truth.
Pauline Boss coined the term "ambiguous loss" to describe situations where there is no clarity, closure, or resolution. According to her, there are two types of ambiguous loss:
Type I: physical absence with psychological presence ( e.g., missing, disappeared, kidnapped, separated, military deployment)
Type II: psychological absence with physical presence (e.g., addictions, dementia, chronic mental illnesses: e.g., autism, depression, bi polar, schizophrenia, etc.)
"Due to the ambiguity surrounding the loss, individuals, couples, and families remain confused. Without comprehension, they can't make sense of their situation to cope. Without meaning, they can't find hope to help them move forward with their lives. They are simply stuck." (From the book Ambiguous Loss, by Pauline Boss) 
What is undeniable in these situations of ambiguous loss, even when the "after" story is much harder and more bleak than the "before", is that there is some kind of transformation. A person's life has been irrevocably changed. Even if the period of ambiguous loss ends (ie. a member of the military returns from deployment) there is change in the relationship and change in the individuals involved. I remember, for example, a friend who was married to a member of the military who said "When he's deployed, I have to get used to him being away, and then when I'm finally used to it, he returns and I have to get used to THAT. Whenever I get used to something, it changes." Her new life was one of impermanence and cycles of loss.
If only we could simply serve as cocoons when we hold space, knowing that a person will emerge better, stronger, and more beautiful after the liminal space journey. If only we could always bring hope to this work and not despair. If only life were more linear and less messy.
But if that were the case, I'd have to find other work, because little of what I teach would have any relevance. This work is only relevant BECAUSE the future is unclear and cocoons don't always result in butterflies.
Yesterday, for the umpteenth time, I was asked to define holding space, and what came out of my mouth, for the first time, was "Holding space is showing up for what IS, not for what we want it to be or what we will manipulate it into being." 
It's about letting go of the outcome. It's about showing up even when the grief is deep and messy and there is no happy ending. It's about surrendering rather than controlling. It's about learning to accept the non-linear nature of all of our lives.
When life gets messy and you are in a relationship in which you're holding space for someone who's experiencing this kind of complexity and ambiguity, here are some things to keep in mind.
Don't try to fix the grief. Whether it's a loss of mobility, the absence of a family member, or the loss of one's country, there will be grief involved, and it may be messier and stay around longer than you anticipate. Someone who's been displaced from their country, for example, may grieve that loss for the rest of their life. A comment like "at least you're safer here" doesn't help to diminish the loss.
Support (but do not impose) meaning-making. As Viktor Frankl teaches in Man's Search for Meaning, those people who find meaning in hardship and loss (in his case, concentration camps) have the greatest ability to survive and thrive in spite of it. When, for example, someone who lost a family member to drug addiction uses their experience to support others on the same journey, it can help them to not drown in the grief they still carry. But don't try to make meaning for them – they have to arrive at it in their own timing.
Practice mindfulness as a way of letting go of attachment to the outcome. A mindfulness practice of some kind (and I give no prescriptions, because it looks different for everyone) teaches us to notice what is present and then to release it without judgement or attachment. One of the mantras I adopted early on is this work that has sustained me through many moments when I desperately wanted control is "The outcome is not my responsibility." Show up for what's needed in the moment, and let the rest go. You are not God.
Keep showing up. Many people, when they experience great loss, disability, chronic illness, etc., also experience the loss of friendships. The relationship has changed because the things that you can do together may have changed, or you don't know how to be present in a situation that you can't fix, or you're afraid of doing or saying the wrong thing. Your own fear of change or the loss that you have experienced because of the change in your friend makes it hard to show up. But your consistent presence may be one of the things this person relies on to help them survive this liminal space. You may not know what to do or what to say, but your presence often speaks louder than words.
Don't lose your sense of humour. Of course, you don't want to make inappropriate jokes at a funeral or at someone's hospital bedside, but there's also a good chance that your friend needs you to bring some laughter into the space. A sense of humour helps to build a resilient spirit, so don't be afraid to laugh with a person who may be tired of all of the sombre people they're suddenly surrounded by. They will likely appreciate the normalcy of it in the middle of what feels like an upended life.
This is far from a perfect science. There is plenty of ambiguity and each situation is different. Each person is different, too, so the best you can do is to be humble, offer what you can, and let love be your guide.
*****
For more on this topic, I recommend this podcast on The Myth of Closure, with Pauline Boss.