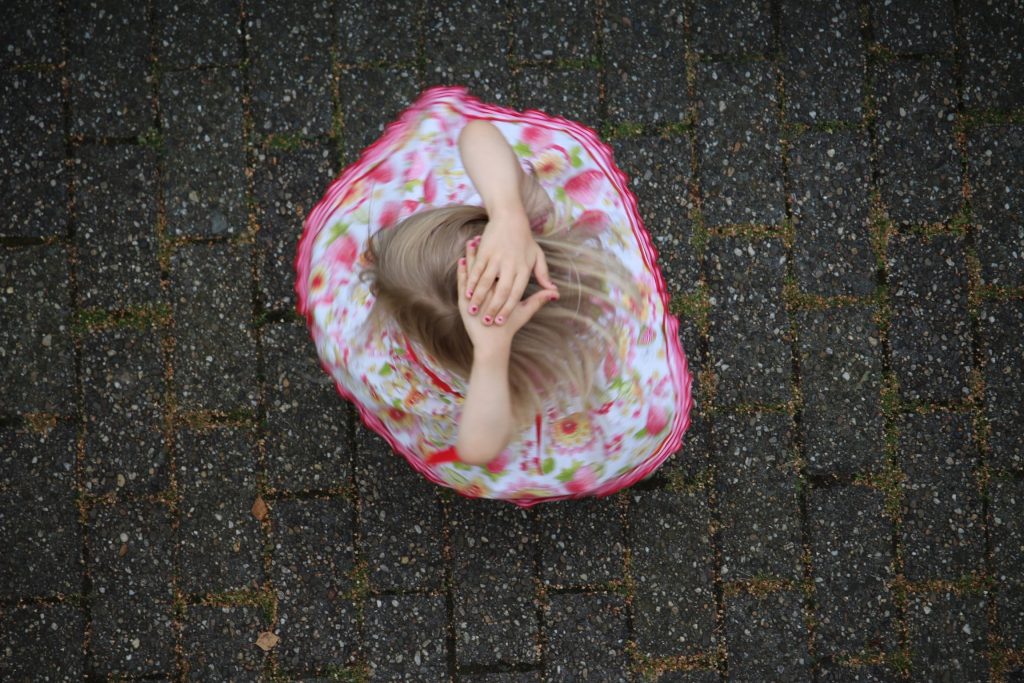 After I wrote The Girl in the Velcro Dress, a number of people said they wanted to know how the girl reclaimed herself. This is that story. You may wish to read the other post first. 
Listen to me read The Girl in the Painted Dress:
Once there was a girl in a velcro dress whose dress became so weighted down with all of the things other people stuck to it that she could barely move.
One day, exhausted and frustrated from the gargantuan amount of effort that it took to move about in her life, she slipped out of the dress and found herself in a sad little heap underneath. The dress, stiff from all of the expectations and beliefs and baggage that everyone else had layered onto it and she'd picked up herself, stayed perfectly still, creating a tent above the girl.
The girl loved how peaceful and quiet it was in that tent. Nobody could find her there and she didn't need to satisfy anyone other than herself. She noticed how different her breath felt – long and slow and filling her whole body. Whenever she was wearing the dress, her breath was short and fast and a little strangled because of the weight of the dress, but under the dress, it was different.
Of course, she didn't allow herself to stay for long, that first time in her tent hideaway. She was a responsible girl and wearing that dress was one of her responsibilities, so she silenced the longing that encouraged her to stay and she stood up and carried on. Carrying on was one of the things she was good at.
Once she'd had a taste of the tent, though, she couldn't shake it from her mind no matter how hard she tried to stay busy or distract herself. A few days later, when nobody was paying attention, she slipped down inter her tent again for a few more minutes of rest, cut off from the noisy world around her.
Gradually, this became more and more common. The girl started to plan into her day moments when she could slip out of the dress and disappear. Of course, being a responsible girl, she made sure that the moments she chose wouldn't inconvenience her children, her husband, her mother, her employer, or any of the other people who depended on her. They were moments at the edges of her day, when nobody needed her to cook supper or show up at a meeting or drive them to soccer practice or fill out a form.
At first, those moments in the tent were quiet and dark because what she craved most was rest from the burden of carrying around the dress. But one day, just before slipping down into the tent, she grabbed her music player and took it with her. Laying on the floor of the tent with her headphones on, she felt the most blissful feeling she'd felt in a long, long time. The music filled her whole body and she knew that something new had awakened in her.
"I wonder what else I could bring with me," she thought, and soon she was experimenting with what things made her feel happy and alive under her dress. Her journal and pen made the cut – she loved to lie under the tent writing about her frustrations, her fears, and her dreams. A new set of paintbrushes and paints also made the cut, as did some scissors and glue. Sometimes, hidden from view from all who knew her, she felt almost childlike again, making joyful messes with art supplies.
There were stretches of time, of course, when the girl couldn't justify any time under the dress – when her kids were sick or she had important deadlines at work or her husband or her mom needed extra attention. There were also times when she convinced herself how frivolous it all was and she swore she would never do it again. 
But the call of the tent was too strong, and, eventually, she always found herself back under the dress with her journal, her music, and her art supplies.
One day, she noticed a secret doorway underneath the tent, and when she crawled through that doorway, she found a magical room where other tent-people had gathered. The discovery both delighted and frightened her. She wanted to befriend the other tent-people, but she was afraid of being exposed. The fear took over and she scurried back to her own tent, closed the door behind her and slipped quickly back into the dress.
Her curiosity soon got the better of her, though, and a few weeks later, she crept quietly back through the door into the magical room. She curled up in a ball at the edge, hoping nobody would notice her. All she wanted was to be among other people who'd felt trapped in their velcro dresses, to know that she was not alone. Talking to them took too much courage but watching them was safe enough.
With time though, after lots of people had smiled at her and she felt ready to trust them, she relinquished her anonymous place at the edge of the room and began to mingle tentatively among the people. She discovered that the room held the most interesting mix of people she'd ever come across – weirdos and misfits and artists and dancers and dreamers and revolutionaries. They were doing the most fascinating things in that room, too. Some were painting on the walls, some were clustered in conversation circles, some were gathered around markers and poster boards making protest signs – almost anything imaginable was welcome in that room. Gradually, as the girl's courage kindled, she joined in, once again experimenting with the things that made her happy. Sometimes, while she was lost in the act of creating, she had flashbacks to how she'd felt back in her childhood before she'd put on the dress.
Emboldened by the support of her new friends, the girl claimed more and more time to slip away into the tent, sometimes even daring to inconvenience the people who depended on her. At first, that caused her a lot of guilt, and that added to the weight of the dress, but she did it anyway because it was the only way she could find enough strength to keep carrying the dress around.
Some days she needed more solitude, and in those times she'd stay alone in her lovely little tent. Other days, she needed companionship, and then she'd slip through the door into the magical room. 
During her times of solitude, the girl became more and more bold with her art supplies, and soon the inside of the dress was covered in paint. Fanciful creatures and shapes danced across the walls in colourful, messy glee.
While the inside of the dress was transforming, so was the outside. The time spent inside the tent and in the magical room were giving the girl enough strength and courage to make changes in her life. She started by anxiously and tentatively saying "no" to people who wanted to add new things to her dress.  Some people, of course, were quite annoyed with this new turn of events, because they were quite accustomed to hanging their things on her, and sometimes she gave in rather than hurt their feelings, but other people were more respectful. The people who were willing to listen to her "no" were the ones she wanted to spend more time with. 
After a bit of practice saying no and standing up for herself when people got upset, she became curious about whether she could peel anything off her dress. She grabbed the first things she could find – an old belief about what good girls are supposed to wear in public – peeled it away and dropped it on the floor. That gave her the courage to peel back another thing and another and each thing that dropped to the floor made her a little bolder to peel back the next.
There were, of course, some things that had been on her dress the longest, and those took a lot of time and effort to peel away. To grow the extra courage and strength she needed to deal with those things, she made repeated visits to the magical room where she could sit in circle with other tent-people who were dealing with similar baggage or had done so in the past.
Once she'd peeled a few things away, she realized that the dress underneath was not as sticky as it once was. People would try to attach new things in the empty spaces, but they simply slipped to the floor. While peeling things away, she hadn't noticed that she was also peeling away the velcro that was holding it there.
After enough things were peeled away that the dress was nearly bare, the girl saw that the dress was being transformed. With the velcro gone, the paintings on the underside of the dress were now starting to show through. At first, this made her feel too exposed, and so she hid those exposed bits and only uncovered them in the privacy of her own home. But whenever she looked in the mirror, she noticed how happy those painted bits made her feel, and so she took some chances and left the house with nothing covering the paintings.
Some people looked at her in shock and disapproval when they saw her exposed paintings, but she also noticed something else – strangers on the street started to smile and wink at her. When she paused to look at who was smiling, she realized that many of them were her friends from the magical room. They looked different, out here in the real world, but she could see the familiar longing and wildness underneath. 
When those people saw her so boldly walking around outside of the house with her paintings showing, some of them found their own courage and let their coverings slip to the floor revealing that they were wearing imperfect dresses with bits of velcro and bits of paintings peeking through. They grinned at each other when this happened, enjoying the messy imperfection of it all.
Instead of hiding her paintings, the girl began to polish them and add little touches of flourish and sparkle. In the spots where she applied extra sparkle, nothing could stick to the dress and that filled her with even more courage and delight.
The more colourful and sparkly the girl's dress became, and the more she was able to peel things away, the lighter it was and the more the girl was able to move freely in the world. She discovered that she loved to dance and she loved the way the colourful dress flowed around her as she twirled. She remembered what it felt like to be wild and free – how she'd felt as a child before she'd been told to put on the velcro dress – and now that she'd experienced it again, nothing could convince her to go back.
Whenever she danced and sparkled, people were drawn to the girl in the painted dress. They would stand and watch her, and when she paused to look at them, she recognized the longing in their eyes. It was the same longing she'd had, before she'd discovered the secret tent under her dress.
Sometimes people would ask "how did you learn to do that?" Whenever they did, the girl would lean in and whisper "slip down under your velcro dress and see what you find there". The people would look at her in wide-eyed wonder and she'd smile at them and encourage them to try. Sometimes they would scoff at her, but sometimes she could see by the light in their eyes that they would go home and find a private place to try. For those with lights in their eyes, she would lean in a second time and say "once you've been there for awhile, and you've worked up the courage, find the hidden door at the bottom, go through it, and I'll meet you on the other side."
That was how the girl in the painted dress claimed a space in the magical room, began to gather her people there, and built a whole new life for herself. She wasn't perfect, and sometimes things still stuck to her dress, but it was easier and easier to let them go.