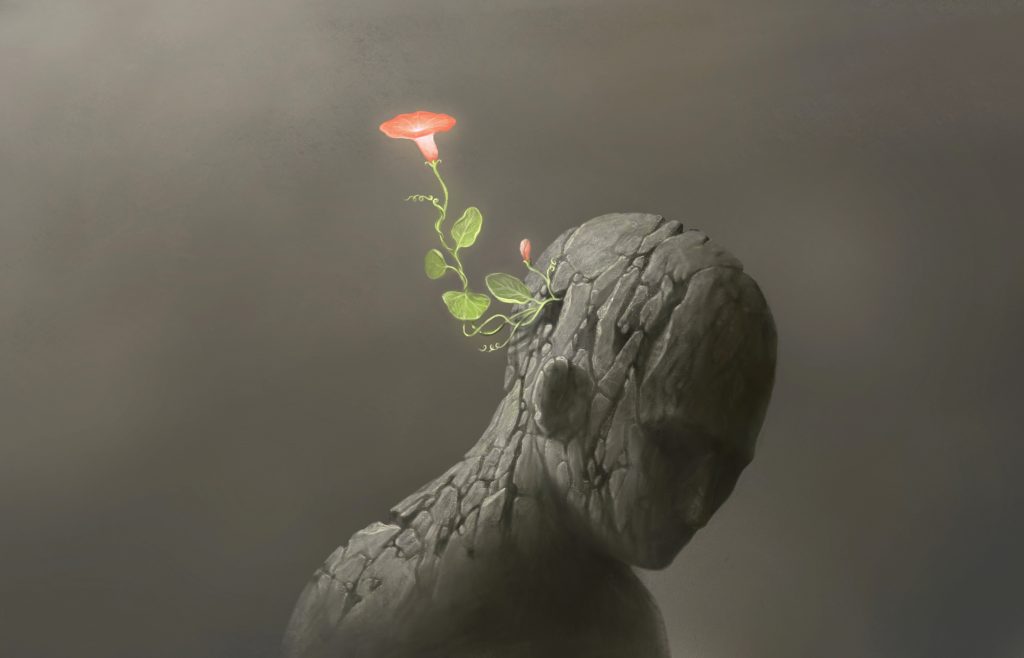 Not long ago, I listened to an interview with someone who'd written a piece for the New York Times on the "empty religions of Instagram". She was critiquing some self-help social media influencers, and she mentioned that some of them "worship their wounds". On their Instagram feeds, she said, they make themselves accessible by being wounded people, but then they stay with the wound because it makes them feel special and loved and it gets them more followers. 
Those words stuck with me. At the time, I was taking a social media break because I was going through a period that was somewhere between burnout and existential crisis. I was wrestling with some of the pressures I wrote about in this article, about trying to be an ethical leader and influencer while avoiding the trap of starting a cult, and I was having a bit of a vulnerability hangover after spending eight months talking about myself and my book. I was suddenly uncertain about how much I wanted to share and engage on social media, and I was feeling some pressure to be performative, which felt antithetical to my commitment to authenticity. 
Because I've written a book that includes quite a few of my own vulnerable stories, and because much of my work has its roots in those stories (i.e. the original blog post that catapulted this work into the world was about my mom dying), the words of the writer felt somewhat confronting. 
Was I, too, guilty of "worshipping my wounds"? Was I monetizing my woundedness and then staying with the woundedness because it's become part of my brand and it draws people in?
Whew. That's a really big question. It stopped me in my tracks and caused me to withdraw even further from the public-facing spaces. I spent hours wrestling with it in my journal and had several good conversations with friends. I dug deep, trying to be as honest with myself as I could.
Somewhat ironically, at the same time, I was teaching my course, Write for Love and Liberation, where I was telling people how liberating and healing it can be to write about your wounds and share your stories. I told them how much more liberated I felt when I was honest about past trauma and abuse and how much that honesty and vulnerability had helped me find community and deepen relationships. 
My mind wrestled with the cognitive dissonance of those two things and I didn't know if they could both be true at the same time.
On the one hand, oversharing and crafting your identity out of a narrative of woundedness and trauma can keep you stuck in your wounds. A relationship or community built out of shared woundedness can give everyone in that relationship or community an excuse to stay wounded. It can also hold people back from healing and growth because people need safety and belonging and are afraid of being abandoned by people who don't want them to change. (Some of us come from families, for example, that don't encourage growth because that causes a threat to the family system.) 
Plus, a leader who uses her wounds to gather people around her can turn those wounds into performance and connecting points for relationships. She is much more likely to grow unhealthy attachments, to project those wounds onto other people, and to start a cult rather than a healthy growing community. A leader who stays wounded is likely to create trauma bonds with people to ensure that they don't outgrow her and move on because they've healed and no longer need the attachment to her. (Consider the many recent stories of abuse in spiritual communities – those are leaders whose own woundedness tries to trap people and hold them back.)
On the other hand, sharing the stories of our trauma and woundedness can be healing and transformational and those stories can offer beautiful connecting points on which to build community. Some of my biggest personal breakthroughs have come when I've read or listened to the stories of people who've dared to share their struggles and pain. Over the years, I have heard from many, many people who are grateful that I've been so honest in the sharing of my hard stories, because it helps them see themselves more clearly. Shared vulnerability connects us and makes us feel less alone. It can also give us hope that there is a way through the pain into a new story.
So… what is a person to do when they've built work that's rooted in their personal stories, and many of those stories include wounds and trauma that help people find connecting points?
I think the key to that question is in the word that is deliberately part of both my book title and my writing course title… liberation. I think that the writing and sharing of our stories, the gathering of our communities, and the ways in which we show up online, should all be centered around the pursuit of liberation – for ourselves and for each other. 
Liberation comes when we can see the wound; name the wound; speak honestly about the wound; erect healthy boundaries with anyone who caused, contributed to, or dismissed the wound; heal the wound; make meaning of the wound; and then free ourselves from the wound and move on.
Liberation comes when we share stories not only of the wounds themselves, but of what it takes to heal the wounds, triumph over the wounds, and stand up to the people or systems that cause the wounds.
Liberation comes when we tell the stories of how we developed healthy boundaries, stopped accepting abuse, and stopped giving ourselves away to people who don't know how to honour and hold space for us.
Liberation comes when we don't hold each other back, when we release unhealthy attachments, and when we refuse to participate in codependent relationships that rely on our woundedness.
Liberation comes when we make a conscious choice to detach ourselves from our wounds and we form new identities not built solely on those wounds.
After a considerable amount of reflection on this topic, I have come to a renewed commitment in my work and my life… I will continue to share honestly and vulnerably and will continue to let people see the wounds and trauma that have been part of my past (when I can do so out of a spirit of generosity) BUT… I will not stay in that place, nor will I stay in relationships that keep me in that place. I will do my best to continue healing whatever reveals itself in me and I will support other people in their healing. I will trust my own need for boundaries and give myself necessary time away from other people's wounds and healing work. I will distance myself from situations or relationships that trigger my old woundedness. I will actively pursue peace, love, joy, and liberation. I will seek out relationships and communities that value growth (mine and other people's) and that don't need to keep anyone wounded to justify their own lack of growth. I will be gentle with those with trauma and wounds, but I won't settle for wound-worshipping in the spaces I hold. 
I am committed to my own liberation. AND I believe, as Lilla Watson says, that "my liberation is tied up with yours". I am committed to liberated relationships, where we honour each other's sovereignty AND we lean into community, where we hold space for each other's trauma AND we seek healing and growth.  
When I published my book, The Art of Holding Space: A Practice of Love, Liberation, and Leadership, my publisher wasn't certain whether we should include "liberation" in the title. I insisted though, and I'm glad I did. Because I believe that when we hold space for each other, we choose to serve mutual liberation. 
******
p.s. We've recently re-launched Write for Love and Liberation as a self-study program, in case you need support as you work through your own stories of healing.
We've also opened registration for the Holding Space Foundation Program, where you can learn more about holding space for yourself and others.